Introduction to Random Forests for Beginners – free ebook
Tags: Beginners, Decision Trees, ebook, Free, Kaggle, Random Forests, Salford Systems
---
Random Forests is of the most powerful and successful machine learning techniques. This free ebook will help beginners to leverage the power of Random Forests.
An Introduction to Random Forests for Beginners
Random Forests is one of the top 2 methods used by Kaggle competition winners.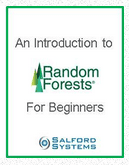 It is an ensemble learning method for classification and regression that builds many decision trees at training time and combines their output for the final prediction.
This ebook will help beginners leverage the power of multiple alternative analyses, randomization strategies, and ensemble learning with Random Forests. The 70-page ebook includes graphs, examples, and illustrations.
Chapters include:
What is Random Forests?
Segment and cluster
Suited for wide data
Advantages of Random Forests
Case Study example
Download at
http://info.salford-systems.com/an-introduction-to-random-forests-for-beginners
---
Previous post
Next post
---
Most popular last 30 days
Most viewed last 30 days
Poll: What Predictive Analytics, Data Mining, Data Science software/tools you used in the past 12 months? - May 7, 2015.


7 Steps for Learning Data Mining and Data Science

- Oct 10, 2013.




The Grammar of Data Science: Python vs R

- Mar 28, 2015.




How To Become a Data Scientist And Get Hired

- May 1, 2015.




Awesome Public Datasets on GitHub

- Apr 6, 2015.




Data Scientists Automated and Unemployed by 2025? - May 5, 2015.


Top 10 Data Analysis Tools for Business

- Jun 13, 2014.




The Myth of Model Interpretability

- Apr 27, 2015.




Top 10 R Packages to be a Kaggle Champion

- Apr 21, 2015.




9 Must-Have Skills You Need to Become a Data Scientist

- Nov 22, 2014.




Most shared last 30 days