BigML machine learning platform Fall 2013 release
This release is a substantial update to our hosted machine learning platform, with advanced text analysis, Microsoft Excel Export, Multi-label Classifications, BigML PredictServer, better UI and workflow, and many other improvements.
---
Sep 25, 2013.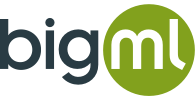 BigML is pleased to announce its Fall 2013 Release: a substantial update to our hosted machine learning platform that broadly expands the predictive analytics power that we are bringing to users of all backgrounds and skill sets. This is the largest leap in functionality that BigML has taken since our service went live to the public late in 2012.

see also BigML Machine Learning Made Easy, with a special offer for KDnuggets readers.
Headlining the Fall 2013 Release are the following features:
Advanced Text Analysis: Users can now factor text into their predictive models, alongside regression, time/date and categorical information. This is ideal for building models where text content may play a prominent role (e.g., social media or customer service logs). While there are several stand-alone text analysis offerings on market, only BigML allows users to combine multiple classes into a single, actionable predictive model - all through the convenience of a cloud-based solution.
Microsoft Excel® Export: Users can now download their actionable models directly into Microsoft Excel spreadsheets. This allows more people to run models "on the go", and is also great for sharing models in an offline fashion with clients and colleagues.
Multi-label Classifications: With just a few lines of code in our BigMLer command line tool, users can now train datasets that predict multivariate outcomes within a classification. For example, you may want to predict what three products out of dozens that a website visitor will likely explore.
BigML PredictServer: For users who demand super-fast predictive capabilities, BigML is pleased to introduce the PredictServer-a stand-alone in-machine offering that can process thousands (or more) of predictions per second based on your trained BigML model. This is great for applications and services that demand real-time feedback and/or for data analysts that wish to process large batches of predictions very quickly.
In addition to the above, BigML has made hundreds of improvements to the UI and workflow, including in-line editing of fields, advanced Evaluation functionality (including a new confusion matrix) and much, much more. The features in the Fall Release are immediately available to BigML's 5000+ customers and partners.
Please visit www.bigml.com to learn more.