Webinar: Building Predictive Apps with BigML API, March 11
BigML interface makes machine learning easy to use, the underlying API provides the same functionality enabling data scientists to quickly implement many machine learning and predictive applications. Learn more on March 11.
---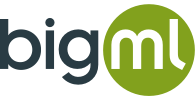 Building Predictive Apps with BigML's API
While BigML's acclaimed interface makes machine learning accessible to a wide range of users, the underlying RESTful API has the same functionality and more, thereby enabling data scientists and developers to quickly implement a variety of machine learning strategies and predictive applications.
This webinar will cover the following topics:
BigML API introduction
Introduction to BigML's Python bindings
Summary of bindings in other languages such as Java, Node.js, Clojure.
BigMLer, BigML's open source command line tool
Dataset transformations
Machine Learning Strategies: Covariate Shift Detection, Boosting, Smart Feature Selection
Once you've seen the webinar, you'll be on your way to increasing the power of your predictive models with BigML and to building predictive applications and services.
All webinar attendees will receive a 25% discount on a new or upgraded BigML subscription.
Register here
.