Introducing @KDnuggetsJobs, Data Science Job Finding Tool
KDnuggets is happy to introduce another tool for our readers in the process of looking for jobs: the @KDnuggetsJobs Twitter account, dedicated to sharing our Analytics, Data Science, and Big Data job listings.
---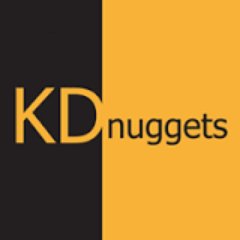 Over the years, KDnuggets has become a top destination for those looking for jobs in the Analytics, Data Science, Big Data sphere. KDnuggets is proud to have helped link those looking to fill positions with job seekers in places all around the world. We can also appreciate that readers may, at different times in their careers, be more interested in jobs than any amount of industry news.
While KDnuggets job listings will continue to be published on KDnuggets in the same way they always have been, and will be shared around our various social media channels in similar fashion, we are happy to introduce a new tool for potential job seekers: the KDnuggetsJobs Twitter account, with its dedicated feed of job postings.
Follow @KDnuggetsJobs
If you are an Analytics job seeker, we encourage you to follow the account. If you are interested in knowing more about placing a job ad on KDnuggets, including exposure via all of our content streams, we encourage you to look over this information.
KDnuggets continues to appreciate support form its readers, and hopes that this new tool can be of some service to those of our readers looking to transition into the exciting fields of Data Mining, Analytics, Data Science, and Big Data, or those looking to shift from one position to another within.
Happy job hunting!
Related: