Data Science for Beginners: Fantastic Introductory Video Series from Microsoft
The remaining videos in Microsoft's Data Science for Beginners video series are available now. Have a look at what they offer.
---
Last week, KDnuggets published 2 blogs by frequent contributor and Microsoft data scientist Brandon Rohrer. These blogs were transcripts of the first 2 videos in a series of "Data Science for Beginners" series featured on Microsoft's Azure website. Part 1 covered 'The 5 questions data science answers,' while Part 2 touched on whether or not your data is ready for data science.
The remaining 3 videos (and corresponding blog transcripts) are available now on Microsoft Azure's website, and feature the following:
Part 3 - How to ask a question you can answer with data
This video covers how to ask a sharp question, how to check whether available data is able to help answer this question, and how to properly reformulate the question if necessary.
Part 4 - Predict an answer with a simple model
This video covers getting on with prediction. It starts with collecting data, asking a sharp question, plotting the existing data for visualization, drawing a linear model, using the model to find the answer, and creating a confidence level.
Part 5 - Copy other people's work to do data science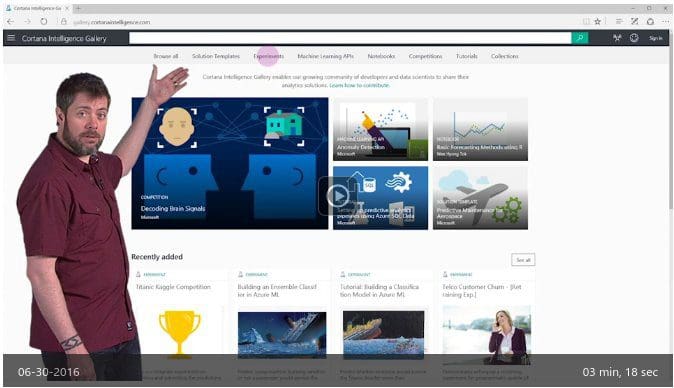 This video covers using the Microsoft Cortana Intelligence Gallery to find existing machine learning examples to use as starting points for doing data science. The video uses a specific clustering example, as well as demonstrates how to use the Cortana Intelligence Gallery to find relevant existing experiments.
The first 2 videos generated a lot of response and activity on KDnuggets. If you are interested in seeing the remaining 3 videos, use the links above to navigate and check them out. A special thanks to Brandon Rohrer and the Microsoft Azure team for putting together such a great and valuable resource for aspiring data scientists.
Related: