Data Science at Northwestern
Online MS in Predictive Analytics prepares students for rewarding careers by training in data science, modeling, business management, communications, and information technology. Summer application deadline is April 15.
---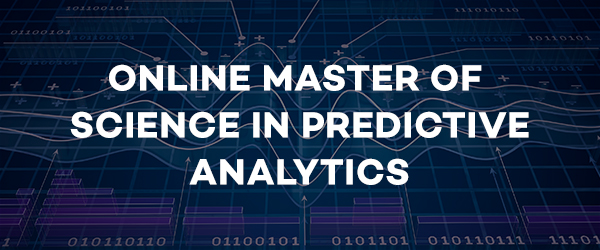 Develop the skills and expertise needed for this fast-growing field
Summer application deadline
APRIL 15
Fall application deadline
JULY 15


Visit us online by clicking on "Learn More" above, or speak with an admissions adviser at 312-503-2579

For organizations of all kinds, reliable data-driven forecasting is essential for success. As a result, a variety of rewarding career paths are available to professionals who can transform complex data into actionable insights.

Students in Northwestern's online MASTER OF SCIENCE IN PREDICTIVE ANALYTICS program prepare for these opportunities through dedicated training in data science with courses focused on modeling, business management and communications, and information technology.
BUILD the critical technical and analytical skills needed for success in today's data-intensive world.
LEARN in small classes from a faculty of experienced industry leaders.
CHOOSE from a wide range of electives including marketing analytics, risk analytics, text analytics, and web and network data science.
EARN your Northwestern University master's degree entirely online.
Find out if the Master of Science in Predictive Analytics is the next step for you.
"Everything I learned, like how to better forecast sales and analyze the customer experience, helped me at work. My role at work has grown, with a substantial increase in salary. It's made my job more satisfying."

- Raymond Anden (MSPA '13), marketing analyst at Extron Electronics
RELATED PROGRAMS
Master of Science in Information Systems
Master of Health Informatics
Business Analytics and Project Management Certificates
Northwestern University
School of Professional Studies
339 East Chicago Avenue
Chicago, Illinois 60611