The Power of Data and Collaboration to Improve Traffic Safety
Datakind, in collaboration with Microsoft, completed significant data-driven projects to improve traffic safety and help save lives in New York City, Seattle, and New Orleans.
---
By DataKind.


Fig. 1: Visualization of estimated "exposure" or traffic volume by street in Seattle.
According to the National Safety Council, traffic collisions cause more than 40,000 deaths and injure thousands of people every year across the United States. These are not traffic accidents, but entirely preventable tragedies.
Since cities in Sweden started the Vision Zero movement in the 1990s, many U.S. cities are now joining the effort as part of the Vision Zero Network, pledging to reduce traffic fatalities and injuries to zero in their communities.
With limited budgets and resources, these local city officials face a daunting question: what will it take to reach zero? Given the sheer number of factors that contribute to traffic collisions and the many potential interventions that might address them, where should a city focus its efforts?
This is where a little bit of math, a few cross-sector friendships and a healthy dose of data can be a game changer. We recently completed our first Labs project, in partnership with Microsoft and its Tech & Civic Engagement Group, after over a year of work and close collaboration with the cities of New York, Seattle and New Orleans. This was the first and largest multi-city, data-driven collaboration of its kind to support Vision Zero efforts within the U.S.
Leveraging newly-available datasets including open data, internal city data and data from private companies, our Labs team - Erin Akred, Michael Dowd, Jackie Weiser and Sina Kashuk - as well as dozens of DataKind volunteers have built models to help cities identify where there is greater risk of traffic collisions, built tools to empower city officials to test what safety interventions will be most effective on what streets, and even helped cities estimate total vehicle traffic volumes citywide when the data didn't exist. All these insights, tools and methodologies enable city officials to better allocate resources, select the best safety interventions and focus their efforts to keep all road users safe.
Delve into our case study for more detail.
How Collaboration Made It All Possible
While we think the world of our Labs team, we also know they depend on a world of collaborators to get a job like this done. Applying data science for good requires that we bring together not only relevant data sets, but also relevant decision makers, technical and issue area experts, funders and advocates that can inform and help co-design solutions that will have an impact.
We like to think of it as an ecosystem. Tackling the complicated question of reducing traffic fatalities in three different cities requires more than just data and data scientists. You need a strong project focus and strong project partners. You need funding to fuel your journey and subject matter experts to guide your path. DataKind is the convener that connects the dots, bringing all these usually far-flung resources and people together.
Not only was Microsoft the funder that made our first ever Labs project possible, we also turned to them as subject matter experts in civic tech and as thought partners in organizing such a long-term, wide-reaching initiative. For more, check out this blog from Elizabeth Grossman, Director of Civic Projects for Microsoft's Technology and Civic Engagement group.
We couldn't have asked for stronger project partners than the amazing folks we worked with in New York, Seattle and New Orleans. Taking on a project like this shows not only how committed they are to making streets safer, but how forward-thinking they are in their approach. They are pioneering some of the most cutting-edge techniques available and we hope to inspire other cities to do the same. Special thanks to the many hours and wisdom each city contributed - we are so proud to have worked with each of you.
And a special thanks to all those that have supported and contributed to this initiative including the Vision Zero Network and the University of Washington for hosting our Vision Zero DataDive.
---
Here is an excerpt from a case study for New York:
New York: Estimating Street Volumes and Understanding How Street Design Can Reduce Injuries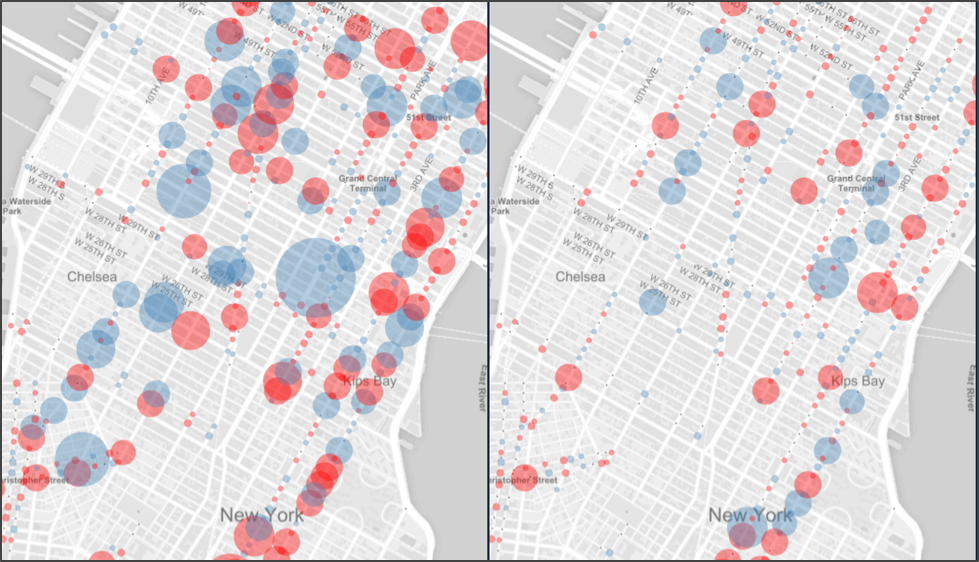 Fig. 2: Map showing street improvement projects locations and change in crashes in New York.
According to the City of New York, on average, vehicles seriously injure or kill a New Yorker every two hours, with vehicle collisions being the leading cause of injury-related death for children under 14 and the second leading cause for seniors. Looking to improve traffic safety on its streets, the city wanted to understand what existing interventions are working and where there is potential for improvement to help inform how the city can better allocate its resources to protect its residents.
Approach
The team leveraged datasets from New York City's Department of Transportation, NYC OpenData, New York State, as well as other internal city data, to examine the effectiveness of various street treatments to help inform the city's future planning and investment of resources. Lacking some of the data necessary to address the actual impact of existing street treatments, the team looked to answer other crucial questions regarding traffic safety that could help benefit the city.
Before they could answer these questions, they first needed to answer a more basic one - how many cars are on the road? Knowing the total volume of road users or "exposure" is necessary to understand the true rate of crashes, but most cities don't have this data available. To overcome this, the team designed an innovative exposure model that can accurately estimate traffic volume in streets throughout the city. The model has two main components. The first is an algorithm that propagates traffic counts on a single street segment to adjacent street segments. It assumes that traffic on one city block is very similar to traffic on adjacent blocks. This process can be run many times and allows one to widely propagate traffic count values along neighboring streets. However, some streets may not have any nearby traffic counts available, so the second component of the model is a machine learning model, with high predictive accuracy, that predicts traffic volumes on streets based on their characteristics.
The team also created a crash model for New York, allowing the city to examine individual locations and test how different street characteristics impacts the number of injuries. For example, the city may be able to look at a particular street and determine whether it is safer for the street to be a one- or two-way road.
Outcomes
The exposure model will prove to be invaluable to the City of New York, filling a crucial void in vehicle volume data that many cities face. With it, the city can now perform initial safety project feasibility studies very quickly and provide context for a variety of other safety research work that requires an "exposure" rate. The model can also be altered to estimate other defined traffic volume measures, like peak hour traffic volumes. It can also help inform future work related to traffic congestion and citywide vehicle usage.
New York can also use the crash models to test the potential impact different engineering, land use and traffic scenarios would have on total injuries and fatalities in the city.  They will continue to build upon the work started by DataKind, as the models developed set the stage for future research in crash prediction, congestion relief and city safety projects.
---
More Resources Coming Soon
For more on our work in each city, read our case study and sign up to receive updates on several related resources coming in the next few weeks:
For those who like to get geeky, watch out for a technical report detailing some of the models and approaches from this project that may be applicable for your city.
For a look under the hood at the good, bad and the fascinating about what it takes to bring folks and data of all walks together for a collaboration of this scale, we'll be publishing a blueprint with our favorite pro tips and pitfalls.
For those always asking "but how do we make it scalable?" - we knew there was a reason we liked you. This question also keeps us up at night so we'll be sharing some research we're doing with the Alfred P. Sloan Foundation on how other groups we greatly admire approach this.
Original. Reposted with permission.
Related: