Top Recent Big Data videos on YouTube
Top viewed videos on Big Data since 2015 include Big Data use cases in psychographics, sports, politics and data monetisation.
---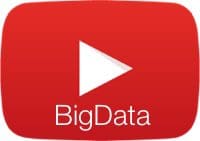 By 2015, people were interested in understanding what is big data, what are the tools available to manipulate such big data and how these tools work. As Big Data and Analytics evolved, so did the curiosity of people about it. People started searching for more information about how different problems can be solved with big data and analytics, how to monetize big data, human rights about data privacy etc. Here, we present a list of videos on "Big Data" covering various big data topics and viewed most on the YouTube.
[Video selection criteria: Type: non-promotional, Length: 3min-120mins, Language: English, Published Date: 2015/later, Ordering by number of views.]
Is Big Data Getting Too Big? (371k views)
By Joe Hanson, Ph.D.
Though this video is about general big data concept and how it is growing fast, it has most views since uploaded in 2016.
Category: Education
The Power of Big Data and Psychographics (278k views)
By Mr. Alexander Nix CEO, Cambridge Analytica
In a presentation at the 2016 Concordia Summit, Mr. Alexander Nix discusses the power of big data in global elections. Cambridge Analytica's revolutionary approach to audience targeting, data modeling, and psychographic profiling has made them a leader in behavioral micro targeting for election processes around the world.
Category: News & Politics
By Simplilearn
This video consists of four lessons of Big Data and Hadoop Tutorial. The lesson begins with the introduction of Big data and Hadoop developer and its objectives where you end up learning the fundamental concepts of hadoop, applying programming skills in MapReduce, Utilization of big data analytic skills using pig and hive, Hbase data model and its components, and describes ZooKeeper and Sqoop.
Category: Education
Big Data in 2017: What next? | Digital Futures (125k views)
By Telefónica Digital Trends
Big Data has always been big news for the tech media, but what should we be expecting from it in 2017? We pinned down two pros for their take on the subject.
Category: People & Blogs
By Mathias Lundø Nielsen
The exponential growth and availability of data has come to play a pivotal role in the manner in which individuals, companies and society at large operate. Big data has become a buzzword, and while businesses scramble to utilize the constant flow of information, a successful formula for monetizing big data is yet to be found.
Category: Nonprofits & Activism
By VICE Sports
Eliot tests and trains current and aspiring professional athletes using highly sophisticated data capture techniques. The most talented players attend the P3 facility to gain a competitive edge. Internationally, Dr Eliot is at the absolute forefront of "objectifying human movement and physical systems of sport."
Category: Sports
By Forbes
You've probably heard the term "Big Data" before, but do you know what it means? We used some Legos to help explain what it is and how companies are using it to improve their marketing.
Category: News & Politics
Apache Hadoop & Big Data 101: The Basics (55k views)
By Cloudera, Inc.
This video will walk beginners through the basics of Hadoop – from the early stages of the client-server model through to the current Hadoop ecosystem.
Category: Education
By Simplilearn
In this lesson you'll get an overview of the course just like the cloud, big data's baffling tech term to most people although it could be the next big thing a buzzword of swords, not many can give a definitive answer to what it is.
Category: Education
Bigdata and Hadoop (43k)
By Ravindrababu Ravula
This video explains concept of Big Data and various use cases of it.
Category: Science & Technology
Top video playlists:
[Youtube search criteria: Type: Playlist, Sort by view count, Date videos updated/published: 2015/later]
1. Big Data Hadoop Tutorial Videos (44 videos; 482,343 views in total)
This Big Data Hadoop Tutorial playlist takes you through various training videos in Hadoop: What is Hadoop, Hadoop tutorial video, Hive tutorial, HDFS tutorial, HBase tutorial, Pig tutorial, Hadoop architecture, MapReduce tutorial, YARN tutorial, Hadoop use-cases, Hadoop interview questions and answers and more.
2. Python For Big Data Analytics Tutorial Videos (53 videos; 122,902 views in total)
This Python Tutorial Video playlist helps you learn Python the Big data way with integration of Machine learning, Pig, Hive and Web Scraping
3. Hadoop Big DATA Online Training | Hadoop Big DATA Video Tutorials for Beginners(6 videos; 111,159 views in total)
The highlights of the training are: Prepare you to be a Hadoop expert, Hands-on training with real-world Hadoop use cases.
4. Introduction – Big Data Introduction (18 videos; 47,391 views in total)
This will give an overview and rationale behind transitioning to Big Data eco system. It will talk about Hadoop eco system and No SQL eco system with few case studies.
Related: