Can't-Miss Keynotes at Deep Learning World – June 3-7 in Vegas
Don't miss the opportunity to witness keynote sessions by industry heavyweights at the upcoming inaugural Deep Learning World conference in Las Vegas, Jun 3-7.
---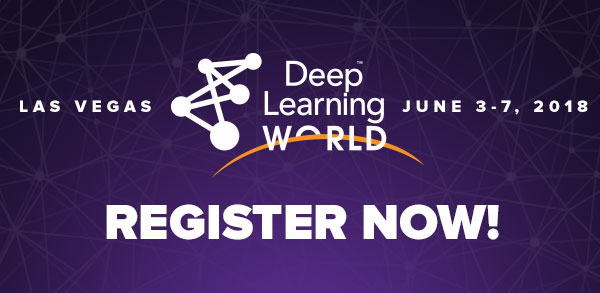 Industry Heavyweights to Keynote Deep Learning World
Las Vegas — June 3-7, 2018

Don't miss the opportunity to witness keynote sessions by industry heavyweights at the upcoming inaugural Deep Learning World conference in Las Vegas. Deep Learning World is the premier conference covering the commercial deployment of deep learning. The event's mission is to foster breakthroughs in the value-driven operationalization of established deep learning methods.

Check out these Can't-Miss Keynotes this June in Las Vegas:

Applied Deep Learning: Self-Driving Cars and Fake News Detection
Michael Tamir, Uber
Applied deep learning has fast become a standard tool for many industry machine learning applications. New advances in neural network techniques have opened the doors to solving problems at scale that were out of reach until recently. Because of these advances, applications such as in image recognition for self-driving cars, medical image classification, text translation, and fake news detection are both tractable and often the industry standard. In this keynote, Mike Tamir, who heads the data science teams at Uber ATG—the self-driving cars division—reveals how two key application areas of deep learning signal the broad importance of this emerging technology.

The Greatest Science
John Elder, Elder Research
Data science, if judged as a separate science, exceeds its sisters in truth, breadth, and utility. DS finds truth better than any other science; the crisis in replicability of results in the sciences today is largely due to bad data analysis, performed by amateurs. As for breadth, a data scientist can contribute mightily to a new field with only minor cooperation from a domain expert, whereas the reverse is not so easy. And for utility, data science can fit empirical behavior to provide a useful model where good theory doesn't yet exist. That is, it can predict "what" is likely even when "why" is beyond reach.
But only if we do it right! The most vital data scientist skill is recognizing analytic hazards. With that, we become indispensable.
Deep Learning: Capabilities Realized and New Frontiers
Luba Gloukhova, Stanford Graduate School of Business
Groundbreaking theory, big data, and compute power — with this trifecta, the extraordinary advent of deep learning seems almost inevitable. It propels computer vision, time series analysis, and natural language processing to new heights. As we ride this wave of progress, still in acceleration, we come to a new class of challenges akin to those of traditional machine learning. In this keynote, DLW Founding Program Chair Luba Gloukhova will cover great challenges deep learning has already overcome and those that still remain.


Realtime Malware Detection with CNNs and LSTMs
Domenic Puzio & Kate Highnam, Capital One
Domain generation algorithm malware makes callouts to unique web addresses to avoid detection by static rules engines. To counter this malware, we created an ensemble model that evaluates if domains are malicious. The ensemble consists of two deep learning models a convolutional neural network and a long short-term memory network. These deep networks are flexible enough to learn complex patterns and do not require manual feature engineering. Our system analyzes enterprise-scale network traffic in real time. This talk will discuss the machine learning algorithms that were used to build the model and the model-as-a-service architecture utilized for low-latency processing.
---
Join us in Las Vegas, June 3-7, 2018 and be there to witness these industry heavyweights share their knowledge in can't miss keynote sessions.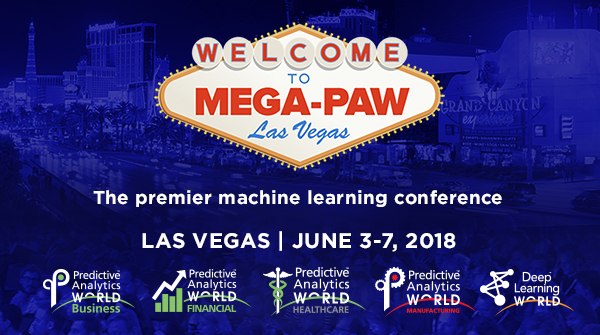 In 2018, there will be only ONE PAW in the U.S. – Mega-PAW – with five (5) parallel events amounting to seven (7) tracks: PAW Business, PAW Financial, PAW Healthcare, PAW Manufacturing, and Deep Learning World.
Conference produced by: Rising Media & Prediction Impact



Privacy Policy