AI in Dating: Can Algorithms Help You Find Love?
Can AI algorithms help us find love? Can they go a step further and replace a human being as a partner in a relationship? Here, we analyze how far technology has come in helping us meet "our" people, find love, and feel less lonely.
---
By Yuliya Sychikova, Co-founder & COO at DataRoot Labs.
The $3 billion+ Online Dating industry has seen a rise of all kinds of apps for all kinds of dating: traditional, long term dating, hook-ups, gay, lesbian, queer, group, "friends of friends", Ivy League, DNA, astrology - you name it! In fact, online dating apps are becoming so popular that over 50% of couples will meet online by 2031, according to eHarmony. Hundreds of millions of users hooked on apps allow dating companies to accumulate incredible amounts of data. This data advances the technology behind dating services enabling not only AI matchmaking but also a more secure and enjoyable online experience.
AI Innovation in the Dating Industry
Inside: AI + Dating landscape featuring 50 companies.
Take a look at our AI In Dating Innovation Landscape which includes 50 rising startups as well as mature companies that leverage AI to make dating more efficient, fun, and safe.
AI in Dating Industry Innovation Landscape 2021
So, how exactly do companies use AI to change and improve the way people meet? Let's look at the few use cases among mature dating companies and startups.
Relevant matches.
In-app user behavior data enriched by the profile data provides food for the machine learning algorithms that learn to provide increasingly more relevant and curated matches. The complexity of such matchmaking has gone much further than "swiping right" for the desirable looks in nearby locations. Now many companies tune the algorithms to account for personality traits, music taste, beliefs, attitude, and much more.
Thus, Coffee Meets Bagel connects individuals with a "friend-of-a-friend" match every day. The company's matching algorithm runs on a deep neural network and uses a "blended" method. Nine models rate the matches, and the system goes through all and comes back with a converged score. Men receive up to 21 matches — or "bagels" — a day to decide on, while women receive 4.
Hinge is positioning itself as a service that helps you get off dating apps soon. Its Most Compatible feature uses machine learning and the Gale-Shapley algorithm to send daily recommendations for people based on the user's past behavior within the app. In 2018, Hinge launched another feature called "We Met," where matched users were prompted to answer a brief private survey on whether the pair met up offline. This step serves as a feedback loop to teach its matching algorithms what makes up successful matches offline over time.
Tinder allegedly used to assign each user an "ELO" score that defined the quality and quantity of your profile. The score was calculated bases on the numbers of right swipes, Left/Right swipe ratio, quality of profile, things you show or tell in your profile that can be interpreted by the algorithms as traits, moods, and intentions, and messaging activity. Tinder then recommended people with the same score as a proxy for compatibility. Currently, the company has switched to the TinVec approach, which embeds users' preferences into vectors leveraging a large number of swipes by Tinder users.
Badoo has recently introduced the feature of finding a celebrity lookalike in the app's database. The Lookalike feature allows users to upload the photo of the desired celebrity (or any person, like your ex), and the service presents you the ones that resemble your choice the most.
Making people meet offline.
With so much activity online, it is easy to forget about the reason (at least the initial concept) behind online dating - meeting a person offline. To get people to meet in person, some companies leverage artificial intelligence to encourage meetings in real life and act as a dating coach.
For example, eHarmony plans to release an AI-enabled feature that would encourage users to suggest meeting in person after they have been interacting online for a while. On the other hand, Loveflutter suggests places to go on a first date that are equidistant from both people's homes using information from Foursquare.
Improving in-app experience by minimizing unsolicited content.
Not everyone plays by the rules once you have a million people using online dating platforms. Unwanted and abusive content, online stalking, and too many messages are annoying byproducts of popular online platforms.
To monitor user-uploaded content and filter out anything related to politics, pornography, or other sensitive topics, Blued, a mobile-based gay social app, runs AI on users' conversations to detect rule breakers. Bumble, an app that challenges female users to make the first move, recently launched Private Detector, a safety feature that uses AI to detect the sending of unsolicited pictures (with 98% of accuracy), giving users a choice to either open and view this content, or avoid it.
Similarly, a faith-based app Muzmatch, which caters to single Muslims, introduced the obscenity filter (haram detector) built on machine learning coupled with member feedback to detect Haram (impermissible) content.
Securing online dating space.
To protect user's safety, many services have introduced security features powered by AI to minimize spam and ban scammers. S'More that links people intellectually rather than superficially has developed an AI algorithm that confirms that your uploaded photos are: 1) real and of you; 2) are current; 3) are not overly altered. The app also introduced a behavioral score to control bad behavior and abusive content.
Lovoo developed an intelligent, continuously improving Anti-Spam program. The program automatically and semi-automatically recognizes spam, scam, and fake profiles and fights them with the power of machine learning.
A gay social network, Hornet, with over 30 million users, is using an AI verification process to curb catfishing. The app examines user-activity to establish if the person is trustworthy and genuine. In addition, Hornet will be the first of the major gay social networks to let people earn a badge of authenticity. The app's algorithms will decide who gets a badge based on how they interact with the community.
NLP for a better match and date facilitation.
While some apps don't and won't access messages, others use that content to deliver better matches and a more enjoyable experience. Crushh and Mei Messaging App use AI to analyze texting relationships and habits to deliver actionable insights to users around the world. Loveflutter plans to analyze chats between its users to determine their compatibility and suggest when they should meet.
AIMM takes it a step further. This first fully conversational AI-based app is using the latest facial recognition and a fully conversational design. AIMM asks you a series of questions and listens to your voice to determine your best match. Then the app will start introducing matches one at a time and then will help set up a time for a phone call between you and your match. It coaches users through a first phone call, gives advice for the first date, and even provides feedback afterwards.
Finding a scientific match with genomics and behavioral science.
For those who believe that genes largely determine our love life, DNA matching is already a thing. DNA Romance uses AI to match users with potential partners based on their genes by forecasting "chemistry" between single individuals online. You can send your sample for analysis to find the best match from the scientific perspective.
eHarmony's "affinity" process generates behavioral data using machine learning models to ultimately offer more personalized recommendations to its users. A relatively new entrant to the market, the Canadian app Say Allo uses a continuous learning algorithm and compatibility index based on Cognitive Behavior Therapy (CBT).
Exotic use cases: astrology, music, games, and video.
Finally, some companies have taken to less traditional methods of paring humans. Zotality, for example, employs proprietary AI to merge NASA's planetary data with insights of astrologers for compatibility matching. Tastebuds let you meet like-minded people who share your love for music. Desire features AI-based love games for both long-term relationships and new couples. The app analyzes users' thinking styles, decision-making processes, and behavior to create intelligent game dynamics tailored to the partners' desires to rekindle cooling relationships and boost satisfaction for new couples.
SLIDE, a video-first dating app, enables users to effectively find matches and 'test the waters' with others. SLIDE AI feature allows users to select several profiles to analyze and generate their ideal match and then customizes matches based on that ideal.
In the table below, we summarize some of the startups using AI to advance online dating.
M&A Activity and Key Players in Online Dating
The Online Dating industry is fairly consolidated, with a few industry groups owning multiple dating services, some acquired, and some launched internally. The industry is dominated by Match Group, The Meet Group (now part of NuCom Group), Bumble, and Spark Networks. Take a look at the infographic below to see who owns who in this industry: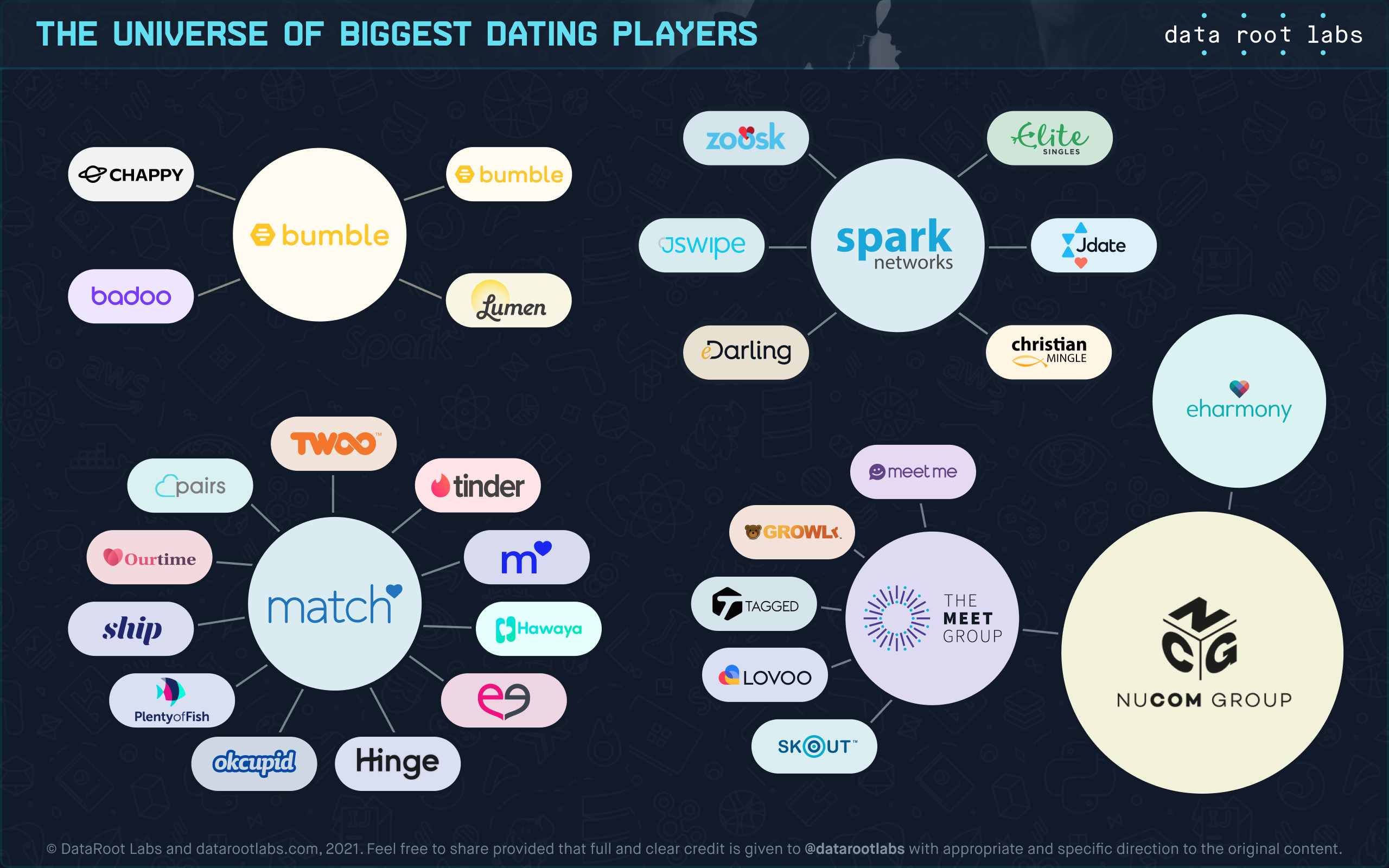 M&A Activity and Key Players in Online Dating
For the past year, the Online Dating industry has not seen many deals, but the ones that happened were significant:
2021 has started with the acquisition of a Swiss slow dating app Once by the Dating Group, one of the largest companies in the dating, for $18M. Once leveraged AI to deliver one match per day.
In September 2020, The Meet Group, Inc., a publicly-traded co-announced closing of the acquisition by eHarmony parent company Parship Group estimated at $500M. The Meet Group's dating apps MeetMe, LOVOO, Tagged, Skout, and GROWLr, now join Parship Group's brands eHarmony, Parship, and ElitePartner.
Chinese gaming company Beijing Kunlun Tech Co has finally agreed to sell Grindr, a gay dating app, back to the US player. The US has ordered Kunlun to divest Grindr amid concerns regarding the safety of the personal data it handles, such as users' private messages and HIV status. As a result, Grindr was sold to a little known San Vicente Acquisition for $640M.
Outlook and Remaining Challenges
Most dating apps already use AI in one or another capacity. Yet, it can and will do more to battle the outstanding challenges of modern dating.
Enjoyable online dating experience still remains a challenge where many users report being overwhelmed by unwanted attention and unsolicited content. Although many apps start taking user's safety more seriously, the lack of it still remains one of the biggest downsides of using online dating sites. Additionally, concerns about user data and privacy feel as poignant as ever and can go up to the national security level as we have witnessed with Grindr's acquisition.
Finally, we are witnessing a rising number of people who substitute real human interaction for technology, a phenomenon called "hikikomori" in Japanese. Will real and virtual robots replace our partners? Completely or partially? I will leave it up to you to decide whether it is a sad and concerning trend or an inevitable part of technological progress with the potential to save millions from our increasingly individualistic and lonely society.
One thing is clear - AI does not substitute "us" in the online dating world as people still remain final decision-makers. Tech does not have to replace real-life soulmate searching. It can, however, aid us in this journey and provide a convenient alternative.
Original. Reposted with permission.
Bio: Yuliya is a co-founder and COO of DataRoot Labs, where she oversees operations, sales, communication, and Startup Venture Services. She brings onboard business and venture capital experience that she gained at a leading tech investment company in CEE, where she oversaw numerous deals and managed a portfolio across various tech niches including AI and IT service companies.
Related: