Corios LLC: Analytics Consultant
Contribute directly to client engagements, from data cleansing and development, to database integration, and developing/deploying analytic and predictive models.
---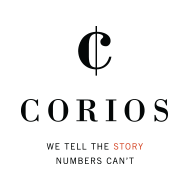 At: Corios LLC
Location: Raleigh-Durham, NC
Web: www.coriosgroup.com
_Contact_:
Apply at
coriosgroup.com/careers/
If you're fascinated with predicting consumer behavior, and you enjoy delivering insights from your analysis to influence important decisions, you should learn more about Corios LLC. We're a Portland, Oregon-based management analytics consultancy, and we want to hire bright, inquisitive analysts who enjoy solving challenging predictive analytics problems.
At Corios, we tell the stories the numbers can't; we believe business decisions are influenced not only by the measurement of behavior, but by synthesizing data-driven insights along with our past experience in order to deliver the most relevant interpretation and client recommendations possible.
Our clients are leading financial services, retail, manufacturing, and energy companies in North America and around the world. Corios helps our clients make important decisions about customer acquisition, lifecycle marketing, utilization, retention, pricing, delinquency, debt recovery, capacity planning, and financial crime detection and prevention. To meet those objectives, we leverage deep expertise in predictive analytics, statistics, econometrics, forecasting, experimental design and mathematical optimization, and the business processes that leverage those analytical disciplines.
About the Analytics Consultant role
The Analytics Consultant is a mid-level management analytics consulting role. Our consultants contribute directly to client engagements, emphasizing skills in data cleansing and development, database integration, process evaluation and development, and analytic techniques such as predictive analytics, statistics, econometrics, forecasting, experimental design and mathematical optimization.
We also expect that our analytics consultants are comfortable in a client-facing role, working closely with client representatives from both the business and Information Technology, to understand the analytic issues and collaboratively develop and deliver solutions, both technical and process-oriented.
We expect our analytics consultants to be comfortable using SAS, databases, and data appliances to accomplish tasks such as:
analytic data file development & cleansing,
database integration,
scripting/programming,
statistical visualization,
model development,
model deployment
Required skills, knowledge, experience
Qualified candidates should possess most of the following skills, knowledge and experience:
Ability to work in a team environment and complete analytical tasks independently with minimal guidance
SAS Enterprise Guide for data construction, exploration, and reporting
Advanced statistical programming, including SAS Data Step and Macro programming skills
Data management: reading, writing and transforming SAS files and relational databases
ETL: extracting from data warehouses, and for creating and tuning analytic data marts
Advanced skill and experience with SQL programming with Oracle, DB2, SQL Server, Teradata, and/or EMC Greenplum
Analytics: regression, clustering, analysis of variance, classification models, scoring Communications: high comfort level communicating directly with clients, and the ability to translate complex mathematical & statistical concepts into business-ready findings and recommendations
Advanced skills, knowledge, experience
Leading mid-level candidates will possess some of the following skills, knowledge and experience:
SAS Stored Processes and SAS BI Web Services, SAS Platform Administration and Security
SAS Customer Intelligence suite for marketing analytics
SAS Enterprise Miner for predictive model development & deployment
SAS Data Integration Studio for analytic data mart development
SAS Forecast Server for high-volume time series forecasting
Additional relevant programming languages, such as R, MATLAB, Java, C, and/or Python
JMP for statistical visualization
Forecasting: time series preparation, forecast development, simulation & sensitivity analysis
Survival modeling
Experimental design
Mathematical optimization & linear programming, Operating systems: Windows, Linux
Qualifications
3+ years field experience in a relevant vertical industry.
Undergraduate or Master's degree in a relevant academic field.
Commitment: Full time, 45-50 hours/week.
Travel: the basic expectation for travel within North America is 10 to 20%.
Candidates are required to pass a drug screen and background screen including a criminal history and reference check.
Corios LLC is a drug-free employer.