Corios: Consulting Manager
At Corios, we tell the stories the numbers can't; Looking for a bright, detail-oriented analytics consultant who enjoys identifying and resolving project issues, making sure the project progresses on schedule and on budget.
---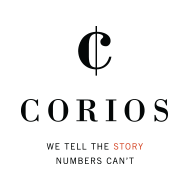 At: Corios
Location: Portland, OR
Web: www.coriosgroup.com
_Contact_:
If interested please apply at
coriosgroup.com/careers/
About Corios LLC
We're a Portland, Oregon-based management analytics consultancy, and we want to hire a bright, detail-oriented consultant who enjoys identifying and resolving project issues, making sure the project progresses on schedule and on budget, taking accountability for the project's success.
At Corios, we tell the stories the numbers can't; we believe business decisions are influenced not only by the measurement of behavior, but by synthesizing data-driven insights along with our past experience in order to deliver the most relevant interpretation and client recommendations possible.
Our clients are leading financial services, retail, manufacturing, and energy companies in North America and around the world. Corios helps our clients make important decisions about customer acquisition, lifecycle marketing, utilization, retention, pricing, delinquency, debt recovery, capacity planning, and financial crime detection and prevention. To meet those objectives, we leverage deep expertise in predictive analytics, statistics, econometrics, forecasting, experimental design and mathematical optimization, and the business processes that leverage those analytical disciplines.
Responsibilities
Work directly with clients in contract and scope finalization, and development of requirements and specifications.
Adhere to budgets and keep projects on track for successful completion within specification.
Create technical documentation as needed and report on progress of project.
Plan and coordinate project schedules, goals and milestones; make project assignments.
Manage and communicate ongoing changes in tasks, goals, or performance.
Achieve customer satisfaction through successful delivery of defined project scope.
Interface with tech leads as a peer (internally & externally).
Map SOW to project plan, accurately estimate timeline and task duration.
Build consensus between Corios and client on project execution.
Manage deliverables.
Bring emotional intelligence with significant experience employing that in stressful work situations, e.g. competing objectives and difficult personnel.
Required skills, knowledge, experience
Qualified candidates should possess most of the following skills, knowledge and experience:
Five to ten years of experience as a consultant with significant project management experience.
Bachelor's degree in computer science, engineering, business management, or related technical or quantitative field.
Ability to build strong relationships and generate opportunities for repeat business.
Ability to technically analyze project requirements, risks, issues, etc.
Willingness to travel within North America up to 30%.
Solid understanding of SDLC.
As well as:
Communications: high comfort level communicating directly with clients, and the ability to translate complex concepts. into business-ready findings and recommendations.
Data management: reading, writing and transforming flat files and relational databases.
ETL: extracting from data warehouses, and for creating and tuning analytic data marts.
Skill and experience with SQL programming with Oracle, DB2, SQL Server, Teradata, and/or EMC Greenplum.
Operating systems: Windows, Linux.
Advanced skills, knowledge, experience
Leading candidates will possess some of the following skills, knowledge and experience:
SAS Enterprise Guide for data construction, exploration, and reporting.
Advanced statistical programming, including SAS Data Step and Macro programming skills.
Analytics: regression, clustering, analysis of variance, classification models, scoring.
SAS Platform Administration and Security.
Design and Build analytical solutions with:

SAS Stored Processes and SAS BI Web Services,
SAS Customer Intelligence suite for marketing analytics
SAS Enterprise Miner for predictive model development & deployment
SAS Data Integration Studio for analytic data mart development
SAS Forecast Server for high-volume time series forecasting




Other
This position is based at company headquarters in Portland, Oregon. Management's strong preference is for candidates already located in our metropolitan area.
This is a full-time position (45-50 hours/week).
Corios LLC is a drug-free employer. Candidates are required to pass a drug screen and background screen including a criminal history and reference check.