Corios: Consulting Director (Analytics)
We tell the stories the numbers can not; we believe business decisions are influenced not only by the measurement of behavior, but by synthesizing data-driven insights along with our past experience.
---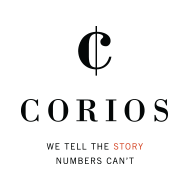 At: Corios
Location: Portland, OR
Web: www.coriosgroup.com
_Contact_:
If interested please apply at
coriosgroup.com/careers/
About Corios LLC
If you're fascinated with predicting consumer behavior, and you enjoy delivering insights from your analysis to influence important decisions, you should learn more about Corios LLC. We're a Portland, Oregon-based management analytics consultancy, and we want to hire bright, inquisitive analytics practitioners who enjoy solving challenging quantitative problems.
At Corios, we tell the stories the numbers can't; we believe business decisions are influenced not only by the measurement of behavior, but by synthesizing data-driven insights along with our past experience in order to deliver the most relevant interpretation and client recommendations possible.
Our clients are leading banking, insurance, retail and manufacturing companies in North America and around the world. Corios helps our clients make important decisions about customer acquisition, lifecycle marketing, utilization, retention, pricing, delinquency, debt recovery, capacity planning, and financial crime detection and prevention. To meet those objectives, we leverage deep expertise in predictive analytics, statistics, econometrics, forecasting, experimental design and mathematical optimization, and the business processes that leverage those analytical disciplines.Our analysts also build and maintain deep skills in database architecture, IT processes, software systems implementation and real-time analytics integration into customer endpoints.
About the Consulting Director role
The Consulting Director is a senior-level management analytics consulting role, reporting to the Vice President of Operations. The role of the Consulting Director is to provide leadership for client engagement teams, to guide client stakeholders from the beginning of the client relationship through a successful delivery, and expanding the client relationship thereafter.
The Consulting Director will coordinate with vendors, other departments, and internal teams to ensure customer satisfaction and delight. He/she will create project plans, deliverables, and timelines to meet customer needs, and develop and manage a team of consultants. Additionally, she/he will direct the customer experience from sales to execution, providing guidance to team members during difficult situations.
Required skills, knowledge, experience
Qualified candidates will have experience in a supervisory role, including experience in mentoring, hiring, promoting, assigning and evaluating employees.
Ideal candidates will have various skills/specialties relating to business development, business strategy, consulting engagement management, program management, and client and stakeholder relationship management.
Top candidates will be facile in proposal development, requirements and design development, large engagement leadership, developing relationships with C-level officers, maintaining control over six- and seven-figure engagements and being accountable for client-level profit and loss.
Advanced skills, knowledge, experience
Leading candidates will also possess the following skills, knowledge and experience:
Enterprise IT architecture, processes and management controls
SAS platform experience for predictive analytics, mathematical optimization, data integration and cleansing, and the SAS Customer Intelligence suite Experience leading teams using other relevant programming languages, such as R, MATLAB, Java, C, and/or Python
Qualifications
7-10 years experience in a relevant vertical industry.
Undergraduate or Master's degree in a relevant academic field.
Commitment:
Full time, 45-50 hours/week.
Travel:
the basic expectation for travel within North America is 25 to 40%.
Candidates are required to pass a drug screen and background screen including a criminal history and reference check.
Corios LLC is a drug-free employer.
---