Corios: Junior Analytics Consultant
Seeking a Junior Analytics Consultant, an entry-level analytics consulting role, to prepare and analyze data, interpret results, document findings and recommendations, and participate in client meetings and workshops.
---
At: Corios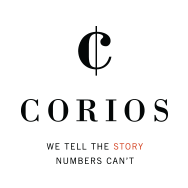 Location: Portland, OR
Web: coriosgroup.com
Position: Junior Analytics Consultant
_Contact_:
Apply online.
If you're fascinated with predicting consumer behavior, and you enjoy delivering insights from your analysis to influence important decisions, you should learn more about Corios LLC. We're a Portland, Oregon-based management analytics consultancy, and we want to hire bright, inquisitive analysts who enjoy solving challenging predictive analytics problems.
At Corios, we tell the stories the numbers can't; we believe business decisions are influenced not only by the measurement of behavior, but by synthesizing data-driven insights along with our past experience in order to deliver the most relevant interpretation and client recommendations possible. 
About the Junior Analytics Consultant role
The Junior Analytics Consultant is an entry-level analytics consulting role with promotion potential in a growing organization. The qualified candidate will prepare and analyze data, interpret results, document findings and recommendations, and participate in client meetings and workshops. Additionally, they will be expected to coordinate, prepare, and manage project documents and deliverables for the project manager; analyze the current state of the client's business; identify gaps and deficiencies, and develop recommendations for improvement.
Outside of project work, the qualified candidate will develop and evaluate company procedures, controls and guidelines, to maximize efficiency and ensure that the business operates at full functionality.
Required skills, knowledge, experience
Qualified candidates should possess most of the following skills, knowledge and experience:
Data Analysis and Management
Development of ETL code
Programming: relevant platforms include SAS, SQL, Python
Excellent Verbal Communication
Self-motivated and efficient time management
Operating systems: Windows, Linux
Skills Desired
Proficiency in Microsoft Office (Excel, Access)
UNIX shell/Python scripting
SAS programming skills, including SAS PROC SQL, SAS Data Step, and SAS Macro programming skills
Understanding and usage of SAS Enterprise Guide and SAS Stored Processes
Working knowledge of SAS BI Web Services
Experience with data in financial services, insurance, retail, and energy business
Experience with Hadoop/No-SQL data stores
Database clients
Jupyter Notebooks
Qualifications
Geography: This position is based at company headquarters in Portland, Oregon. Management's strong preference is for candidates already located in our metropolitan area.
1+ years of experience in financial services, energy, and/or insurance fields.
Bachelors Degree in mathematics, finance, economics, statistics, data science, or computer science
Commitment: Full time, 40-50 hours/week.  
Travel: the basic expectation for travel within North America is 10 to 40%.
Candidates are required to pass a background screen including a criminal history, reference check and drug screen. Corios LLC is a drug-free employer.
About Corios
Our clients are leading financial services, energy and retailing companies in North America and around the world. Corios helps our clients make important decisions about customer acquisition, lifecycle marketing, utilization, retention, pricing, delinquency, debt recovery, capacity planning, and financial crime detection and prevention. To meet those objectives, we leverage deep expertise in predictive analytics, statistics, econometrics, forecasting, experimental design and mathematical optimization, and the business processes that leverage those analytical disciplines.
Corios values its employees! Located in downtown Portland near fantastic restaurants and breweries, our team members enjoy convenient access to public transportation, ergonomic sit-stand desks, an open office with loads of ambient light, and a work environment where we enjoy supporting each other along with sharing good laughs and great food.
Medical, Dental, and Vision insurance 100% employer paid for employees, with the option to extend benefit participation to employee dependents/spouse/partner
Short-and Long-Term Disability and Life Insurance paid 100% by employer
Simple IRA with company match
Generous paid time off program
Flexible work schedules
Professional Development Opportunities
Parking/Public transit and gym reimbursement