Great report from Wikibon examines the big data market in detail, and projects it to grow 10-fold to $50B worldwide by 2017. HP Vertica is currently the market leader, followed Aster Data, Splunk, and Greenplum.
---
Wikibon, Last Update: Feb 20, 2012, By Jeff Kelly with David Vellante and David Floyer
As of early 2012, the big data market stands at just over $5 billion based on related software, hardware, and services revenue. Increased interest in and awareness of the power of big data and related analytic capabilities to gain competitive advantage and to improve operational efficiencies, coupled with developments in the technologies and services that make big data a practical reality, will result in a super-charged CAGR of 58% between now and 2017.
As explained in our Big Data Manifesto, big data is the new definitive source of competitive advantage across all industries. For those organizations that understand and embrace the new reality of big data, the possibilities for new innovation, improved agility, and increased profitability are nearly endless.
Below is Wikibon's five-year forecast for the big data market as a whole:
Of the current market, big data pure-play vendors account for $300 million in revenue. Despite their relatively small percentage of current overall revenue (approximately 5%), these vendors - such as Vertica, Splunk and Cloudera -- are responsible for the vast majority of new innovations and modern approaches to data management and analytics that have emerged over the last several years and made big data the hottest sector in IT.
Wikibon considers big data pure-plays as those independent hardware, software, or services vendors whose big data-related revenue accounts for 50% or more of total revenue. This group also consists of three until-recently independent next-generation data warehouse vendors - HP Vertica, Teradata Aster, and EMC Greenplum - that largely continue to operate as autonomous entities and have not, as of yet, had their DNA polluted by their acquirers.
Below is a worldwide revenue breakdown of the top big data pure-play vendors as of February 2012.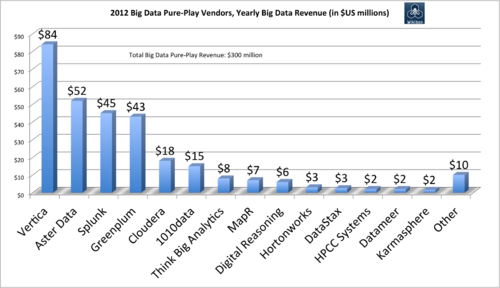 Read more.