Dedoose is a SaaS application which facilitates the coding and analysis of qualitative data and their integration with demographic and other quantitative data.
---
What is Dedoose?
Dedoose
facilitates the coding and analysis of qualitative data and their integration with demographic and other quantitative data. Dedoose is in use by marketing, ethnographic, clinical trial, social policy, education, and other research professionals.
What's New in Dedoose?
This recent release includes full support for audio and video media. Excerpt and code these data streams alongside text media, synch transcriptions of the audio content, and take advantage of all Dedoose analytics across all project resources. Other new features include a document cloner to make identical copies of already excerpted and coded text, a new 'Account' management workspace to facilitate user controls over larger team accounts, make payments, and generate receipts, and the great new desktop app that can be used to access Dedoose directly and avoid any browser update/system configuration issues that have arisen in the past.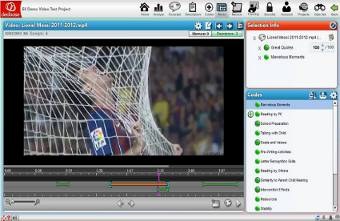 How Dedoose Works:
Dedoose is a SaaS application, so simply accessing the Dedoose website and logging in is all that is required to utilize the service-although we encourage the use of the desktop app as noted above.
Accordingly, there is nothing to purchase, download, install, maintain, or upgrade. Dedoose is also platform independent and collaborative-so any browser and any computer can access Dedoose (Mac, PC, Linux users working in harmony from anywhere, anytime). Dedoose project data are extremely secure as all protocols and policies meet U.S. National Security Agency standards and project administrators control the levels of access for all users linked to a project.
Data Mining in Dedoose:
Taking advantage of the information available in both qualitative (text, audio, and video) and quantitative data is essential for the decisions being made by company executives, health care professionals, program developers, and researchers/advisors in any industry. Dedoose allows for easy import and integration of qualitative and quantitative data from Word or Excel files. Excerpting and coding qualitative content is a straightforward process as is the later searching, sorting, analyzing, and retrieving of these data.
The interactive data visualizations in Dedoose allow for sophisticated mixed method discovery and exploration of often hidden patterns in project data. While informative in their own right, these visuals can be used in filtering and sorting and as access points for drilling deeper into the data to better understand hidden relationships. These findings are then easily exported to include in reports and presentations. The vast range of data visualizations in Dedoose also facilitate the detection of significant bi- and multivariate relationships, variation in both qualitative and quantitative data clustering, as well as chronological and spatial relationships. Finally, as a web app, Dedoose allows for real-time collaboration among researchers and clients as they work together to glean the critical insights necessary to make informed decisions.
About Us:
SocioCultural Research Consultants, LLC (SCRC) is a privately held company in the Los Angeles area established in 2006. SCRC was created to develop and distribute Dedoose and to provide top-rate social science research consulting services to both academia and the private industry.