Big Data 100 on PeerIndex and Klout
#BigData100 top influencers from PeerIndex/Big Data Republic are 1. @Tomhcanderson, 2-3: @sree, @kdnuggets, 4. @revodavid, 5. @sethgrimes. We compare it with Klout Big Data leaders and find very little overlap.
---
Big Data Republic closed their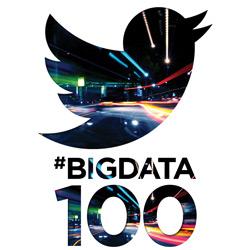 #BigData100 Twitter campaign on Apr 15, 2013.
From 181 nominations, they selected ones with the highest PeerIndex score. This is not the best measure of influence on Big Data topic, since PeerIndex is a global measure and does not consider topic in its computation. As a result some of the leaders like @sree do not really focus on Big Data. We also note that many top influencers like @cloudera or @hmason are not present in Big Data Republic list. Also, PeerIndex value apparently increases significantly when a person joins PeerIndex. Nevertheless, here are the top 15 influencers and their PeerIndex values:

1. Tom HC Anderson, @Tomhcanderson, PI 75
2-3: Sree Sreenivasan, @sree, 74
Gregory Piatetsky, @kdnuggets, 74
4: David Smith, @revodavid, 73
5: Seth Grimes, @sethgrimes, 72
6: Yves Mulkers, @yvesmulkers, 71
7-9: Eric Kavanagh, @eric_kavanagh, 70
Ferenc Huszar, @fhuszar, 70,
Thomas Ciszek, @t1c1, 70
10. Jeffrey Eisenberg, @jeffreygroks, 69
11-15: Michael Hausenblas, @mhausenblas, 68
Carla Gentry, @data_nerd, 68
William McKnight, @williammcknight, 68
Kirk Borne, @kirkdborne, 68
Big Data Gal, @bigdatagal, 68
Here is the full Big Data 100 group, created by Big Data Republic.
For comparison, here are
Klout Big Data top influencers in March 2013, and there are only 2 overlaps in the top 16 (@kdnuggets and @revodavid)

1. Cloudera Hadoop, Klout 81, @cloudera
2. Hilary Mason, 79, @hmason
3. DJ Patil, 73, @dpatil
4. Alistair Croll, 71, @acroll
5-6: Don Hinchcliffe, 68, @dhinchcliffe
Kevin Weil, 68, @kevinweil
7-8: Gregory Piatetsky, 67, @kdnuggets
Edd Dumbill, 67, @edd
9-11: Bob Gourley, 66, @bobgourley
David Smith, 66, @revodavid
IBM big data, 66, @IBMbigdata
12-13: Mike Gualtieri, 64, @mgualtieri
Neil Raden, 64, @NeilRaden
14: Pete Skomoroch, 63, @peteskomoroch
15-16: Michael Driscoll, 62, @medriscoll
Ben Lorica, 62, @BigData
Here are also the latest Klout Big Data top influencers.
An interesting experiment would be to do a comparison between PeerIndex, Klout, and Kred values. I suspect that there is some correlation between values, but much smaller correlation between rankings.