Business Analytics & Business Intelligence Online Certificates & Degrees
Here's a comprehensive list of Online graduate degrees and certificate programs in Business Analytics and Business Intelligence along with their curriculum & program costs. Most of these programs also have partnerships with industry certifications by market leaders.
---
comments
Business Analysts are part-detective, part-interpreters and powerful decision makers for an organization to progress. Many universities are offering online education to prepare the next-gen Business Analytics & Business Intelligence experts.
Business Analytics is the science of translating vast amounts of complex data into clear, manageable information in order to make sound business decisions. It involves the skills, technologies, past performance investigation and information search, all of this with a business perspective in mind. The main aim of business analytics is to gain insight. It heavily aids business planning process. It includes statistical or quantitative analysis, data mining, predictive modeling and multivariate testing. Business Analysis, on the other hand, deals with functions and processes of business.
Business Intelligence is a comprehensive term that refers to analytics and reporting tools. The key distinction between business analytics and BI is that the latter actually presents the insights determined by the former in reports, dashboards, or interactive visualizations.
This post gives a comprehensive survey of currently available ONLINE MS degrees and certificates in Business Analytics and Business Intelligence.
The average MS degree length is 18.6 months and the average cost is $33,700 - not cheap. As the chart below shows, there is no real correlation between MS degree length and cost.
Table 1: Online MS/MBA Degree Programs in Business Analytics and Business Intelligence
, listed in alphabetical order. Tuition fee may vary for resident/non-resident/international status.
University
Overview
Duration
Program
Total Cost
Albright College MS Business Intelligence [Curriculum]
Offers Accelerated program Learning experience that allows adult and nontraditional students to go back to school and finish what they started.
1-1.5 years
$29,220
Arizona State U.
MS in Business Analytics [Curriculum]
MS‑BA will deepen your quantitative & analytical skills,& you'll discover how to derive value from data, lead data-driven analyses, & create a business advantage across markets and industries.
16 months
$43,500
Auburn University MBA with concentration in Business Analytics [Curriculum]
Designed for the working professional and mirrors the full time MBA program.
$28,980
Baker College MSIS Business Intelligence [Curriculum]
Focuses on the fundamentals of business intelligence and data warehousing. Business concentration of the degree covers the financial,economic & marketing environment of businesses.
24 months
$23,925
Bellevue U. MSc Business Analytics [Curriculum]
Suitable if you are interested in various business and Info Systems disciplines like Business Administration, Project Management, CIS/MIS & to pursue various industry analytics certifications such as SAS Base Programmer and SAS Data Mining.
12-18 months
$18,900
Deakin U. MS Business Analytics [Curriculum]
Partnership with industry & a significant component of the course is delivered by business analytics professionals in the form of practice modules. You will also have access to analytics certification programs by market leaders IBM, SAS and Microsoft.
18 months
$39,880
Full Sail U. MSc Business Intelligence [Curriculum]
Data management, qualitative analysis & business intelligence technologies, and develop key technical and analytical skills in data visualization, creative reporting, case studies, project management, and leadership development through a series of integrated learning activities.
12 months
$31,000
Grantham U., MSc Business Intelligence [Curriculum]
Upon graduation, you will be armed with an advanced business education in the fields of technology and decision science.
24 months
$11,700
Indiana U. Bloomington Online MBA Major in Business Analytics [Curriculum]
Focus on mathematics, statistics, modeling, or information systems. Offers three tracks: Strategic Finance, Consumer Marketing,or SCM.
24 months
$25,500(R)
$44,460(nr/I)
Indiana U. Online MS in Business Analytics [Curriculum]
One of the first top-ranked schools to offer an MS in Business Analytics. You'll be able to strategically position yourself as a brand analytics manager, e-commerce project manager, web metrics analyst, or a consultant to senior decision makers.
15 months
$38,100
Lewis U. MS Business Analytics [Curriculum]
24/7 online access to Lewis' CloudLab allows students to connect to virtual machines and complete hands-on exercises in industry tools such as SPSS, Weka, Rapid Miner, RapidAnalytics, MySQL, R, DyGraphs, InstantAtlas.
8-week courses
1-1.5 years
$28,620
Northeastern U. MS Business Analytics [Curriculum]
Core data analytics courses set the foundation for applied business analytics courses plus a capstone experience.
24 months
$45,756
Northwestern U. MSc in Information Systems with conc. in Analytics & BI [Curriculum]
MSIS program trains students in information systems methodologies, with an emphasis on design, implementation and evaluation of software applications and theoretical models.Offers various specializations.
18 months
$49,400
Oakland U., MS in Information Technology Management in Business Analytics [Curriculum]
Students must split their time from taking classes on campus and online, and complete a capstone project after taking core and elective classes.
12 months
$19,650(r);
$30,810(nr);
Ohio U. Online MBA in Business Analytics [Curriculum]
Offers 4 concentrations: Business Analytics, Finance, Health Care, and Executive Management.
24 months
$35,140 (r);
$35,805 (nr)
Purdue U., MS in IT Business Analysis Online [Curriculum]
Courses in Business Analysis Essentials, Requirements Discovery and Analysis, Enterprise Analysis, Business and Data Analytics, Requirements Communication and Verification, IIBA and PMI Certification Prep.
24 months
-
Quinnipac U. MS in Business Analytics [Curriculum]
Through a partnership with SAS, graduates of this program will be issued a Certificate in Business Analytics Using SAS.
12-24 months
$29,535
Saint Joseph's University, MS Business Intelligence
& Analytics [Curriculum]
Graduates of the MSBIA program at Saint Joseph's University also receive a Business Intelligence Certificate from SAS.
2 years
$34,056
U. of Tennessee at Chattanooga, Online MBA Business Analytics [Curriculum]
The business concentration covers databases and data warehouses, data mining, and advanced queries and business reports.
16-24 months
$24,960(r)
U. Maryland college park, Online MBA-Specialization in Info. Systems & BA [Curriculum]
Specialize in Finance, Information Systems and Business Analytics, Accounting or Marketing, or opt for the broader general track.
21 months
$79,974
U. of St. Francis, MBA with a concentration in Business Analytics [Curriculum]
Focuses on Global and competitive challenges, The value chain of business, Analytical thinking & Leadership and decision making.
12-18 months
$32,340
U. of Strathclyde MSc Business Analysis & Consulting [Curriculum]
Compulsory modules: Foundations of Operational Research & Business Analysis, Quantitative Business Analysis and Managing Business Operations. Optional modules from a range including Business Simulation Methods, Risk Analysis & Management & Business Information Systems.
12
months


-
U. of Wisconsin Milwaukee Graduate Certificate in Business Analytics [Curriculum]
Provides you with the skills to manage, analyze, and use data to support strategic decision making. Use a wide range of reporting and OLAP tools for business analytics, including Business Objects, Excel Data Mining Client, Python, R, SAP BW, SAS, SPSS, SQL Server BI Development Studio.
1 term
$12,500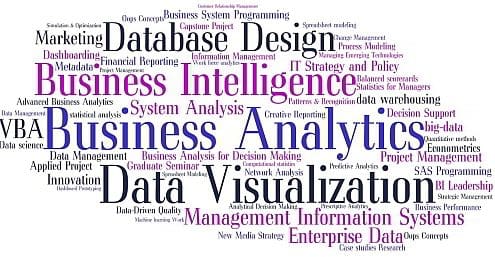 Some core courses are shown here in a word cloud.
Next, we look at Online Graduate Certificate Programs in Business Analytics and Business Intelligence.