Data Driven Government – Speakers Highlights
The lineup of experienced, thought-leading speakers at Data Driven Government, Sep 25 in Washington, DC, will explain how to use data and analytics to more effectively accomplish your mission, increase efficiency, and improve evidence-based policymaking.
---
Sponsored Post.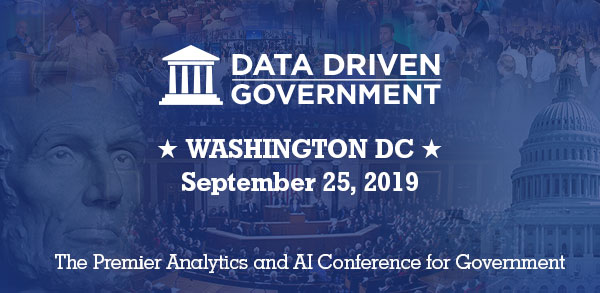 Thought Leaders & Expert Practitioners
on This Year's Speaker Lineup
The lineup of experienced, thought-leading speakers at Data Driven Government (Washington, DC - September 25, 2019) will explain how to use data and analytics to more effectively accomplish your mission, increase efficiency, and improve evidence-based policymaking.

Formerly known as Predictive Analytics World for Government, this premier conference covers the emerging trends and best practices of how government agencies at Federal, State, and local level, are currently using data analytics to enhance mission outcomes.

Don't miss this opportunity to learn how to enhance your operations, grow your career and network in the heart of the US capitol.
---
Take advantage of the KD Nuggets community's VIP price using the code KDNUGGETS (15% off the Early Bird rates)!

Redeem your discount
---

A Sampling of Speaker Expertise:

Federal CDO Panel:
Applying the Presidents' Executive Order for AI Leadership


Dmitry Chesnokov

Assistant Director – Supervisory Attorney and Senior Technology Officer

U.S. Securities and Exchange

In his role, Chesnokov leads a team of professionals and serves as a senior counsel providing advice and recommendations for a highly sophisticated and advanced area involving the overlap of the securities market, Fintech, and OCIE mission technology. Prior to joining the SEC, Chesnokov spent more than three years at the Consumer Financial Protection Bureau (CFPB), brought in to establish the electronic discovery and litigation support function within the bureau's Office of Enforcement. While at the Bureau, he was one of the CFPB's founding members of the National Information Systems Supervision Program, responsible for supervision and examinations of technology functions of depository and non-depository institutions, as well technology service providers, and represented the Bureau on the Federal Financial Institution Examination Council's Cybersecurity and Critical Infrastructure Working Group, and other FFIEC activities related to Supervision of covered entities and technology service providers. Prior to joining the CFPB, Chesnokov was a litigation attorney.
Canada Revenue Agency:
Non-Filer Program's Journey in Applied Analytics
Snezana Vucic

Manager, Collections and Verification Research Section

Canada Revenue Agency

Snezana Vucic has more than 17 years' experience in applied research at the CRA. She has gained extensive experience in applying various analytical techniques including forecasting, experimental design, and modeling to directly or indirectly support evidence-based decision making within various CRA programs. Since January 2011, she has successfully managed one of the most engaged CRA research teams. She has led more than 60 research initiatives, 33 of which were published. A select few have been shared at intergovernmental meetings, as well as at Canadian and international tax conferences.

Snezana holds a Master's degree in Economics and a Bachelor of Arts in Economics, with a Minor in Business Administration, from the University of Sherbrooke, Québec, Canada.
Federal CDO Panel:
Applying the President's Executive Order for AI Leadership




Matthew Graviss

Chief Data Officer

U.S. Citizenship and Immigration Services


On July 23, 2018, Matthew Graviss joined the USCIS Senior Executive Service as the chief data officer within the Office of Performance and Quality, Management Directorate.

In November 2016, Dr. Graviss began serving as the Transportation Security Administration's (TSA) director of security threat assessment operations, which annually adjudicates more than 800,000 applications for TSA's 30+ credential and benefit programs. He also led agency-wide initiatives to refocus and realign risk analysis capabilities in TSA, and developed and coordinated the TSA Biometrics Strategy for aviation security and the passenger experience.

In 2011, Dr. Graviss accepted a position with the CBP Office of Acquisition to lead CBP's testing and evaluation (T&E) of land border surveillance technology and to provide data analysis services for CBP acquisition programs. In 2012, Dr. Graviss became the director of the Systems Analysis and Evaluation Division, which translates CBP officer and agent needs into technical requirements and evaluates border surveillance technologies offered by industry to advance DHS's border security mission.

Dr. Graviss graduated from Auburn University and holds a master's degree in mechanical engineering from Texas A&M University, and a Ph.D. in systems engineering from the George Washington University. He is a DHS Level 3 certified acquisition professional in program management, systems engineering, and T&E, and is a graduate of the DHS Senior Executive Service's Candidate Development Program.
---
Get on board as a blog or media partner, share the latest news and earn complimentary tickets: contact marketing@risingmedia.com
To learn more about our sponsorship opportunities, contact pgillis@risingmedia.com
---

We look forward to seeing you at Data Driven Government!
---
Conference produced by: Rising Media & Prediction Impact