The Top A.I. Breakthroughs of 2015
Learn about the biggest developments of 2015 in the field of Artificial Intelligence.
---
By Richard Mallah
Progress in artificial intelligence and machine learning has been impressive this year. Those in the field acknowledge progress is accelerating year by year, though it is still a manageable pace for us. The vast majority of work in the field these days actually builds on previous work done by other teams earlier the same year, in contrast to most other fields where references span decades.
Creating a summary of a wide range of developments in this field will almost invariably lead to descriptions that sound heavily anthropomorphic, and this summary does indeed. Such metaphors, however, are only convenient shorthands for talking about these functionalities. It's important to remember that even though many of these capabilities sound very thought-like, they're usually not very similar to how human cognition works. The systems are all of course functional and mechanistic, and, though increasingly less so, each are still quite narrow in what they do. Be warned though: in reading this article, these functionalities may seem to go from 
fanciful
 to
prosaic
.
The biggest developments of 2015 fall into five categories of intelligence: 
abstracting across environments, intuitive concept understanding, creative abstract thought, dreaming up visions,
 and 
dexterous fine motor skills
. I'll highlight a small number of important threads within each that have brought the field forward this year.
Abstracting Across Environments
A long-term goal of the field of AI is to achieve artificial general intelligence, a single learning program that can learn and act in completely different domains at the same time, able to transfer some skills and knowledge learned in, e.g., making cookies and apply them to making brownies even better than it would have otherwise. A significant stride forward in this realm of generality was provided by 
Parisotto, Ba, and Salakhutdinov
. They built on 
DeepMind's seminal DQN, published earlier this year in Nature
, that learns to play many different Atari games well.
Instead of using a fresh network for each game, this team combined deep multitask reinforcement learning with deep-transfer learning to be able to use the same deep neural network across different types of games. This leads not only to a single instance that can succeed in multiple different games, but to one that also learns new games better and faster because of what it remembers about those other games. For example, it can learn a new tennis video game faster because it already gets the concept — the meaningful abstraction of hitting a ball with a paddle — from when it was playing Pong. This is not yet general intelligence, but it erodes one of the hurdles to get there.
Reasoning across different modalities has been another bright spot this year. The Allen Institute for AI and University of Washington have been working on test-taking AIs, over the years working up from 4th grade level tests to 8th grade level tests, and this year announced a
system that addresses the geometry portion of the SAT
. Such geometry tests contain combinations of diagrams, supplemental information, and word problems. In more narrow AI, these different modalities would typically be analyzed separately, essentially as different environments. This system 
combines computer vision and natural language processing, grounding both in the same structured formalism
, and then applies a geometric reasoner to answer the multiple-choice questions, matching the performance of the average American 11th grade student.
Intuitive Concept Understanding
A more general method of multimodal concept grounding has come about from deep learning in the past few years: 
Subsymbolic knowledge and reasoning
 are implicitly understood by a system rather than being explicitly programmed in or even explicitly represented. Decent progress has been made this year in the subsymbolic understanding of concepts that we as humans can relate to. This progress helps with the age-old 
symbol grounding problem —
 how symbols or words get their meaning. The increasingly popular way to achieve this grounding these days is by joint embeddings — deep distributed representations where different modalities or perspectives on the same concept are placed very close together in a high-dimensional vector space.
Last year, this technique helped power abilities like 
automated image caption writing
, and this year a team from Stanford and Tel Aviv University have extended this basic idea to 
jointly embed images and 3D shapes
 to bridge computer vision and graphics. 
Rajendran et al.
then extended joint embeddings to support the confluence of multiple meaningfully related mappings at once, across different modalities and different languages. As these embeddings get more sophisticated and detailed, they can become workhorses for more elaborate AI techniques. 
Ramanathan et al.
 have leveraged them to create a system that learns a meaningful schema of relationships between different types of actions from a set of photographs and a dictionary.
As single systems increasingly do multiple things, and as deep learning is predicated on, any lines between the features of the data and the learned concepts will blur away. Another demonstration of this deep feature grounding, by a team from Cornell and WUStL, uses a
dimensionality reduction of a deep net's weights to form a surface of convolutional features
 that can simply be slid along to meaningfully, automatically, photorealistically alter particular aspects of photographs, e.g., changing people's facial expressions or their ages, or colorizing photos.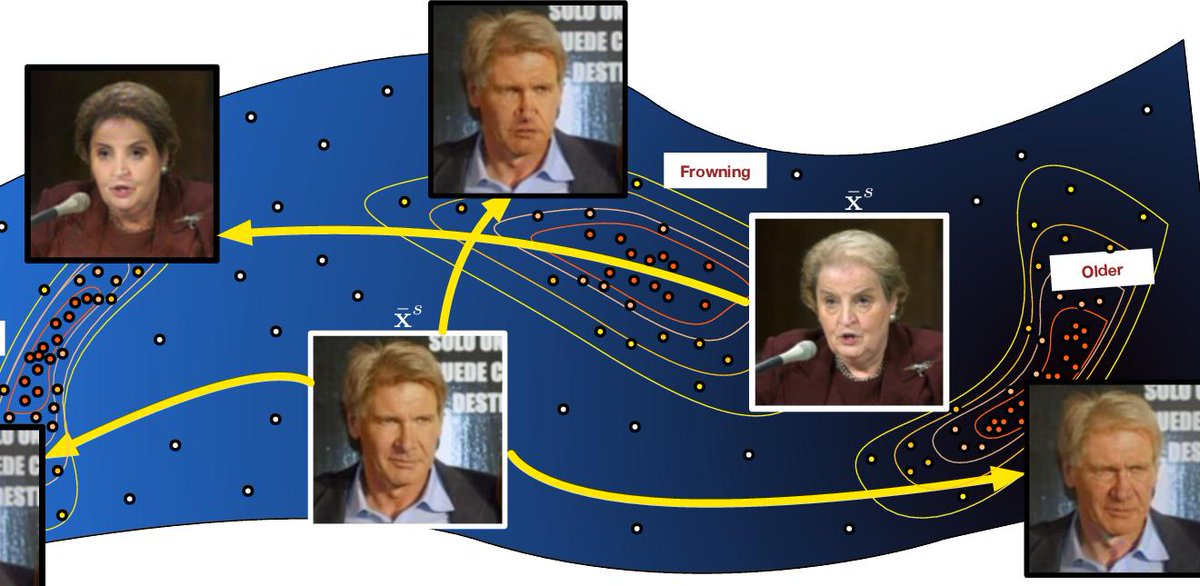 One hurdle in deep learning techniques is that they require a lot of training data to produce good results. Humans, on the other hand, are often able to learn from just a single example. 
Salakhutdinov, Tenenbaum, and Lake
 have overcome this disparity with a technique for
human-level concept learning through Bayesian program induction from a single example
. This system is then able to, for instance, 
draw variations on symbols in a way indistinguishable from those drawn by humans
.
Continued on next page ...