Social Media for Marketing and Healthcare: Focus on Adverse Side Effects
Social media like twitter, facebook are very important sources of big data on the internet and using text mining, valuable insights about a product or service can be found to help marketing teams. Lets see, how healthcare companies are using big data and text mining to improve their marketing strategies.
---
comments
By Tatsiana Levdikova, EffectiveSoft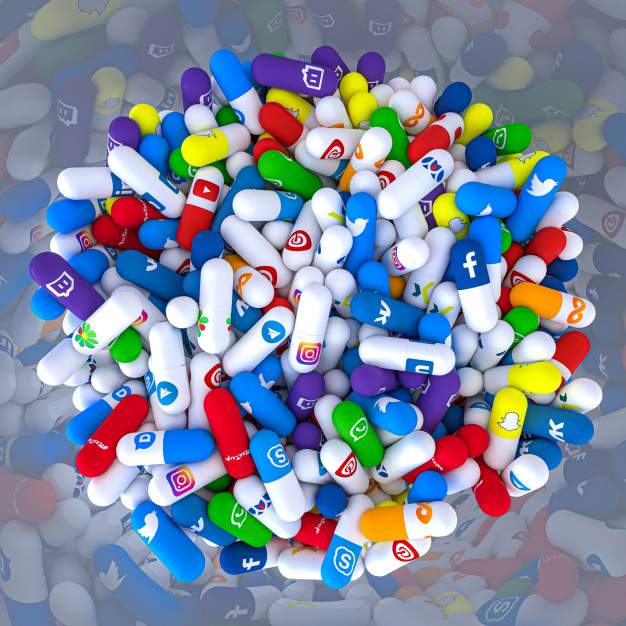 Social Media and Marketing Efforts
Social media users generate an immense volume of posts on a daily basis. By analyzing these posts marketers can get real-time information about the products, thus toppling their rivals. How can the required information be retrieved from hundreds of millions of social media posts? Natural language processing (NLP) is a way out as it can be used for a variety of purposes.
NLP tools can be applied to find out users' opinion about a specific product or service. E.g., some researchers believe that these tools can predict movie's performance prior to its production. The access to such information will give a politician a competitive advantage over his/her counterparts. In criminal investigations, when time really matters, the data squeezed from social media posts may be pivotal.
So, it is evident that the information that people share on social media is not limited to beautiful pictures, links to different websites and funny statuses. There is much more valuable information, and personal health issues are part of it. Social media posts may contain information about adverse effects (AEs) and thus play a vital role for newly approved drugs.
AEs and New Drugs
The process of drug approval requires much time. In the U.S., for instance, an experimental drug needs more than 10 years to make the journey from the laboratory to the market. The drug undergoes many tests, trials, and studies before it is launched. Still, some AEs may remain undiscovered due to various limitations of clinical trials.
Considering the fact that first six months after a new drug is released define its position among similar drugs, manufacturers continue working on products after their launch in an effort to detect new AEs and reduce or eliminate them.
They can obtain information about AEs from official authorities, but such reports are published few times a year, and the information may be outdated. Besides, the reports lack data from patients due to the voluntary nature of reporting. Drug manufacturers are the only ones who are obliged to inform officials about AEs. That is why many of them pour significant sums of money into post-marketing clinical trials and focus group studies.
AEs and Social Media
The study showed that 11% of social media users post comments, queries, or information about health or medical issues. People now join health-related social networks, such as PatientsLikeMe, to share their experience on a particular drug. Users of social media giants (e.g. Facebook and Twitter) also post such information. And researchers can obtain it with the help of linguistic tools. Let's take a look at how NLP can be used to extract data on AEs from tweets.
AEs and Twitter
Twitter boasts 313 million monthly active users. People put hashtags in their tweets to draw other people's attention. These hashtags may include names of specific products, manufacturers, regulatory agencies, medical conditions and diseases, medical communities, etc.
See examples of the tweets below:
Twitter is a valuable source for researchers. The relevant tweets can be collected by making use of Streaming and Search APIs. Twitter data can also be purchased from resellers, such as Gnip, Inc.
Searching for AEs on Twitter: Difficulties
Companies offering services for custom applications development (and linguistic tools, in particular) face some difficulties:
It may be difficult to separate a signal from the noise.
Misspelling is a common problem for many users. For instance, they can write Peroxicam instead of Piroxicam.
Many people use the lay vocabulary that does not correspond to official terms (see MedDRA).
There are many promotional tweets that should be found and removed.
One user may own several accounts where he/she may post similar tweets. So, retweets should also be considered.
Marketers and manufacturers will not be able to find out more details about AEs (e.g. their duration) posted in non-promotional tweets. They may try to find a user who tweeted to get in touch, but taking into account the reluctance of users to answer seem-to-be-spam messages their chances to get further details are low.
A single tweet about AEs may create a snowball effect by encouraging other users to share their experience in dealing with a specific drug. The AEs mentioned in these new tweets may have been already addressed by a manufacturer.
Cultural and contextual differences may occur, and researchers may need to address an experienced linguist to get assistance. But it should be noted that a portion of tweets with such differences is unlikely to be big enough to drastically affect the search results.
People can use different languages for their tweets. NLP tools mainly analyze texts written in English. So, many tweets mentioning a particular drug may remain untapped.
The Real Cost of Missed AEs
Approved in 2002, Essure by Bayer was marketed as a safe and effective permanent birth-control system. But in reality it ruined health of thousands of women who used it. The women discussed side effects they had for 14 years before their voices were noticed and FDA issued a warning.
They posted their complaints on many online sources: forums, Facebook groups and personal pages, Twitter pages, etc. Headaches or migraines, weight issues, insomnia, skin irritation, heartburn, hot flashes, metrorrhagia are only few of the most common complaints. Death cases and fetal deaths linked to Essure (303) were also cited. This would not have happened if the manufacturer and government paid more attention to social media posts.
Here are some tweets where women tell others about such effects: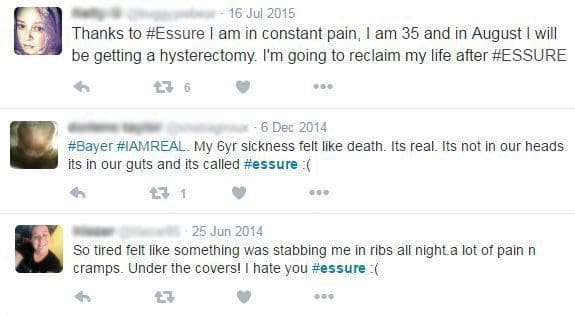 At first, the women did not know about the frequency of medical issues they experienced, but then they brought their voices together and eventually became strong enough to be heard by official authorities. This story has not come to an end yet. Essure lawsuits and investigations continue.
Conclusion
We live in the era of social media which has a great influence on people's minds. With millions of users sharing their thoughts via social media platforms, most businesses become dependent on them as on the vital source of marketing campaigns and connection with the public.
Social media networks also represent important research opportunities for healthcare organizations, brands and researchers. Healthcare institutions can gain a competitive advantage by analyzing social media posts with the help of linguistic tools.
By 2020, almost 70% of healthcare professionals in the USA increased their marketing budget on social media. There are numerous projects and initiatives working to research digital health in the United States, ReCODE Health supported by University of California San Diego is one of such research practices. The center helps set guidelines for health research using digital tools and social media is one of those tools. In the same way, EffectiveSoft, one of the leading custom healthcare software development companies in San Diego, CA, works to offer healthcare institutions the best health care software that helps analyze social media sources and get the most accurate results.
Bio: EffectiveSoft, a custom software development company with 20 years of experience developing custom healthcare software that helps US healthcare institutions use the latest technological advances in their work.
Related: