Google Data Analytics Certification Review for 2023
What is the Google Data Analytics Certification? And, more importantly, is it still worth getting it in 2023?
---
What is the Google Data Analytics Certification? And, more importantly, is it still worth getting it in 2023? As the job field changes, tech layoffs shake the employee landscape, and technology evolves, is the Google Data Analytics Certification a one-stop shop to get a job?
Here's a one-sentence summary: The Google Data Analytics Certification is a course that teaches you data analytics, both the numbers and the business side.
To go a little more in-depth, it's geared toward teaching total novices how to do data analytics at a basic level. It's a fully remote course that takes around 10 hours of study per week – 181 hours total. Google offers it through Coursera. On average, it takes students eight months to get certified, which puts the cost at around $312 (eight months x $39/month for the Coursera Plus subscription).
So, is the course worth it? Is it even $312? It all comes down to what you want the Google Data Analytics Certification for.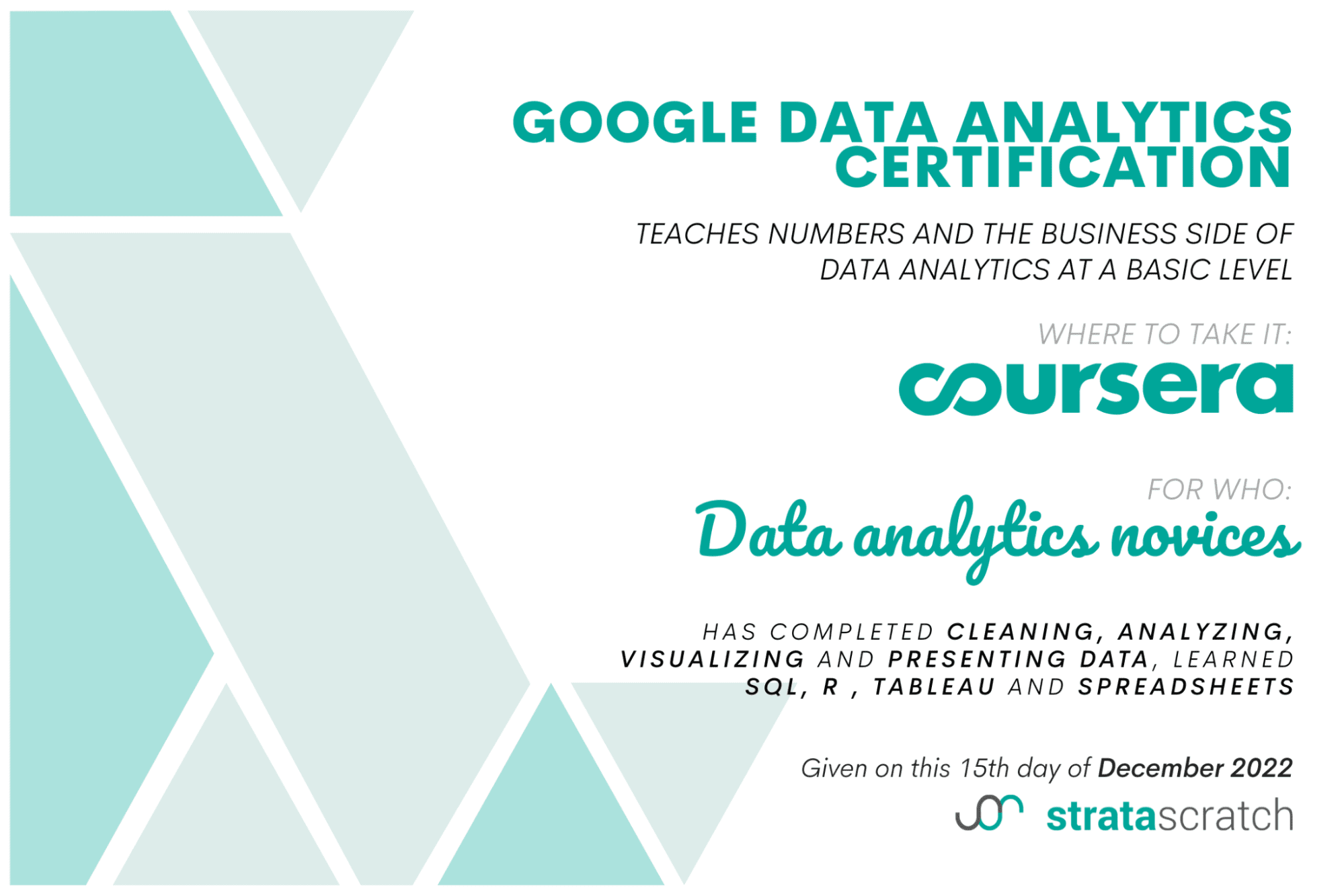 By the end of the course, Google promises that you'll:
Understand the practices and processes used by entry-level data analysts in their day-to-day jobs
Learn the critical analytical skills to get early-stage data analyst jobs, like data cleaning, analysis, & visualization
Be familiar with tools and languages like spreadsheets, SQL, R programming, and Tableau 
Understand how to clean and organize data for analysis
Know how to do analysis and calculations using spreadsheets, SQL, and R programming
Be able to visualize and present data findings in dashboards, presentations, and other commonly used visualization platforms
They also offer post-certification career help, like putting you in touch with their hiring partners. Google boasts 150 hiring partners for their data analytics track.
Who is it good for?
If you're looking for an entry-level role in data analytics, this course is a good first step, and worth the ~$300 you'll pay for it.
If you want to secure a job, go for a more experienced role, or gain exposure to advanced concepts, it's still a good first step – but some other tools and courses might be a better fit for you.
In short, the Google Data Analytics Certification teaches you how to be an entry-level data analyst.
However, it does not teach you how to get the job – getting interviews, acing interview questions, writing resumes, or putting together a kickass portfolio. It also is very basic and won't get into advanced concepts.
Let's dive into the full Google Data Analytics Certification review.
What will the Google Data Analytics Certification teach you?
Throughout eight sections, the Google Data Analytics Certification will teach you how to:
Do all and any tasks you'd need to do as a junior data analyst
Clean data, run analyses, visualize and present data
Use tools like R, SQL, and Tableau to process data
Use spreadsheets to perform complex calculations
Let's take a look at each of the eight courses to see how that breaks down.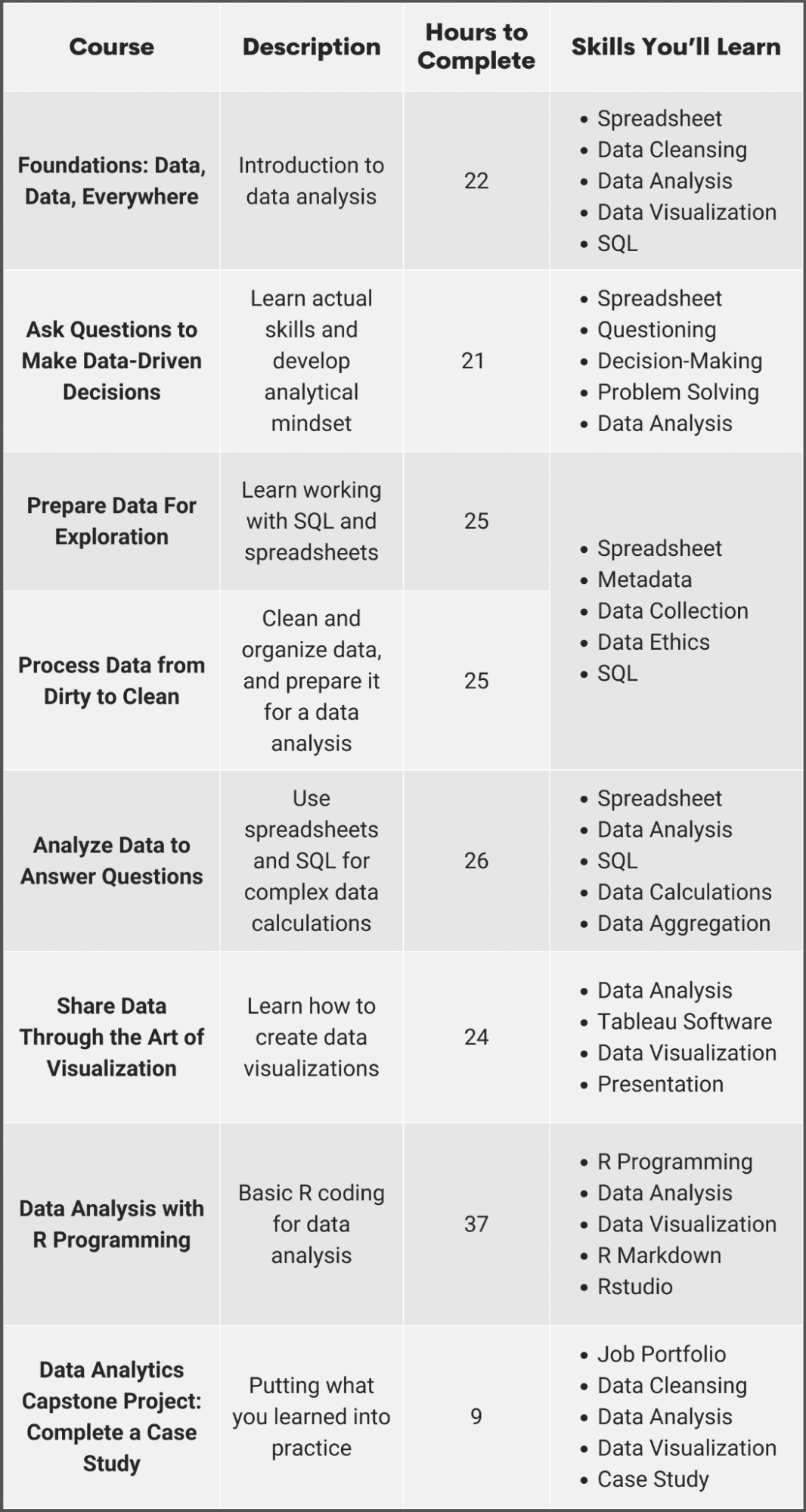 Reviewing Course 1: Foundations: Data, Data, Everywhere
This course is where you get your feet wet with the world of data analysis. It's 21 hours of work, which Google further divides into five sections.
By the end of this course, you'll understand what data analytics is. You'll also be familiar with the day-to-day tasks and tools data analysis use.
You can expect to take six graded multiple-choice exams in this section to prove your mastery.
Reviewing Course 2: Ask Questions to Make Data-Driven Decisions
The first course mostly introduced data analysis to a layperson. This course is where you'll start to learn actual skills. Expect this course to take around 19 hours.
Not many novices realize how much data analytics is knowing the right way to think. Being able to code isn't enough – you need a true analytical mindset to succeed. That's what this course teaches.
You'll learn how to ask effective questions, how to make data-driven decisions, the basics of spreadsheets, and how to prioritize the stakeholder.
You'll be tested with five graded quizzes.
Reviewing Course 3: Prepare Data For Exploration
Ready to get started coding? This is the course for you. After two courses of mostly theory, now you'll start to learn SQL and spreadsheets.
Over 21 hours, you'll learn about data types and structures, how to use SQL to extract data, how to use a spreadsheet to both analyze and present findings, and gain familiarity with tools like databases.
You'll still get some theory work: you'll learn about bias, ethics, credibility, and access. You'll also get a taste of infosec – this course covers how to organize and protect data.
You'll take five multiple-choice quizzes to demonstrate your understanding.
Reviewing Course 4: Process Data from Dirty to Clean
College didn't prepare me for this, so I'm glad the Google Data Analytics Certification does: data doesn't arrive at your computer fully clean and ready to analyze. A lot of data analysis is punching the data into shape.
This course is all about how to use spreadsheets and SQL to clean and organize the data you'll be analyzing later. Over 23 hours, four quizzes, and a hands-on course challenge exercise, you'll learn how to clean data from start to finish. The course will walk you through some hands-on examples, so it should be fairly straightforward.
Reviewing Course 5: Analyze Data to Answer Questions
We're halfway through the course at this point. And now, we get to the actual analysis part. Finally, you'll be using advanced formulas and SQL queries to perform complex data calculations.
This course covers:
Organizing data
Formatting and adjusting data
Aggregating data
Doing data calculations
This course is the longest so far, with an expected 26 hours of learning time.
Reviewing Course 6: Share Data Through the Art of Visualization
Visualization is critical for any data analyst. When you give stakeholders plain numbers, it's tough for non-experts to grasp the importance. But a nice graph or chart? Now they get it. That's what this course is about.
This course focuses more on Tableau, which is a data visualization platform. Tableau is a useful skill to have in any case, so don't skip this course.
You'll walk through: how to visualize data generally, how to create data visualizations with Tableau specifically, how to use data to tell a story, and how to develop slideshows and presentations.
Reviewing Course 7: Data Analysis with R Programming
SQL and Tableau have their place, but R is the first and only "real" coding language you'll learn in this course. Consider this course an intro to R.
This is by far the most time-intensive course, with an expected 38 hours required to complete it. It's also the most complex. R is a powerful language, and this course only really scratches the surface. The six graded assignments will prove not that you're an R master, but that you know enough R to become Google Data Analytics certified.
The first portion of this course alone is 8 hours of intro to programming and data analytics with R. Then you'll get into programming using R's IDE, RStudio. Then you'll learn how to work with data in R. Finally, you'll cover visualizations, documentation, and reports in R.
It's geared toward total beginners, so don't get intimidated! But do expect to take your time as you walk through this course.
Reviewing Course 8: Data Analytics Capstone Project: Complete a Case Study
Finally, you'll spend about nine hours completing your capstone project: a case study. It's optional but highly recommended.
During this course, you will choose your case study scenario, ask the right questions, clean data, process and analyze data, and use visualization skills to present the data. It's the perfect culmination of everything you've learned – and it'll be impressive to potential employers, too.
Summary of the Google Data Analytics Certification
It's a great basic introduction to the world of data analytics. You'll get a grounding in the concepts and theories, and you'll get some hands-on practice, too.
After you complete the certificate, you'll also get access to some career tools, like expert training and hands-on projects. You'll get a resume-building tool, mock interviews, and career networking support.
But that's where it ends.
What does the Google Data Analytics Certification leave out?
The Google Data Analytics Certification claims that the average salary for a data analyst is around $74k.
That's a fine entry-level career. But if you apply yourself a little more and learn some additional skills to improve your understanding and your hireability, you could be looking at six figures or more if you master data science skills.
You also won't get any access to learning Python, which is one of the most prominent and desirable programming languages for jobs in any data-based career.
Finally, the Google Data Analytics Certification covers some interview skills, but not all. Practicing real interview questions is critical to getting a job as a data analyst.
Does the Google Data Analytics Certification help you learn the advanced concepts to get the job in 2023?
In short, no. It's a good foundation, but it's not everything you need to get the job as an entry-level data analyst or beyond in a data science career path.
To get the job, you also need to:
Learn advanced concepts
Build projects
Practice interviews
Here are a few resources to help you do that.
Learn advanced concepts
It's not enough to know how to ask good questions and visualize data. To stand out as a data analyst candidate, it's also important to be familiar with advanced concepts in the field.
Boot.dev is a great resource to learn the fundamental concepts that underpin all software development, data science, and data analysis.
This platform can help teach you Python, which is critical for data analysis, as well as concepts like data structures algorithms, and functional programming. It's built for backend developers more than data analysts, but a lot of the necessary skills overlap. It's also very reasonably priced at just $24/month.
HackerRank is another fantastic option to learn more advanced skills in data analysis/science. They offer interview kits, courses, and certifications across all sorts of skills and disciplines to go above and beyond.
Build projects
One of the most important parts of any resume is the project portfolio. If you're not sure where to start, I recommend this list of data analytics projects that can help you impress hiring managers and learn practical skills.
Another great place to look is Kaggle, which is a platform that helps data science enthusiasts interact and compete in solving real-life problems. That competitive pressure is excellent to motivate yourself to get your hands dirty with actual data.
Practice interview questions
At this stage of the interview process, you've crafted a gorgeous resume and portfolio with hands-on projects and demonstrated an understanding of the skills required.
Then you get thrown a curveball interview question and you're stumped. The best way to avoid this is by practicing real interview questions from real data science interviews. Our own platform StrataScratch offers both coding and non-coding questions to help you nail every interview you might come across.
Is the Google Data Analytics Certificate Worth It In 2023?
If you're a total beginner, it's a great first step - definitely worth the time and money you'll spend to get certified. But if you already know a bit about data analytics, it's not worth it.
(One alternative if you're already a data analytics whiz: sign up for Coursera for just a month, fly through the course, and ace all the quizzes – that way you can be "certified" for just $39.)
Furthermore, it's not enough to get a job. The job landscape is a bit more competitive nowadays – you need to demonstrate an understanding of more advanced concepts, host a full portfolio of personal projects, and ace your technical interview to stand a chance.
Finally, if you want to get a job beyond entry-level data analytics, the Google Data Analytics Certificate is worth it but again, not sufficient. By bolstering your resume and knowledge with tools like Boot.dev, HackerRank, StrataScratch, and Kaggle, you stand a much better chance of landing your dream job in data analytics or beyond.


Nate Rosidi is a data scientist and in product strategy. He's also an adjunct professor teaching analytics, and is the founder of StrataScratch, a platform helping data scientists prepare for their interviews with real interview questions from top companies. Connect with him on Twitter: StrataScratch or LinkedIn.