Top 15 YouTube Channels to Level Up Your Machine Learning Skills
Machine learning is the key driver of innovation and progress but finding the right resources to learn can be a tiring process. Save time searching aimlessly, and take advantage of our curated list of the top 15 YouTube channels to jumpstart your journey.
---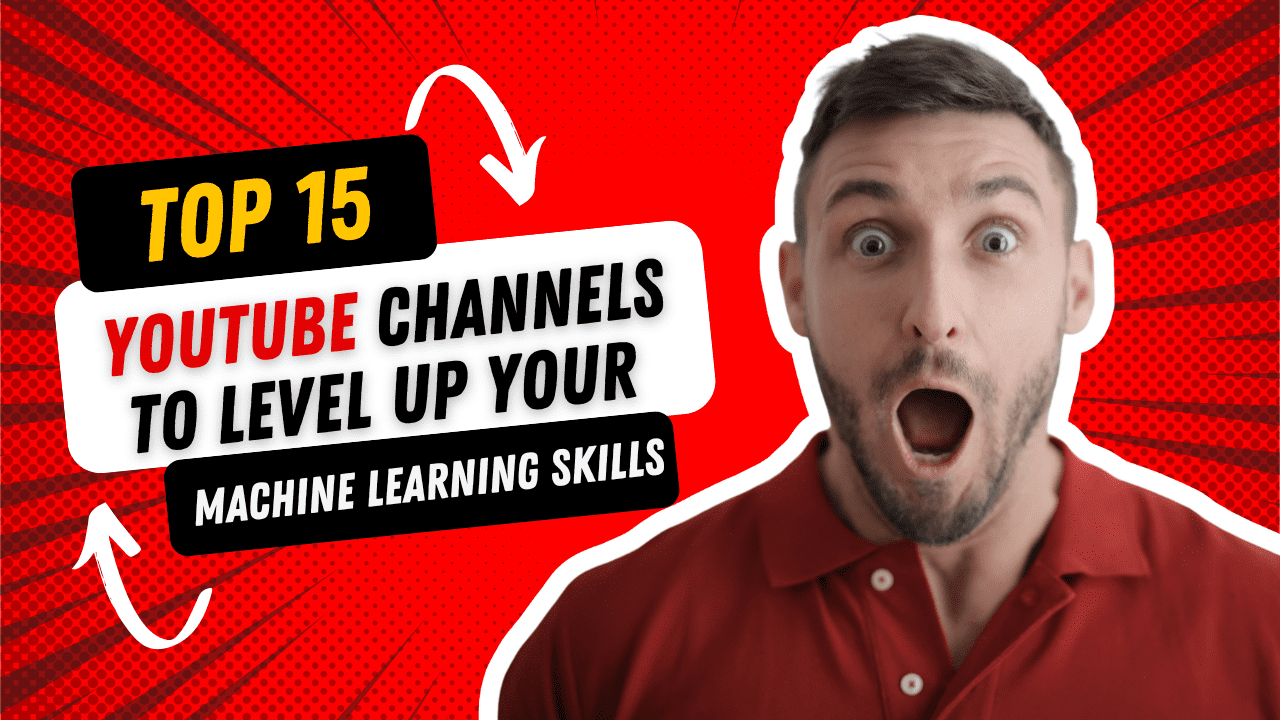 Image by Author
Introduction
Machine Learning is a rapidly growing field with immense potential to revolutionize various industries. Learning machine learning can be complicated, and we often need help figuring out where to start. With the increasing availability of free resources, we end up spending a lot of time figuring out the best resources to hone our skills. With this in mind, we have compiled a list of the top 15 machine-learning channels that offers valuable insights, tips, and tutorials.
Whether you are a beginner looking to gain a solid understanding of the foundations or an expert seeking to deepen your knowledge and stay up to date with the latest trends, these channels will offer a wealth of information from some of the top minds and biggest brands in the community. 
List of YouTube Channels
Here is the list of the top 15 youtube channels to learn machine learning in 2023:
1. Sentdex
Subscribers:1.2M, Videos:1,234, Views: 107M, Link: Sentdex
Harrison Kinsley, the owner of this channel, creates a wide range of programming tutorials about machine learning, Python, Finance, Data Analysis, Robotics, etc. These tutorials are aimed at beginners to intermediate programmers. If you want to learn Machine Learning from scratch then this channel is a very good starting point to start your ML journey.
2. DeepLearningAI
Subscribers: 195 K, Videos: 326, Views: 13 M, Link: DeepLearningAI
DeepLearningAI is founded by Andrew Ng, a well-known AI researcher who founded Google Brain. His deep learning specialization on Coursera has a huge global following. The channel offers a variety of educational content, including video lectures and tutorials, interviews with experts in the field, and live Q&A sessions. It also keeps the viewers updated with the latest trends in the field of Machine Learning and Deep Learning.
3. Artificial Intelligence — All in One
Subscribers: 155 K, Videos: 525, Views: 17 M, Link: Artificial Intelligence - All in One
It is a comprehensive resource that provides a one-stop shop for all the things in Artificial Intelligence. It includes tutorials, videos, and other resources about the fundamentals of AI, machine learning, deep learning, computer vision, natural language processing, and more. The content is designed to be accessible to individuals with a wide range of backgrounds and skill levels, from beginners to experts.
4. Two Minute Papers 
Subscribers: 1.4 M, Videos: 753, Views: 115 M, Link: Two Minute Papers
It's an amazing channel hosted by Konrad Kording that provides a summary of the latest research papers in form of short videos. The video covers the key findings, contributions, and implications of the research. This channel is particularly useful for practitioners, researchers, or anyone who wants to keep themselves updated about the latest developments.
5. Kaggle
Subscribers: 120 K, Videos: 349, Views: 3 M, Link: Kaggle
Kaggle is one of the most renowned platforms for data scientists and machine learning practitioners to polish their skills. This youtube channel not only covers various tutorials for beginners and intermediate-level audiences but also features interviews with industry gurus. They also share winning solutions of the Kaggle competitions that help the audience to learn from the experts.
6. Siraj Raval
Subscribers: 722 K, Videos: 446, Views: 46 M, Link: Siraj Raval
Siraj Raval is a well-known figure in the field of Machine Learning. His youtube channel covers topics related to machine learning, deep learning, computer vision, natural processing language, etc. His fun and engaging approach to teaching is what makes his content unique and easier to digest.
7. Jeremy Howard
Subscribers: 71.3 K, Videos: 163, Views: 6 M, Link: Jeremy Howard
Jeremy Howard is the co-founder of fast.ai and is well-known for his contributions to the field of deep learning. The purpose of his channel is to make AI accessible to everyone regardless of their backgrounds. Therefore, his video lectures are easy to understand and follow.
8. Applied AI Course
Subscribers: 82.8 K, Videos: 519, Views: 13 M, Link: Applied AI Course
As the name suggests, this channel focuses more on practical knowledge rather than theoretical rigor. It teaches the core ideas of Machine Learning and works on real case studies that enable an individual to deal with real-world business problems and build their AI solutions.
9. Krish Naik
Subscribers:  711 K, Videos: 1610, Views: 69 M, Link: Krish Naik
Krish Naik is the co-founder of iNeuron and a popular educator with over 10+ years of industrial experience. He explains various topics on machine learning, deep learning, and AI with many real-world problem scenarios. His main aim is to make everyone familiar with ML and AI.
10. StatQuest with Josh Starmer
Subscribers: 868 K, Videos: 237, Views: 44 M, Link: StatQuest with Josh Starmer
This channel provides educational content on statistics, data science, and machine learning. He breaks down the major methodologies and concepts into easy-to-understand pieces. This channel also focuses on the mathematical underpinnings of the famous machine-learning algorithms which can help the viewers get a more intuitive understanding of how these algorithms work and how to apply them effectively to real-world problems. 
11. Daniel Bourke
Subscribers:  139K, Videos: 296, Views: 6 M, Link: Daniel Bourke
Daniel Bourke is the instructor of one of the bestseller courses on Udemy, PyTorch for Deep Learning in 2023: Zero to Mastery. He is a self-taught machine learning engineer who has worked with a wide range of industries. Daniel takes you step-by-step from an absolute beginner to becoming a master in the field of Machine Learning.
12. Data School
Subscribers:  211K, Videos: 139, Views: 10 M, Link: Data School
Kevin Markham is a data science educator and the founder of dataschool.io. This channel provides in-depth tutorials, webinars, and resources to help individuals build the skills they need to succeed in their professional careers. His channels are famous for clear, concise, and step-by-step explanations of complex concepts.
13. 3Blue1Brown
Subscribers: 4.93 M, Videos: 127, Views: 318 M, Link: 3Blue1Brown
This channel by Grant Sanderson is known for explaining complex mathematical and machine-learning concepts through appealing and intuitive animations. This channel is aimed towards a broader audience and is considered one of the best channels for Maths, Data Science, and ML
14. Jeff Heaton
Subscribers: 73.2 K, Videos: 534, Views: 5.6 M, Link: Jeff Heaton
Jeff Heaton is the creator of one of several popular books that can be found here. He uses real-world examples to explain complex concepts. He teaches concepts related to machine learning, deep learning, AI, etc. It is a great primer for beginners before diving deeper. 
15. Machine Learning Street Talk
Subscribers: 41.3 K, Videos: 97, Views: 1.8 M, Link: Machine Learning Street Talk
This channel is managed by Tim Scarfe. It has regular cameos with Keith Duggar and Yannic Kilcher. This channel covers the latest development in the field of AI and ML. They provide high-quality content and invite the leading thinkers in the AI space to cover the current affairs in AI with in-depth analysis. 
Conclusion
In conclusion, we have compiled a great list of the top YouTube channels for learning. However, it is essential to remember that practice is just as important as theory. We encourage our readers to not only watch videos and learn from these channels but also put that knowledge into practice by building their projects and experimenting with different techniques. And we would love to hear from you in the comment section about what you found useful in your Machine Learning journey and other YouTube channels that you would recommend.


Kanwal Mehreen is an aspiring software developer with a keen interest in data science and applications of AI in medicine. Kanwal was selected as the Google Generation Scholar 2022 for the APAC region. Kanwal loves to share technical knowledge by writing articles on trending topics, and is passionate about improving the representation of women in tech industry.