5 Portfolio Projects for Final Year Data Science Students
From cleaning data to wowing recruiters - this blog shares 5 killer data science projects to launch your data science career and get hired!
---

Image by Author
Building a portfolio of data science projects is a crucial step for beginners looking to break into the field. With hands-on experience becoming increasingly important for data science job applicants, having a varied portfolio showcasing your skills can help you stand out.
In addition to demonstrating technical abilities, projects allow you to highlight your problem-solving skills and analytical thinking. Recruiters often look for candidates who can use data to provide strategic business insights and build data-driven solutions to real-world problems. Well-executed projects can set you apart as someone ready to add value to an organization.
In this blog, we will explore simple portfolio projects ranging from data analytics to machine learning. You will discover how to clean and process your data, followed by using various analytical techniques to convey insights to non-technical stakeholders.
1. End-to-End Data Science Project with ChatGPT
In the End-to-End Data Science Project with ChatGPT project, you will use ChatGPT for project planning, data analysis, data preprocessing, model selection, hyperparameter tuning, developing a web app, and deploying it on the Spaces.
Nowadays, anyone with limited knowledge can use ChatGPT to understand the data and build machine learning applications. This project will showcase that you can work with the latest AI technologies to produce fast and effective results. 

Image from Project
2. Recycled Energy Saved in Singapore
For the Recycled Energy Saved in Singapore project, you will use recycling statistics to determine the amount of energy saved annually from 2003 to 2020 for five different waste types: plastics, paper, glass, ferrous metal, and non-ferrous metal. Specifically, you will load and organize the dataset, merge different CSV files, and conduct exploratory data analysis. This project will challenge your analytical and data manipulation abilities.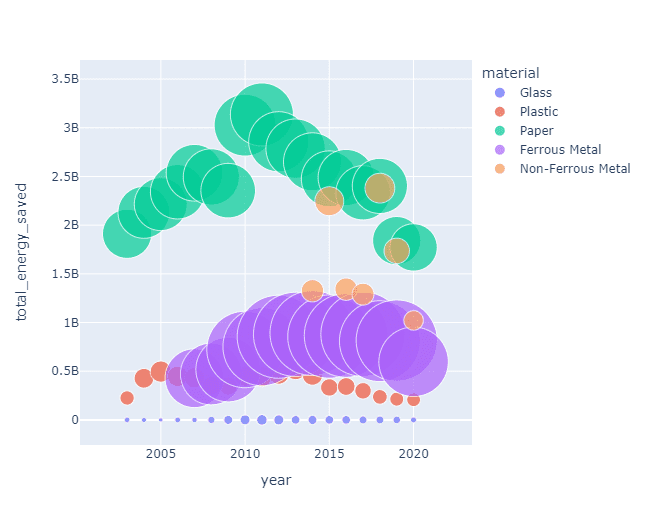 Image from Project
3. Stock Market Analysis
The Stock Market Analysis project uses real-world financial data to demonstrate time series analytics skills. After cleaning the data, exploratory analysis and visualization is performed using Matplotlib and Seaborn to analyze risk metrics and relationships between stocks.
A Long Short Term Memory (LSTM) model is trained on the time series data to forecast future prices. By encompassing data collection, cleaning, visualization, and modeling on a stock market data, this project highlights proficiency in core data analysis and machine learning workflows. 

Image from Project
4. Analyzing and Predicting Consumer Engagement
In the Analyzing and Predicting Consumer Engagement project, you'll use the Internet News and Consumer Engagement dataset from Kaggle to predict the most popular article and its popularity score. You'll analyze the data to find patterns, such as correlation, distribution, mean, and time series analysis. You'll use both text regression and text classification models to predict the engagement score and top article based on the title.
In this project, you will learn how to handle text data, perform text analysis using Python libraries, convert text into vectors, and build an LGBM Classifier model.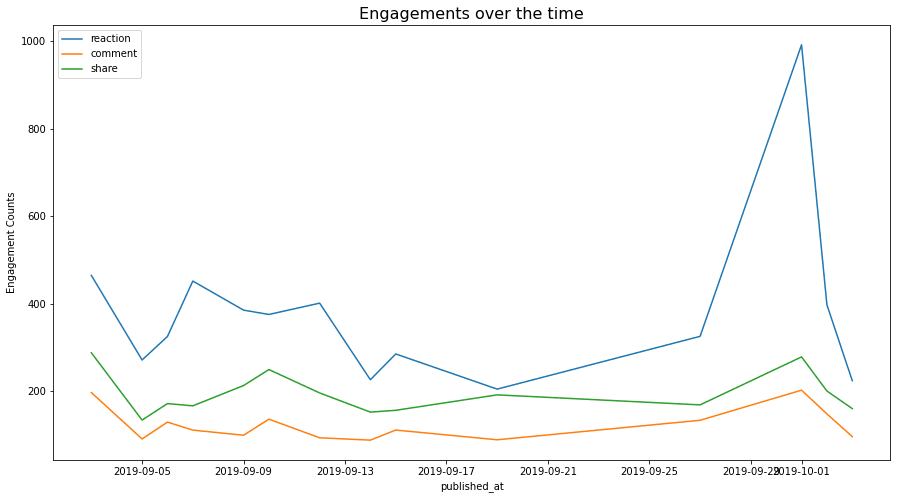 Image from Project
5. Evolution of Digital Learning During COVID19
In the Evolution of Digital Learning During COVID19 project, we will be using data analysis tools to figure out trends in digital learning and how it is effective towards improvised communities. We will be comparing districts and states on factors like demography, internet access, learning product access, and finance. In the end, we will summarize our report and point towards the areas that need our more attention to make education accessible for all students in the United States.
You will learn to use all of the major data analytics and visualization tools. It is also a guide for those who want to become creative in generating eye-catching visualizations for their presentation.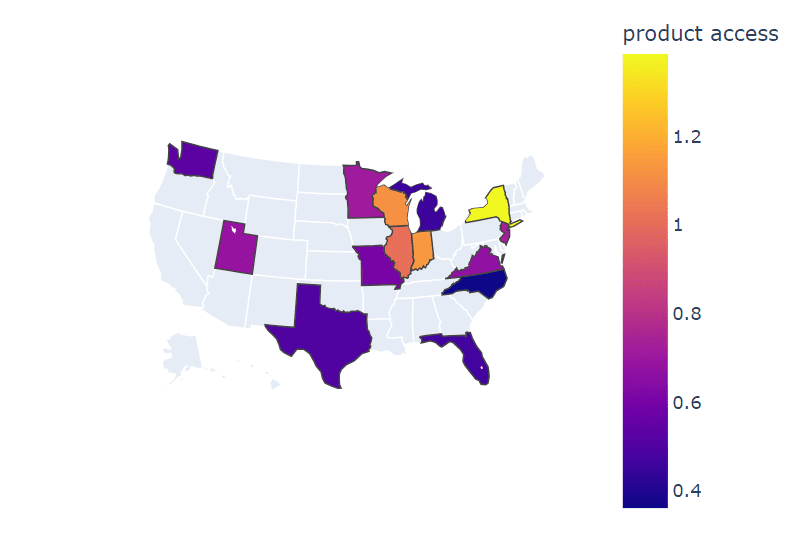 Image from Project
Conclusion
Building a portfolio of data science projects enables beginners to demonstrate their technical skills and problem-solving abilities to potential employers. By showcasing competency across data collection, cleaning, analysis, modeling, and visualization, these projects can highlight one's proficiency in a data science workflow.
In this blog, we have reviewed five portfolio projects for final-year data science students. It covers data handling, manipulation, visualization, and modeling basics. To explore more projects, check out The Complete Collection of Data Science Projects – Part 1 and Part 2.


Abid Ali Awan (@1abidaliawan) is a certified data scientist professional who loves building machine learning models. Currently, he is focusing on content creation and writing technical blogs on machine learning and data science technologies. Abid holds a Master's degree in Technology Management and a bachelor's degree in Telecommunication Engineering. His vision is to build an AI product using a graph neural network for students struggling with mental illness.