6 Highest Paying Companies for Data Scientists
These are the six top paying companies for data scientists. I've looked at absolute salary, but I'll fill you in on other factors you should consider as well when it comes to picking a data science job for money.
---
Data science is a booming industry. If you've got the skills and the interest, you've got the opportunity to bring home the big bucks. Data scientists are well paid, even compared with others in the tech community. Because the data science field is constantly growing and changing, data science is widely ranked as the skill most in-demand across the tech sector.
Data science is a great industry to get into if you're looking to make a lot of money. The demand for data scientists has only risen in recent years, meaning salaries relative to others in the tech industry and other industries in general are likely to rise. Data scientists in the US make an average of $117K while software engineers, by comparison, make an average of $108K. There are just a few areas to brush up your skills in if you're looking to switch from software development to data science.
These are the six top paying companies for data scientists. I've looked at absolute salary, but I'll fill you in on other factors you should consider as well when it comes to picking a data science job for money.

Top-Paying Companies for Data Scientists Summarized
1. Airbnb
The company that has disrupted the hotel industry has a penchant for drooling over data. It's known to be one of the most data-driven companies in the world. Airbnb focuses on "building sophisticated data infrastructure that [gives] everyone in the company access to information." While Airbnb empowers each of their employees to dig into data, you certainly need a lot of great data scientists to train up those around them. Their data scientists also built amazing internal data tools, some of which they've been generous enough to put out as open-source.
It's clear Airbnb values its data, since they see it as a way to understand the voice of the customer at a large scale. That's why Airbnb comes in at #1, since the average data scientist's salary is $188K on average. The very top data scientists at Airbnb earn up to $286K.
2. Meta
Meta looks to its data scientists to find ways to execute their product ideas at a global scale and to find ways to understand user behavior. Meta's platform has over 3.6 billion monthly active users, which means there is tons of data on user interactions with the UI, how users react to ads or content, and how users interact with other users.
Data scientists at Meta get the chance to tease out strategies to change the UI to improve the user's experience or tweak the content algorithm based on insights derived from user data. The average data scientist at Meta earns $158K, but the top earners have salaries of up to $294K.
3. Apple
Apple has a wide gamut of products, from operating system software to hardware design. A data scientist at Apple could work with machine learning models to improve Siri's accuracy or analyze the performance of Apple Pages and the other native Apple apps. Apple's products range from operating systems like iOS and Mac OS, payment systems (Apple Pay), cloud computing services (iCloud), digital marketplaces like Apple Music and the App Store, as well as entertainment platforms such as Apple TV and Podcasts.
All of these renowned products create a plethora of opportunities for data scientists. Security specifically is a big focus for Apple, so you could be working on predictive modeling for fraud prevention as a data scientist at Apple.
Apple has been and is currently the most valuable company in the world, and they let that wealth show. Apple pays a data scientist $158K on average, but that can stretch up to $220K.
4. Cisco Systems
Cisco Systems has expanded its product suite into the data science tools market. They sell the Cisco Data Intelligence Platform (CDIP), which is "architecture that brings together big data, AI/compute farms, and storage tiers to work together as a single entity while also being able to scale independently to address the IT issues in the modern data center."
As always, in order to develop products for data scientists, you need data scientists to do the work. Cisco looks for data scientists who see cleaning and preprocessing data as a must. The average data scientist at Cisco Systems earns $157K, and the top-earning data scientist earns $206K.
5. Oracle
Oracle focuses on helping their customers "see data in new ways, discover insights, unlock endless possibilities." Oracle has a whole range of products, a lot of which have to do with cloud-engineering services and database management systems.
Oracle has been around data for quite a while, and they've expanded their data solutions warehouse to include products that serve as a data science cloud platform. These tools help data scientists easily access their data, automatically profile the data and produce visualizations, all with support for Pandas, Numpy, Plotly, and other common open source data science tools.
Oracle pays their data scientists $154K on average, and the top data scientists at Oracle have salaries reaching $187K.
6. Google
Google has nearly 4 billion monthly active users, and YouTube has over 1.9 billion monthly active users. Google looks to its data scientists to make sense of the vast amount of data they generate through Google Search, Google Maps, Gmail, YouTube, and the Android operating system, among others.
A data scientist at Google could be leveraging natural language processing (NLP), an area of machine learning, to better understand users' search terms in order to rank the most relevant search results. Alternatively, you could be digging deep into geo-positional data from Google Maps to improve the accuracy of driving directions.
The average salary of a data scientist at Google is $150K. However, Google has a larger range than most, as the top data scientists at Google earn $297K.
How To Level Up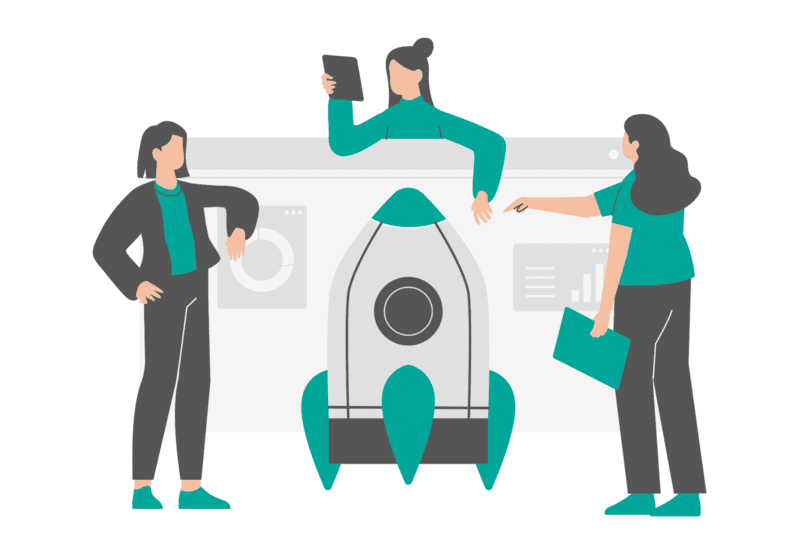 If you've already got a job as a data scientist and you're interested in getting a job at one of these high-paying companies, you'll need to focus on learning new data science skills and improving some existing ones.
In order to level up, you should improve your stakeholder management skills in terms of understanding their goals, concerns, and confusion. You should proactively address their questions and provide them with suggested solutions.
When it comes to cleaning and preprocessing data, you should be fully developed in this sense. It won't matter if the data is in multiple languages, unlabeled, comes from sources with different formats, etc. You should be able to pull actionable insights from what others might consider being a mess that cannot be untangled.
A higher-earning data scientist may also lead the deployment and maintenance of machine learning pipelines in production environments. In order to do so, you will need to master the dev-ops of data science.
An important aspect of the work of those advanced in their career (who earn the max salaries mentioned above) is mentoring others. If you have knowledge and experience, you should find ways to impart that wisdom to those around you. In doing so, you will maximize your impact and improve everyone's productivity and performance.
Compensation For Data Scientists Comes Down To More Than Just The Money
There are a lot more big companies that pay their data scientists on average between $115K to $150K. Among these are Uber ($146K), IBM ($138K), Amazon ($138K), Microsoft ($137K), Capital One ($133K), Intel ($130K), Quora ($127K), Walmart ($120K), ServiceNow ($119K), and Wayfair ($114K). But there are other factors to keep in mind.
Also check out this list of "best data science companies" that aims to go beyond the usual and expected. Some great and perhaps underrated options to get a job as a data scientist.
Location and cost of living
A lot of these companies are based on the west coast of the US. Some have offices in other places in the US, but those that are very Silicon Valley focused, beware of very high costs of living. Always be sure to take into account where you have to live and the cost of living there when comparing salaries.
For example, the cost of living in Seattle is about 83% of the cost of living in San Francisco. If your offer from a Seattle-based company is more than 83% of the salary offer you got from a company in San Francisco, you might be able to afford a higher standard of living or save more money if you take the job with a lower salary in absolute terms.
Benefits and perks
Another thing to consider when comparing offers besides salary is additional compensation and benefits. Companies often offer stock as part of a compensation package. Additionally, a lot of these big tech companies offer perks, which may include free gym memberships, dry cleaning, food, childcare, comprehensive health insurance, and even tuition or student loan assistance.
It is difficult to gather compensation data from small companies. However, small companies may pay just as much if not more than these tech giants. Depending on which city, state, or country you live in, employers may be required by law to disclose the salary of a job position to applicants.
Your personal interests
With the increase of digitalization during the pandemic and big data only ever getting bigger, companies have data coming out of their ears, and they need data scientists to wrangle it all down into key actionable insights to steer the company. It's a lot of responsibility, and any company with data is looking to make use of it, as they should. All of these factors combined with a deficit of data scientists make for stellar compensation packages.
Make sure you know your worth. If you are skilled enough to get one offer for a data scientist position, you can absolutely get multiple. Take the chance to negotiate your salary and pick the position that applies your data science skills to problems that are the most interesting to you.
We also recommend this article "How Much Do Data Scientists Make?" that can help you find out about salaries in Data Science and how they are influenced by various factors.


Nate Rosidi is a data scientist and in product strategy. He's also an adjunct professor teaching analytics, and is the founder of StrataScratch, a platform helping data scientists prepare for their interviews with real interview questions from top companies. Connect with him on Twitter: StrataScratch or LinkedIn.