7 Free Platforms for Building a Strong Data Science Portfolio
Outshine others and increase your odds of getting hired by maintaining a data science portfolio with projects, resumes, blogs, and reports.
---

Image by Author
It is most important to put yourself out after learning the required skills or getting a degree in data science. Even as a beginner, it is highly recommended to create a profile on GitHub and Kaggle. 
The free platform that we are going to discuss in this blog will help you get offers from recruiters and open a new world of professional opportunities. 
I am highly active on these platforms, and it has made me a better data scientist and content creator. Apart from obvious career advantages, it has helped me in building my brand and professional network. 
"By building a strong data science portfolio has made it easy for me to find work."
Before we discuss this in detail, I want you to create a simple account on GitHub, Kaggle, LinkedIn, Medium, DagsHub, Deepnote, and DataCamp. With time, you will learn the importance of all seven platforms.
1. GitHub
Creating a portfolio on GitHub is as crucial as writing a resume. The recruiter or hiring manager will ask for your profile link so that they can prepare interview questions by reviewing the recent projects.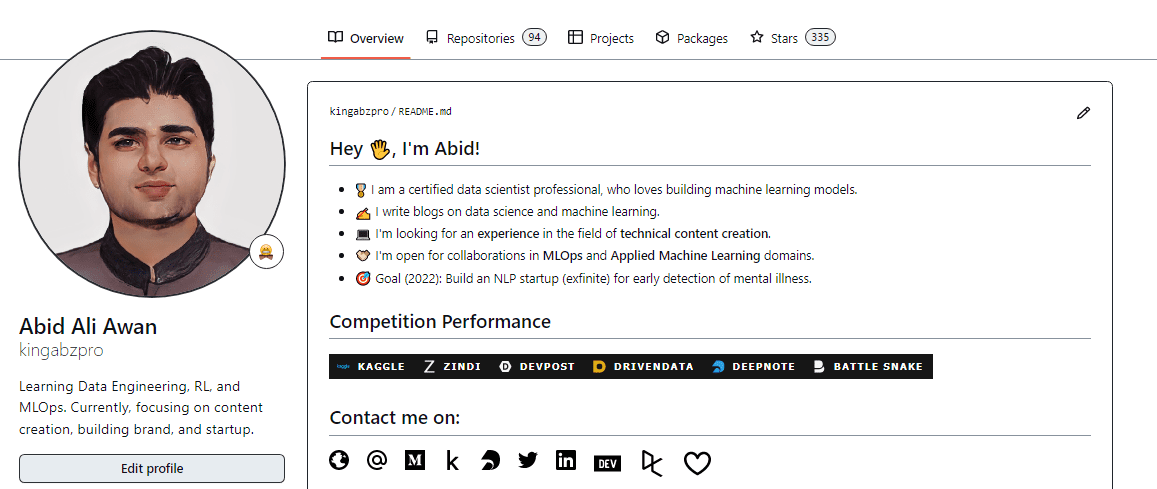 Author's Profile | GitHub
As shown above, I have populated the README.md file with my introduction, vision, interests, and goals. I have also linked my other profiles and my recent achievements. If you scroll down, you will see my most starred projects and contribution info. 
I have been approached by CEOs, recruiters, startup founders, students, and researchers through GitHub. Most of them want to know more about my project and how they can change it for the pacific data application. 
2. Kaggle
Kaggle is the super-platform for data scientists and machine learning engineers. It is also used by millions of students who are looking to learn, find datasets, and discuss a particular problem. 

"If you are not a Kaggler, you are missing out on everything that the data science community has to offer"


Author's Profile | Kaggle
Just like GitHub, you can populate the bio section with achievements and your bio. Furthermore, people will be able to see publicly shared notebooks, datasets, competitions, and discussions. 
The platform pushes data professionals to achieve excellence and get better at the craft using Kaggle Progression System. If you get enough upvotes, you can earn bronze, silver, and gold medals. These medals will help you rank up from Contributor to Grandmaster.    

"I have learned the majority of things about machine learning by participating in competitions and aiming for the top 10 ranks."
3. LinkedIn
LinkedIn is a professional social network site that everyone should use to create a portfolio. It is a great place to find jobs, form connections, and build your brand. 

Author's Profile | LinkedIn
No matter what professional level you are, maintaining your LinkedIn profile is the best chance of finding your dream job. You can also learn a few things by following other data scientists, open-source projects, and content creators. 
Make sure you have added the professional experience, achievements, certificate, and bio. Design your profile page so it is easy to approach you via email or direct message. Share the post you care about and talk about the latest trend to increase your followers. If you are talented, In no time, you will start receiving offers from various people.
On LinkedIn, I get job offers, open-source contributions requests, project collaboration opportunities, and data science product testing gigs.
4. Medium
Let your work speak for yourself. 
Writing a Medium blog for your project or the things you have learned can boost your online presence. You are not just promoting your project. You are also teaching new ideas to beginners and professionals. 

"Giving back to the community."

Author's Profile | Medium
I highly recommend you to write a technical blog on a topic, project, or tool. It will improve your communication and technical skills. If you are new and have few followers, you can increase your reach by submitting your blog to Towards Data Science and Towards AI.
Writing blogs made me famous. It pays my bills and gets me better opportunities. I have been approached by countless company executives asking me to work for them based on my writing. 

"Never stop writing even if you are a beginner, write about Python or simple math problems."  
5. DagsHub
DagsHub is a feature-heavy platform that lets you share your project with the community. The project is more than a GitHub repository. It comes with DVC storage, Git and MLflow experiment tracking, Label Studio integration, data pipelines, automation, and reports. 

"You get to experience a complete data science ecosystem for free."  

Author's Profile | DAGsHub
Just like GitHub, you can showcase your projects, datasets, and experiments. You need to add your bio and profile links and let your projects speak for yourself.
I have been using DagsHub for almost 2 years, and I love all of the features. Before this, I had different dataset storage, experiment tracking solutions, and automation. Bringing everything together on a single platform has helped me as a data scientist and content creator.  
>>> Learn more about DagsHub features by reading documentation. 
6. Deepnote
Another feature-heavy platform that you can use as a portfolio builder. Deepnote lets you publish the cloud Jupyter notebook on your profile page. It is similar to writing a blog, but the published pages come with code and interactive outputs. 
"With a single click, you can duplicate the notebook and reproduce the results."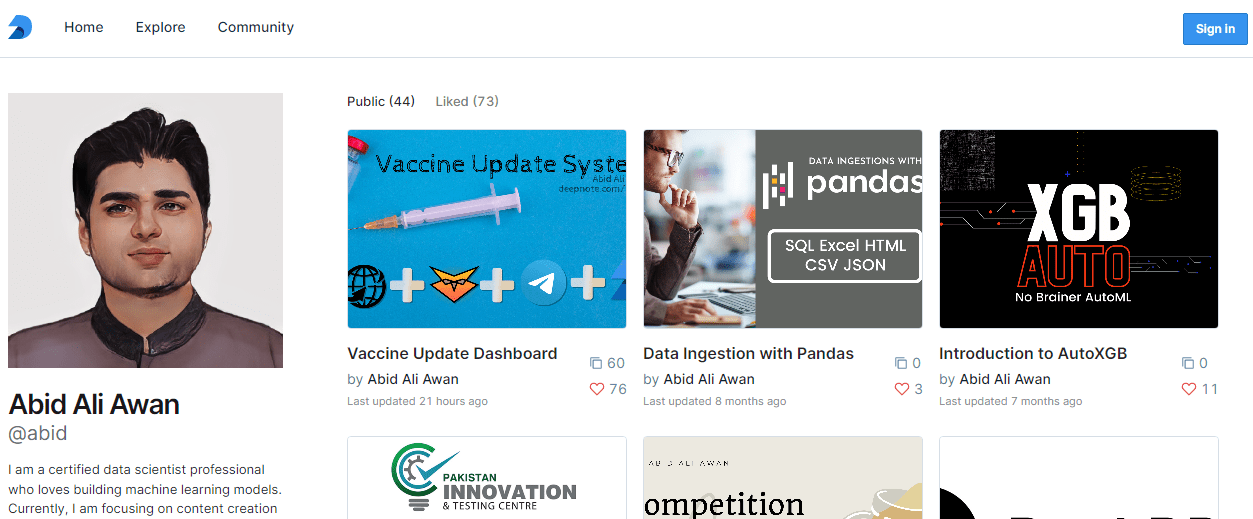 Author's Profile | Deepnote
I used Deepnote for all data reloaded issues. I beta-test the product, write tutorials, run API tests, connect databases, and even use it for non-technical tasks. 
I have been using Deepnote for 2 years, and I love every feature. It has helped me grow as a content creator, as I was able to work on a Jupyter notebook and publish my work with just one click. 
Check out the documentation to learn more about Deepnote features. 
7. DataCamp
DataCamp has recently improved the profile page. They have introduced biography, social links, certifications, workspace publications, data skill overview, learning progress, work experience, and education sections. You can call it an interactive resume.

Author's Profile | DataCamp
DataCamp's profile is part of the educational ecosystem. You learn skills, finish career tracks, take assessment tests, and get certified, and all of this is displayed on your profile.
They have also introduced a new section called Jobs, where you can apply for jobs using your profile. 

"From learning a new skill to getting a job has become effortless."
DataCamp is constantly evolving its learning platform to make it easy for anyone around the world to get a job. They have introduced free datasets, cloud Jupyter Notebook, and learning resources.


Abid Ali Awan (@1abidaliawan) is a certified data scientist professional who loves building machine learning models. Currently, he is focusing on content creation and writing technical blogs on machine learning and data science technologies. Abid holds a Master's degree in Technology Management and a bachelor's degree in Telecommunication Engineering. His vision is to build an AI product using a graph neural network for students struggling with mental illness.