5 Free Courses on ChatGPT
Want to keep up with the hype around ChatGPT? Want to be ahead of the game? Continue reading this blog to learn about 5 FREE courses on ChatGPT.
---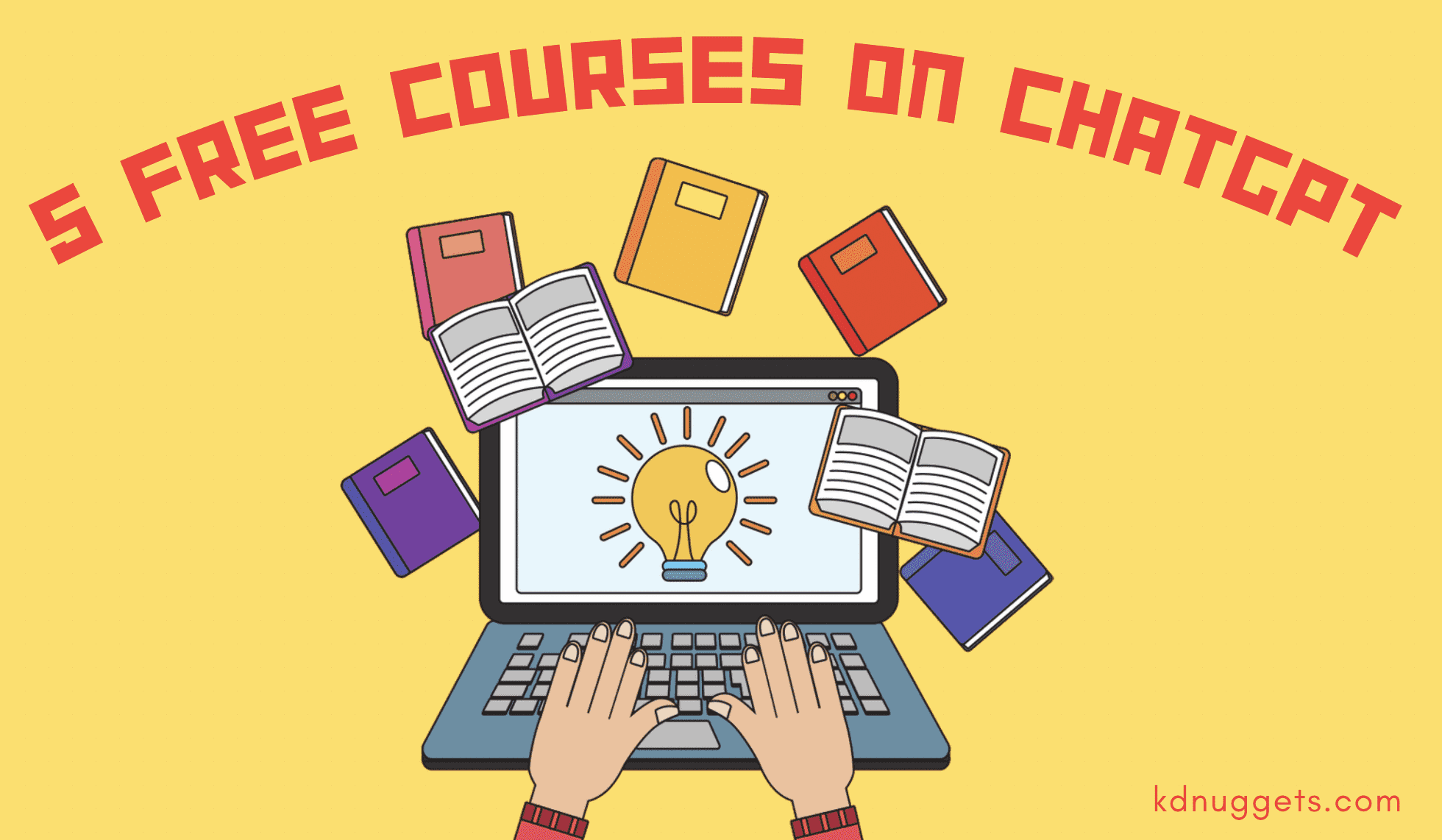 You've probably heard a lot about ChatGPT, used it, and have heard about the crazy things people have been able to do with it. You're probably thinking to yourself, how do these people learn to do this with ChatGPT, and where can I learn it?
Look no further. This article will go through 5 free courses where you can up your ChatGPT skills, and get the most out of it! So let's start
1. Introduction to ChatGPT
Link: Introduction to ChatGPT
If you are playing around with ChatGPT, but do not know its full potential - this introduction to ChatGPT course by DataCamp may be the course for you. There is no prior knowledge required, therefore you can start to learn about the capabilities and limitations of ChatGPT and how you can make use of it in your everyday life. 
Many people struggle with prompting ChatGPT, and the first half of this course goes through the best practices for prompting ChatGPT to generate high quality relevant content. You will then learn how to translate ChatGPT into business value by learning about the different use cases such as text summarization and explaining code. 
2. ChatGPT for Beginners: The Ultimate Use Cases for Everyone
Link: ChatGPT for Beginners: The Ultimate Use Cases for Everyone
A lot of people are wondering how they can use ChatGPT to take their business to the next level. ChatGPT has been able to simplify a lot of employees' lives, however some are unsure of how these are possible. 
This course will go through how you can skyrocket your current business using ChatGPT and AI by looking at the capabilities of ChatGPT from a business and personal point of view. You will find out how you can make money and make the most out of your costs by using ChatGPT to do the work for you.
3. Prompt Engineering for ChatGPT
Link: Prompt Engineering for ChatGPT
A course designed by Dr. Jules White, an associate professor of Computer Science to introduce to students to the patterns and approaches on how to write effective prompts for LLMs. The course is available for anybody, as it only requires basic computer knowledge, such as using a browser and accessing ChatGPT.
You will start off with understanding basic prompts and gradually build towards writing more sophisticated prompts to help you solve any type of task. ChatGPT has many uses such as acting as a tutor, creating meal plans, writing code for software applications, and more. Being able to understand how to prompt ChatGPT will allow you to become an expert user of these generative AI tools, with strong prompt engineering skills to any use case. 
4. ChatGPT Prompt Engineering for Developers
Link: ChatGPT Prompt Engineering for Developers
A short 1-hour course by DeepLearning.AI and OpenAI, aimed at all - beginners and advanced. The instructors are Isa Fulford (OpenAI) and Andrew Ng (DeepLearning.AI), and the course is free for a limited time only. 
In the short course, you will learn how to use large language models (LLMs) to build new and efficient applications, understand the best practices for prompt engineering, and show you how LLM APIs can be used for a variety of tasks.
For example, you will learn how to summarize user evaluations, determine sentiments, identify subjects, improve grammar, and more. Within the course, you will learn how to create a unique chatbot and write strong prompts. This all helps to provide developers with the knowledge on how to use LLMs most effectively. 
Regardless of what experience in programming you have, this course is important for a world where LLMs are getting released left right and center. 
5. Building Systems with the ChatGPT API
Link: Building Systems with the ChatGPT API
Another short course by DeepLearning.AI and OpenAI where you will learn more about the ChatGPT APIs and how you can use these to automate complex workflows using chain calls to LLMs. The instructors are Isa Fulford and Andrew Ng, and the course is free for a limited time only.
It is a beginner-friendly course, where you will need basic Python understanding to complete the course. The course can also cater to intermediate or advanced machine learning engineers who wish to learn about cutting-edge prompt engineering skills for LLMs.
You will learn how to build chains of prompts in regards to prior prompts, systems that interact with both completions and new prompts, and also a customer service chatbot from what you have learnt in the course. 
Wrapping it up
Going through all the above free courses will provide you with a proficient understanding of ChatGPT, how to use it in different use cases, tailor prompts to your needs, and also make use of the ChatGPT APIs to create chatbots, and more. 
If you know of any other free ChatGPT course, please drop them in the comments below for others to learn!


Nisha Arya is a Data Scientist, Freelance Technical Writer and Community Manager at KDnuggets. She is particularly interested in providing Data Science career advice or tutorials and theory based knowledge around Data Science. She also wishes to explore the different ways Artificial Intelligence is/can benefit the longevity of human life. A keen learner, seeking to broaden her tech knowledge and writing skills, whilst helping guide others.