How to Get a Job in Data Science as a Student
Learn how to increase your possibilities of getting your first data science job while you are a student.
---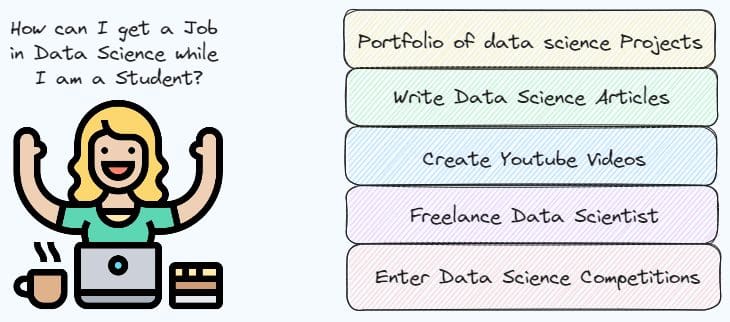 Illustration by Author. Source: Flaticon
Data Science is a challenging field and just showing that you have a certification or a university degree is not enough to obtain a job in industry. The recruiters need to understand what value you can add to the company compared to the other candidates.
Since a qualification is not enough by itself to land a job in data science, the best moment in getting started to do different experiences is when you are a student. You still are young, have more time than you think and energies that can be exploited in increasing your possibilities in getting your first data science job. 
In this article, I want to show five different ways to demonstrate your skills and even earn money. Let's get started!
Build a Portfolio of Data Science Projects
When I started to apply for my first job in data science while I was a student, I didn't have any experience in that field obviously. The projects I did during my master degree helped me in demonstrating my skills to the company. 
To show your abilities in coding, the best way is to share your projects on GitHub. You surely should not only focus your attention on python scripts/jupyter notebooks, but also a READ.me file that explains well how the project is organised and the results obtained. 
For example, one of my personal projects that have attracted the interest of managers was Topic Modeling with BERTopic, in which I trained a BERTopic model to identify topics from e-commerce clothing reviews and interpreted the results through interactive data visualisations. It helped to demonstrate that I was able to solve a NLP problem. 
Write Data Science Articles
While I was a student, I started to write data science articles in different publications, like Towards AI and Towards Data Science, allowing me to reach a lot of readers from different countries, put into practice what I have learned during my university courses, go deeper in unknown topics that I was interested to explore, receive job proposals and, even, earn money.
The best teacher is the feedback from the community, that can seem scary at first when you start, especially the negative comments, but it really helps to improve your critical thinking and open your mind to other possible solutions in solving a problem.
You can also create your own blog from scratch, instead of publishing on a publication, but you should take into consideration how much time it will take to build the website. Anyway, it has become easier thanks to Chat-GPT and other AI tools based on Large Language Models. 
Create Youtube Videos
Articles can be a good way to demonstrate your abilities in communication, which is an important skill for a data scientist, but also recording Youtube Videos can prove what you are made of.
It can be done in combination with the articles, but even creating videos by itself can be enough. There are a lot of known DS influencers that are known for their great capacity in building video content, like StatQuest with Josh Starmer, Data Professor and Patrick Loeber. 
Work as Freelance Data Scientist
Education content is not the only way to break into data science. Another possibility to gain experience is working as a freelance data scientist. It's a good alternative to the traditional 9-to-5 job: it can guarantee freedom and flexibility, especially when you are a student and you also need time to attend and study the university courses.
You can get started from existing platforms, like Upwork and Fiverr, where you need to create your profile and apply for data science freelance gigs published by clients. You can also reach or be reached by clients in LinkedIn, which is considered the best social network for connecting with people belonging to the data science community.
Participate to Data Science Competitions
Another way to improve your chances of getting a job is by entering the data science competitions. I would highlight that it's not so important that you do a lot of competitions, it's better that you focus on real-world projects that can be valuable for the company that is interviewing you. Quality is always more important than quantity.
The most known and popular platform for hosting competitions is Kaggle. You have surely consulted this website while searching data science topics, datasets and other stuff. Other competitions can be found in DrivenData, TopCoder and DevPost. 
Final Thoughts
I hope that this article has inspired you to take action, allowing you to improve your resume. It's also a good way to put into practice the knowledge you have acquired during your studies, overcome the imposter syndrome and become more flexible.
Surely, you shouldn't do it only for improving your CV, but also for the other good points I listed before that can allow you to become more confident of your capabilities while doing different experiences outside the traditional job. Thanks for reading! Have a nice day


Eugenia Anello is currently a research fellow at the Department of Information Engineering of the University of Padova, Italy. Her research project is focused on Continual Learning combined with Anomaly Detection.