Kick Ass Midjourney Prompts with Poe
Try out this Poe chatbot to refine your Midjourney prompts, and (hopefully?) get some kick ass image generation results!
---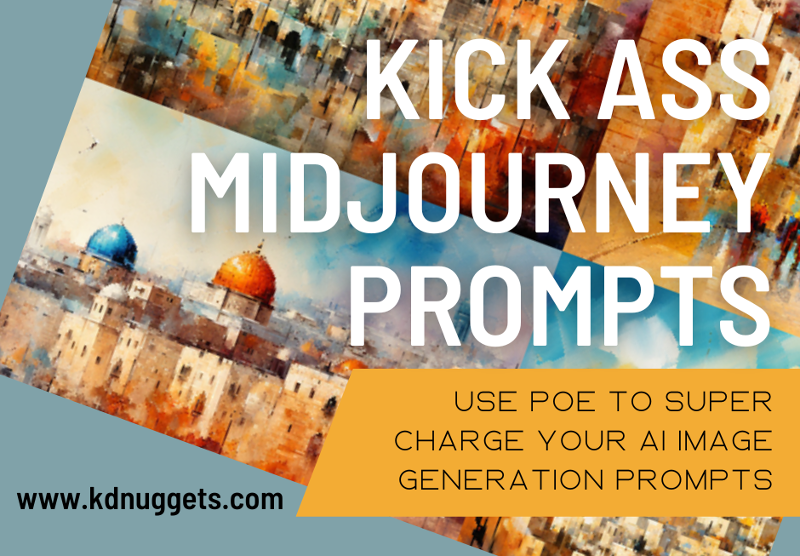 Poe is a platform which provides access to numerous chatbots and LLMs — both simultaneously and individually — via a unified interface. Beyond some of the usual suspect LLMs, such as ChatGPT, Llama, and others, Poe has access to numerous customized chatbots such as those that rephrase your input into emojis; lack any interest in what you are asking it (really); thinks anything you do is a crime; and many more. The site has both free and subscription tiers. Poe was created by Quora.
Midjourney is a paid AI image generation service. Arguably the most capable model resulting in the highest quality generated images currently available, perfecting Midjourney prompts and getting the best results is an art unto itself, often taking many iterations and lots of time. That's where Poe comes in.
One of the more popular bots on Poe is the Midjourney bot. No, the bot does not provide access to the Midjourney models; instead it takes your rough prompt as input and rewrites it to increase your chances at generating acceptable images from the very beginning.
In this article we will try a few iterations of this process and compare results, giving us a sense of how this Poe bot may allow us to better our images from the start.
For each of these comparisons, the author performed solely the comparisons shown below, performed exactly one image generation run for each prompt, and engaged in no cherry-picking of results in any way. All subjective calls were made by the author alone. Note that any additional Midjourney parameters that Poe may have appended to its new prompt, in order to best compare like fruit. I have added --ar 16:9 to all prompts as 16:9 is the only acceptable image ratio, end of story.
Old City of Jerusalem
Let's start with one of the most iconic and easily-identifiable locales on the planet: the Old City of Jerusalem. I'm not after anything specific, no particular landmarks, I just want an image that represents and resembles the distinct look of the Old City.
My basic prompt and results:
abstract artistic rendering of Jerusalem's Old City --ar 16:9

Images generated by author using Midjourney
Poe-assisted prompt and results:
color photo of an abstract artistic rendering of Jerusalem's Old City. The subject is a vibrant and dynamic interpretation of the ancient city, capturing its rich history and spiritual significance. The photo showcases a flurry of bold brushstrokes and vibrant colors, evoking a sense of energy and movement. The environment is filled with an aura of mysticism, with the narrow streets, ancient walls, and bustling markets all coming together in a harmonious chaos. The camera settings are experimental and avant-garde, pushing the boundaries of traditional photography. A Hasselblad X1D II 50C is used, paired with a Lensbaby Velvet 56 lens, allowing for creative blur and soft focus effects. Double exposure techniques and intentional camera movement are employed to add an ethereal and dreamlike quality to the image. Unlikely collaborators for this scene would be Alejandro González Iñárritu, the visionary director known for his immersive storytelling, Emmanuel Lubezki, the acclaimed cinematographer famous for his poetic visuals, David LaChapelle, the provocative photographer renowned for his surreal and vibrant compositions, and Iris van Herpen, the innovative fashion designer celebrated for her futuristic and sculptural designs --ar 16:9

Images generated by author using Midjourney and Poe
First, have a look at how much more detailed that Poe-generated prompt is. Have a look at some of the specifics, including controversial "in the style of" wording.
Now, you could blindfold me and I could more or less navigate my way around the Old City of Jerusalem, and I can tell you that none of the generated images are of any actual location there. But we can't judge the generated images by this metric; instead we have to use subjective standards of artistic value.

Note: While you may argue with the use of the term "artistic value" (or "artistic" anything) when discussing AI-generated images, I find that it's the best word to express what it is that I am trying to get across in this scenario. Upset? Imagine I wrote "mimicked artistic value". Still upset? Well, AI generated images are here and they aren't going anywhere, and while reasonable people can disagree on how we refer to the process and end results of AI image generation, that's not a discussion I'm looking to have right here, right now. I'm simply demonstrating how people who are inclined to attempt to improve their AI image generation prompts could attempt to do so.

I find the original images to be a bit bland, with no real interesting imagery capturing my attention beyond a first glance. The second round, assisted by Poe, is more colorful and deserving of additional inspection beyond a glance, at least in my mind. Beauty is in the eye of the beholder and all that, so opinions here will differ, but I selected the upper right image in both cases as the "best" representative for both image generation runs. I upscaled both, and share them below.

"Best" image of those generated by Midjourney using basic prompt

"Best" image of those generated by Midjourney using Poe's prompt
Again, this is fully subjective, but in the end I am more impressed by the "best" result using Poe's prompt. In summary, I find the images generated by Poe's prompt, in aggregate, to be better than the original prompt's images, and I likewise find Poe's best effort superior to my original prompt's best effort.
Professional Headshot
Let's try something different, some imagery with humans. Let's generate some professional headshots.
My no-frills prompt:
professional headshot woman in the street

Images generated by author using Midjourney
Compare these with Poe's expanded prompt:
color photo of a professional headshot of a woman in the street. The subject is a confident and poised woman, exuding professionalism and elegance amidst the urban backdrop. Her headshot captures her radiant smile and warm personality, showcasing her approachability and professionalism. The environment is a bustling city street, with blurred pedestrians and traffic in the background, emphasizing the woman as the focal point. The camera settings are carefully chosen to highlight her features and capture her essence. A Nikon D850 is used, paired with a portrait lens, such as a Nikon AF-S NIKKOR 85mm f/1.4G, to achieve a shallow depth of field and create a pleasing bokeh effect. The photo is framed with a balanced composition, utilizing leading lines from the surrounding architecture to add visual interest. Unlikely collaborators for this scene would be Sofia Coppola, the acclaimed director known for her intimate storytelling, Darius Khondji, the renowned cinematographer celebrated for his atmospheric lighting, Annie Leibovitz, the iconic photographer famous for her captivating portraits, and Stella McCartney, the influential fashion designer recognized for her timeless and sustainable designs

Images generated by author using Midjourney and Poe
Again, compare the differences between prompt wording details. Now, leaving aside the facts that all of the generated women appear to be white, a whole other discussion that is deserving of its own attention, below are the 2 "best" images in my view, one from each prompt.

Note: For transparency, out of curiosity I ran the Poe prompt 4 more times afterward, and of the 16 additional non-existent women that it generated, 5 of them appeared to be non-white. Do as you wish with this info, but I thought it was worth attempting and reporting the results of.


"Best" image of those generated by Midjourney using basic prompt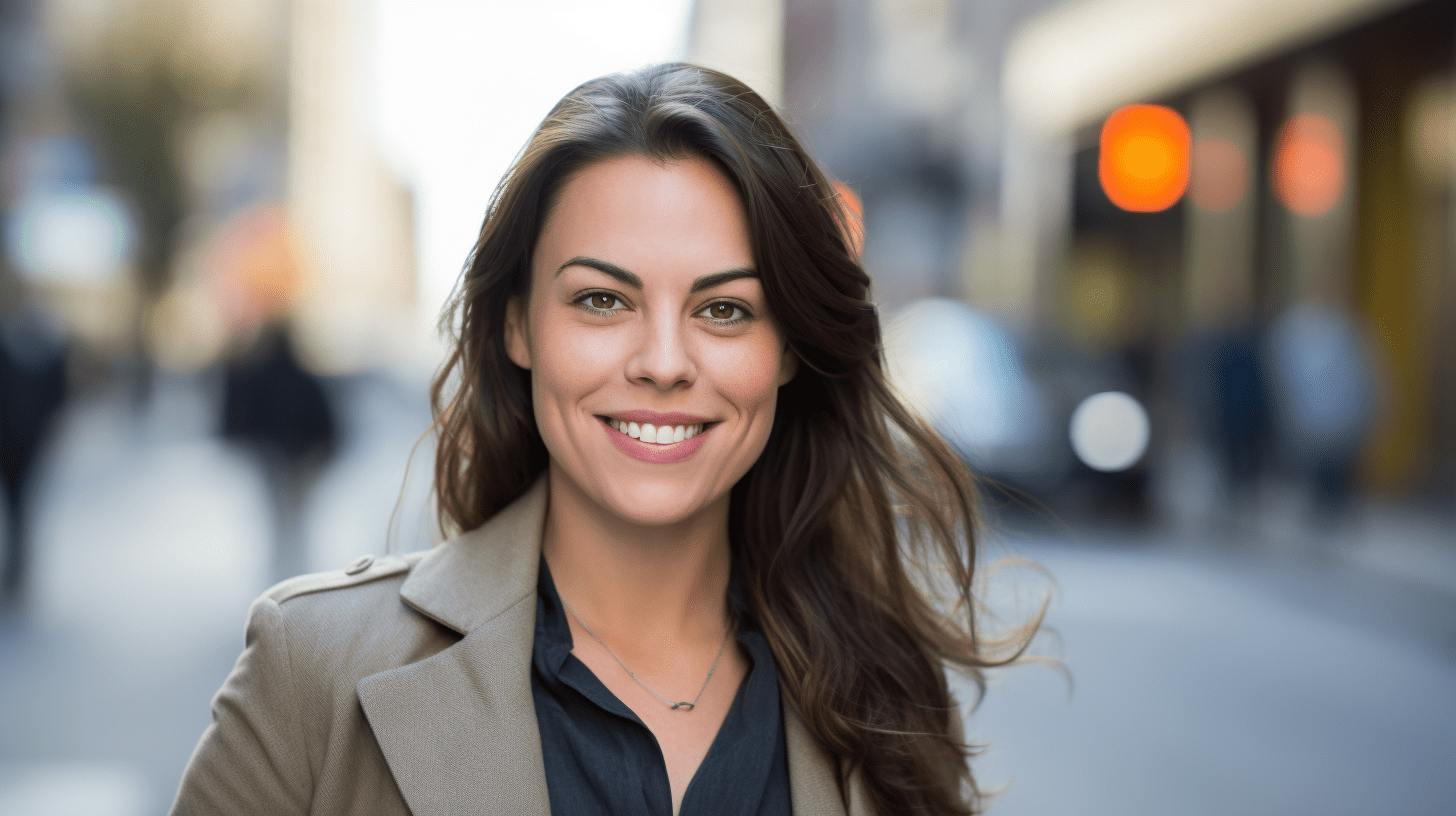 "Best" image of those generated by Midjourney using Poe's prompt
Again, I find the Poe-assisted prompts to be more realistic looking. They seem to have a more "natural" feel to them, and determining that they are AI-generated takes a little longer than doing so for the basic prompt images. The lighting and the outdoor aspects seem to look more natural, and though it isn't by a wide margin, I would say some small percentage better.
Conclusion
Maybe this article should have been called "Kick Ass Midjourney Prompts with Poe???" I think the jury may be out on if this Poe bot helps you definitively craft better prompts for image generation — and if so, by how much? — though that definitely won't be solved with a measly single pair examples. I tended to like the Poe-assisted bests a little better than the basic prompts, but, once again, this is both subjective and a decision made using very few data points. Perhaps the takeaways should be that prompt engineering is a complex and fickle beast, and art (both real and AI-generated) is just too subjective to determine when something is better than something else.
Give Poe a try for your own image generating projects, and see how it works for you.


Matthew Mayo (@mattmayo13) holds a Master's degree in computer science and a graduate diploma in data mining. As Editor-in-Chief of KDnuggets, Matthew aims to make complex data science concepts accessible. His professional interests include natural language processing, machine learning algorithms, and exploring emerging AI. He is driven by a mission to democratize knowledge in the data science community. Matthew has been coding since he was 6 years old.