Big Data Landscape, v 3.0, analyzed
We analyze the Big Data Landscape and identify the most popular market segments in Analytics, Infrastructure, Applications, Open Source, and Data Sources categories. It is still early - only 4.5% of companies had exits.
---
comments
By Gregory Piatetsky, May 15, 2014.
A recent post by Matt Turck, a partner at FirstMark Capital, has a great picture of
Big Data Landscape v. 3.0
.
Matt Turck writes that the space is getting crowded
"Entrepreneurs have flocked to the space, VCs have poured money into promising startups, and as a result, the market is starting to get crowded. Certain categories like databases (whether NoSQL or NewSQL) or social media analytics feel ripe for consolidation or some sort of shakeout (which may have already started in social analytics with Twitter's acquisitions of BlueFin and GNIP)."

However, it is still early in the game, he says:
"we're still in the early innings of this market. Over the last couple of years, some promising companies failed (for example: Drawn to Scale), a number saw early exits (for example: Precog, Prior Knowledge, Lucky Sort, Rapleaf, Nodeable, Karmasphere), and a handful saw more meaningful outcomes (for example: Infochimps, Causata, Streambase, ParAccel, Aspera, GNIP, BlueFin labs, BlueKai).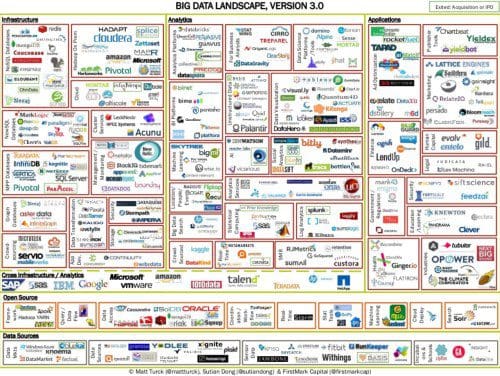 The landscape above is a treasure trove of information, but very hard to make sense of. To analyze it quantitatively, we broke it down by categories and subcategories (thanks to Grant Marshall for getting the numbers).
First obvious inference is that the market is indeed in early stages - of the 358 companies in the chart, only 16 had "exits" (purchased or had an IPO), about 4.5% overall. The percent of exits is highest for Analytics (7.5%) and Data Sources (6.9%) categories, and lowest for Applications (1.4%), and Open Source (zero) categories.
Below is the chart of the Big Data Landscape, by categories and subcategories, ordered by number of companies.
We can also see the most popular segments:
In Analytics:
Data Visualization, Unstructured Data
In Infrastructure:
NoSQL and NewSQL databases
In Applications:
Ad optimization and Marketing
.
Segments with the most exits are Social Analytics and Analytics Platforms.
Analytics - 120 companies, 9 exits (7.5%)
Data Visualization: 18 Companies
Unstructured Data: 11 Companies
Social Analytics: 10 Companies, 2 Exits
Analytics Platforms: 9 Companies, 2 Exits
Analytics Services: 9 Companies
Data Science Platforms / Tools: 9 Companies
BI Platforms: 8 Companies
For Business Analytics: 6 Companies
Location / People / Events: 6 Companies, 1 Exit
Log Analytics: 5 Companies, 1 Exit
Machine Learning: 5 Companies
SMB: 5 Companies
Statistical Computing: 5 Companies, 1 Exit
AI: 4 Companies, 1 Exit
Big Data Search: 4 Companies
Real-time: 4 Companies, 1 Exit
Crowd-sourced: 2 Companies
Infrastructure - 99 companies, 4 exits (4.0%) :
NoSQL Databases: 14 Companies, 1 Exit
NewSQL Databases: 12 Companies
Hadoop on Prem: 11 Companies, 1 Exit
Management / Monitoring: 10 Companies
MPP Databases: 10 Companies, 1 Exit
Big Data: 8 Companies, 1 Exit
Data Transformation: 7 Companies
Crowd-sourcing: 7 Companies
Cluster Service: 4 Companies
Graph Databases: 4 Companies
Security: 5 Companies
Storage: 4 Companies
App Dev: 3 Companies
Applications - 67 companies, 1 exit (1.5%)
Ad Optimization: 11 Companies, 1 Exit
Marketing: 11 Companies
Finance: 8 Companies
Industries: 8 Companies
Government / Regulation: 6 Companies
Health: 6 Companies
Education / Learning: 4 Companies
Security: 4 Companies
Human Capital: 3 Companies
Legal: 3 Companies
Publisher Tools: 3 Companies
Open Source, 31 companies, no exits
Data Access: 10 Companies
Framework: 5 Companies
Stat Tools: 4 Companies
Coordination / Workflow: 3 Companies
Search: 3 Companies
Machine Learning: 2 Companies
Query / Data Flow: 2 Companies
Cloud Deploy: 1 Company
Real-time: 1 Company
Data Sources: 29 companies, 2 exits
Data Sources: 10 Companies
Sensor Data: 10 Companies, 1 Exit
Data Markets: 5 Companies, 1 Exit
Incubators and Schools: 4 Companies
Cross Infrastructure / Analytics:
12 companies, no exits