Top 7 Data Science Use Cases in Trust and Security
What are trust and safety? What is the role of trust and security in the modern world? Read this overview of 7 data science application use cases in the realm of trust and security.
---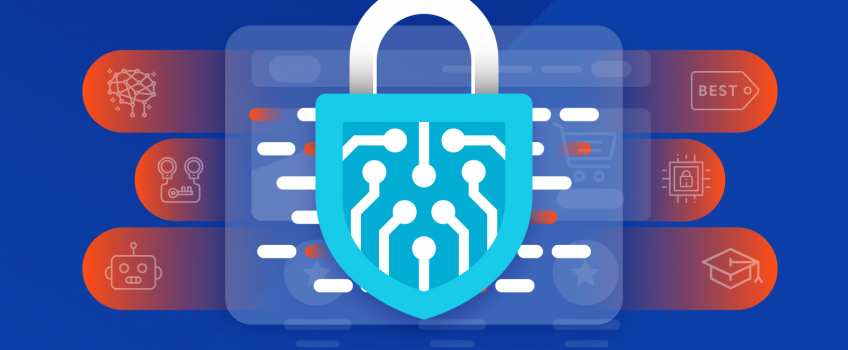 What are trust and safety? What is the role of trust and security in the modern world?
We often come across this word combination 'Trust & Safety' on numerous web sites and platforms. It is called upon to regulate the interaction between the visitors and specialists so that it would be fair and peaceful.
Everyone, starting from e-commerce websites to social networks need to prevent fraud and provide a high level of security for the visitors. The platforms do their best to get the trust of their visitors. Safe and trusted platforms are expected to be actively visited by a broad spectrum of people eager to communicate, buy, learn, etc. There is nothing strange that the words trust and safety are used together so often. These terms are closely interrelated by their nature. Trust is a multidimensional concept. Trusting to a brand, source, etc. strengthens confidence and feeling of safety to the potential users.
Fraud detection

Consumers' expectations are growing extremely fast. All the customers are willing to get excellent experience regularly. Thus, the establishment of digital trust and safety has become essential for numerous service and product providers. C-suite has to make its best to organize an effective fraud management system, as nowadays staying ahead of fraud is as tricky as never before.
Fraud and cybercrime are using advanced technologies and techniques which are difficult to detect. Sophisticated mechanisms improving the ways to perform illegal activity online are under constant development. Years dedicated to the establishment of customers' trust may become just a waste of time after a trust violation incident.
Traditional fraud detection operations involve fraud screening teams working with fraud detection software to aggregate and consolidate historical data. Thanks to data science and algorithms and AI-powered solution the rate of the fraud-related losses may be minimized.
As to some real-life examples:
Sift Science, a global fraud detection system, uses machine learning technology to predict fraudulent behavior;
Yelp, Airbnb, and Jet.com use data insights to protect themselves from content and promo abuse, payment fraud, fake accounts, and account takeover, etc.
The reputation risks may be considerably mitigated with the application of smart data techniques. Forward-thinking organizations apply these innovations to detect fraud, reduce chargebacks, perform community moderation and community watch.
Industry knowledge

Increasing industry knowledge gives a competitive advantage and assists in the growth of any business. Keeping track of the current trends, latest news and innovations for your business development will help you to assure the professional growth and high rates of customers' trust.
The ever-growing demand in personal data requires development of strategies to improve trust and safety. Just think about it. Companies want their customers to make payments to someone they do not know, and share with them personal details including credit card numbers, etc. Trust and safety teams have become constituent - an inevitable part for many companies and organizations. These teams usually think about customers' data protection and prevention of fraudulent activity.
Data Scientists, as valuable members of trust and safety teams, are targeted on the issues of identity, security and digital interaction. Data scientists are working on development and scaling data infrastructures, conduction of in-depth analysis, optimization of statistical algorithms and models to boost strategic decision-making.
Trust and safety teams work harder to protect and enforce trust and safety strategies, settle customers' disputes, facilitate financial transactions, etc. The scope of their responsibilities usually depends on the type of company or organization and the area of business they represent.
Price optimization

Companies can no longer expect to reach high sales quickly. Customers get even more sophisticated in their purchasing habits and decisions every day. Wide variety of goods and services on offer, high quality of these goods and services and various price offers have a considerable influence on the decision making process.
Price is a significant management decision. Three types of factors should be taken into consideration. These are a willingness to pay, incremental profit, objectives and constraints.  Intelligent price optimization includes big data analytics solutions helping to predict customers' response and reaction to price changes with the objective to maximize sales and profitability.
Security is of great importance in price optimization. The reliability of the calculations is one of the most critical issues. Protection from the price spirals is presented here as well. Various smart predictions and warning mechanisms are applied within the scope of price optimization to predict and detect negative effects.
An effective price optimization management systems make the company look more reliable for customers.
Improve your skills with Data Science School
Trust in AI

Trust is fundamental for interaction. Trust in AI may considerably improve the quality of customers` experience. The AI engines and algorithms may be trained to perform various tasks and facilitate the process of Trust and Safety improvement.
Introduction of AI into trust and safety improvement process has opened new opportunities for companies and organizations. Thanks to AI-powered software they now can detect and ban users for suspicious activity even before they make a fraud. Besides, there appears an option to ban the IPs coming from the same source, in case this source is regarded as unreliable.
AI models may be tuned to detect various factors using both the internal and external data. Thus, the companies can prevent payment fraud, account takeover or account abuse. Moreover, the introduction of AI has resulted in the reduction of bias. It turned out that the AI solutions are capable of detecting the hidden bias which may seem insufficient to a human eye, and yet cause serious problems. Data Scientists manage to prevent bias from creeping into their algorithms and models, and yet to preserve useful bias at the same time.
Bots 

In recent years the chatbots have significantly improved and reached the stage when it is difficult to distinguish between a chatbot and a human in the course of a dialogue. Chatbots are widespread. Therefore, vast amounts of personal data are transferred back and forth by the chatbots every minute.
Collection of the personally identifiable information is crucial for the chatbots operation. As a result, they may become subjects for attacks or fraud. In such a case, the limitations and privacy boundaries must be precisely defined. Trust is critical in situations when the trustor largely depends on a trustee. Reliability of the chatbots may be determined according to the trust score. Trust Score is a mechanism that is a transaction registry containing successfully verified transactions.
Also, a chatbot has to handle abuse. Besides recognition of the abuse coming from the customer, it is essential for a chatbot not to abuse people.
Cybersecurity

Increased connectivity of devices and data in the modern world increases also the risks. To minimize these risks, organizations invest money in the trust and safety teams.
Trust & Safety teams work hard to provide high- level security to customers and to eliminate fraudulent activity. Among the critical interests of the Trust & Safety team is policy enforcement.
Cybersecurity is a matter of a somewhat higher level. Cybersecurity covers a wider scope of issues and problems. Its crucial task is to provide security to all valuable data. Therefore, trust and safety and cybersecurity are inter-dependable. Cybersecurity disposes of a vast number of techniques and measures to ensure integrity, confidentiality, and availability of data. The matter of trust in all these techniques and massive data management and storage systems as a whole has never been as topical as it is now. The stakes get higher every day when it comes to matters of personal and financial data security. Companies and organizations face the need to find new ways to provide a sufficient security level and encourage customers to trust.
Advanced security tools empowered by the AI, real-time analytics features, predicting algorithms widen the spectrum of actions to protect from cyber-attacks.
Analytics

Advanced and predictive analytics techniques and systems largely contribute to the levels of trust and safety of a company or organization.  Advanced and predictive analytics have been applied in various aspects of safety and proved its efficiency.
Appropriate data analysis strategies may solve numerous problems. For instance, predictive analytics may be used for incidents prediction and data-driven decisions.
Besides, the analytics helps to define where the trust is lost. Big data analytics offers an opportunity to monitor and analyze the processes that previously were hidden from the companies. Big data security tools cover the scope of security information and event management technologies, and performance and availability monitoring technologies. Due to this fact, a big data analytics tool can quickly discover devices on the network and support incident response workflow.
Conclusion

We live in the age when personal data gets publicly available due to active usage of various websites, platforms, media and networks. The data gained via processes of registration, entering different systems, online payments, etc., presents a great value both for the customers and the companies. Moreover, this information presents interest to the fraudsters and your company competitors.
To encourage customers to trust and ensure the feeling of safety is a challenging task in our time. Data science with its smart algorithms, models and innovative approaches becomes a reliable weapon in this war.
As the number of online interactions grows, the investments into trust and safety data-powered tools and techniques increases as well. The importance of trust and security measures is as crucial as never before.

ActiveWizards is a team of data scientists and engineers, focused exclusively on data projects (big data, data science, machine learning, data visualizations). Areas of core expertise include data science (research, machine learning algorithms, visualizations and engineering), data visualizations ( d3.js, Tableau and other), big data engineering (Hadoop, Spark, Kafka, Cassandra, HBase, MongoDB and other), and data intensive web applications development (RESTful APIs, Flask, Django, Meteor).
Original. Reposted with permission.
Related: