3 Key Data Science Questions to Ask Your Big Data
The process of understanding your data begins by asking 3 questions at the highest level, and then iteratively asking hundreds of cascading questions to get deeper insights.
---
By Piyanka Jain, thought-leader in data analytics.
Data, Data Everywhere, not a drop to act! Every organization is collecting data today, but very few know what to do with it. Part of the challenge is, organizations don't know what to ask of data. Where to begin? They have made multi-million $ investments in instrumentation and collecting BIG data through Hadoop-cluster, spitting out billions of rows and thousands of columns, but now what? Where to go next?
For a while, people thought, "now that I have the data, it would tell me the answer." But soon they realized, data doesn't speak, it only responds.
So, the onus comes back to the users (those who want to leverage data for making smarter decisions) to ask the "right" questions. But what questions to ask?
Whether you are a CEO of a $15 Million online apparel shop or IT manager of web servers at a health industry giant like Kaiser Permanente or a marketing manager at a large bank like Wells Fargo, the key questions remain the same. They are:
1. How am I doing?
For the CEO of the apparel business, it means how is the apparel business doing, and for the marketing manager, it means how is his/her department doing? There are many ways to answer this question, including laying out a financial measurement framework, a balanced scorecard, or something in between. But the most important part is to understand and agree company-wide on the KPI or set of KPIs (Key Performance Indicator) for your business. Is it revenue that you are optimizing or margins? Is it penetration or NPS (Net Promoter Score) or some integrated index?
2. What drives my business?
Once you have a KPI identified, you need to understand what drives that KPI. Some of this can be derived mathematically, and some could be a mere hypothesis that needs to be validated. For example, the number of visitors and conversion are important drivers of revenue for the apparel business. On the other hand, for a gaming company, with a freemium model and less than 1% paying customers, the total number of players is not a driver of revenue, but the number of players on a certain game might be. What's important here to understand the dynamics of your specific business through portfolio analysis.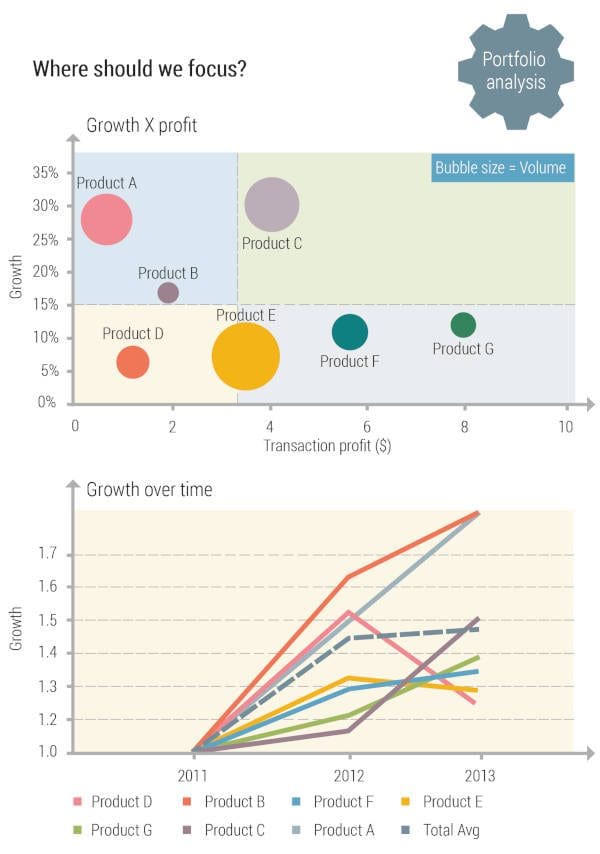 3. Who are my customers, and what are their needs?
Customer is central to all of our businesses. And we know all our customers are not alike. Some are more sophisticated, a heavy user of our product; others have used our product only once. For the apparel business, there might be two macro customer segments, those who would buy product wholesale to retail in their boutiques and those who are buying for personal use. Their needs from the eCommerce site and the company would be different. Companies who understand their customers and customize their offering, messaging, marketing channel accordingly, delight their customers, securing their future revenue (or KPI). And that is, ultimately, what we all want to do, to drive our KPI in the right direction.
Granted, most of the high-level executives in an organization do keep an eye on the KPIs and can quickly sum up the company financials, but do they know what drives those KPIs? Additionally, do the folks further down in the organization know what they are working towards and why? Can they make a good decision of which project to prioritize over others, i.e., what will drive their KPI the most? KPIs are the results we want, but unless we can identify the right levers to pull to move those KPI, we are flying blind. It is the answer to these three questions that can help identify the critical business levers to manage the business.
The process of unraveling and understanding of your own business or department is an iterative one. The process begins by asking these 3 questions at the highest level and then iteratively asking hundreds of cascading questions to get deeper breakthrough insights needed to maximize the ROI. And to truly incorporate this data-driven process of running the business, all individuals in the organization; be it the marketing professional, product manager, sales professional, financial analyst or business analyst, need to know how to start asking the right questions of the data, to optimize their own KPI's.
So before you make another cent of investment in your servers or infrastructure (to capture more data), or fund another marketing campaign or product enhancement, answer these three questions to the extent possible with current data set and identify what other data and insights you need to understand the levers you can pull to make a difference.
For more details, download this 3-Key Question whitepaper, with DIY examples of how to start answering these questions on your business and finally putting your data to work. You can also order my book Behind Every Good Decision on Amazon or your local bookstore,  where I discuss this in greater detail under the leadership toolkit section.
If you are a business professional ready to leverage data for making smarter decisions or looking to transition your career to analytics, Join Aryng Analytics Academy for getting access to our current and upcoming masterclasses, courses, podcasts, and more on analytics.
Bio: A highly-regarded industry thought-leader in data analytics, Piyanka Jain (@analyticsqueen) is an internationally acclaimed best-selling author and a frequent keynote speaker on using data-driven decision-making for competitive advantage at both corporate leadership summits as well as business conferences. She writes for publications including Forbes, Harvard Business Review, and InsideHR.  At Aryng, she leads her SWAT Data Science team to solve complex business problems.
Related: