AI in Healthcare: A review of innovative startups
The AI innovation in healthcare has been overwhelming with the Global Healthcare AI Market accounting for $0.95 billion in 2017, and is expected to reach $19.25 billion by 2026. What drives this vibrant growth?
---
By Yuliya Sychikova, Co-founder & COO at DataRoot Labs.
AI + Healthcare is eating the world. Over the past few years, the AI innovation in healthcare has been overwhelming, more so than in other AI-disrupted industries we have analyzed. According to Stratistics MRC, the Global Healthcare AI Market accounted for $0.95 billion in 2017 and is expected to reach $19.25 billion by 2026 growing at a CAGR of 39.7%. What drives this vibrant growth?
First of all, healthcare has a lot of data, which is a prerequisite for any AI transformation. With X-rays, MRI, ECG images piled up at the hospitals, DNA sequences analyzed in the labs and heartbeat, blood pressure, and sleep cycle patterns gathered on increasingly widespread smart devices, AI has a vast playground to show its powers. The data, however, is not without its challenges. Access to the data is highly regulated by privacy, security, and confidentiality rules. That being said, we have seen a lot of recently emerged startups successfully jumping through compliance hoops and getting the needed approvals and licenses to deliver their products to hospitals, pharma, and life-science companies or directly to end-consumers. Since 2014, at least 50 companies got FDA approval for machine learning (ML) and AI algorithms.
Secondly, the COVID-19 pandemic has given health services a digital push. From telehealth diagnostics to rapid testing to respiration monitoring, the startups received an extra motivation to speed up their product delivery amid the increased necessity and demand for certain services and products. To assist startups and companies in battling COVID-19, the US government has set up a new program to expedite the development of coronavirus-related R&D.
Thirdly, over the past decade, healthcare has become increasingly expensive, especially in the developed world. The reasons behind $4K MRI scans and $50K+ knee replacement surgery (US pricing) deserve a separate report. The point is that every sneeze in healthcare costs a lot of money, and when we talk about capital intensive processes like drug discovery or clinical trials, every tiny increment can cost hundreds of millions of dollars. Even a marginal improvement in the speed and automation of drug discovery, medical research, and clinical trials would result in tremendous savings for the entire industry. The cost reduction factor alone attracts many startups to this market, large enough for many players.
Fourthly, with the increasing technology awareness across the board, patients demand more personalized and connected healthcare. If I can track my pulse on my Apple Watch, why cannot my doctor use this data to track heartbeat anomalies? Companies in the sector are pressured to transform to meet the needs of a modern patient by adopting a consumer-centric focus, shifting to preventive care models, partnering with innovative startups (including AI-enabled solutions), and overall reducing the cost of care.
Fifthly, the new consumer tech (in particular Internet of Things) enables people to proactively manage their own health and make more informed decisions. Many startups provide AI tools for the end customers allowing them to track and work on their health, choose the right doctor, and manage the communication with their healthcare providers.
Finally, some governments are making AI in Healthcare a priority, especially amid the pandemic. The Chinese government announced the vision of becoming a global leader in AI by 2030, where Healthcare is one of the core areas of focus. In 2019 alone, China experienced a year-on-year investment growth rate of 54%, with a total investment of $7.4B.
AI Innovation Landscape
Healthcare use cases among emerging AI startups.
With hundreds of AI Healthcare startups out there, we have identified over 170 AI startups allocated to one of thirteen broad healthcare areas and gathered them on one landscape below.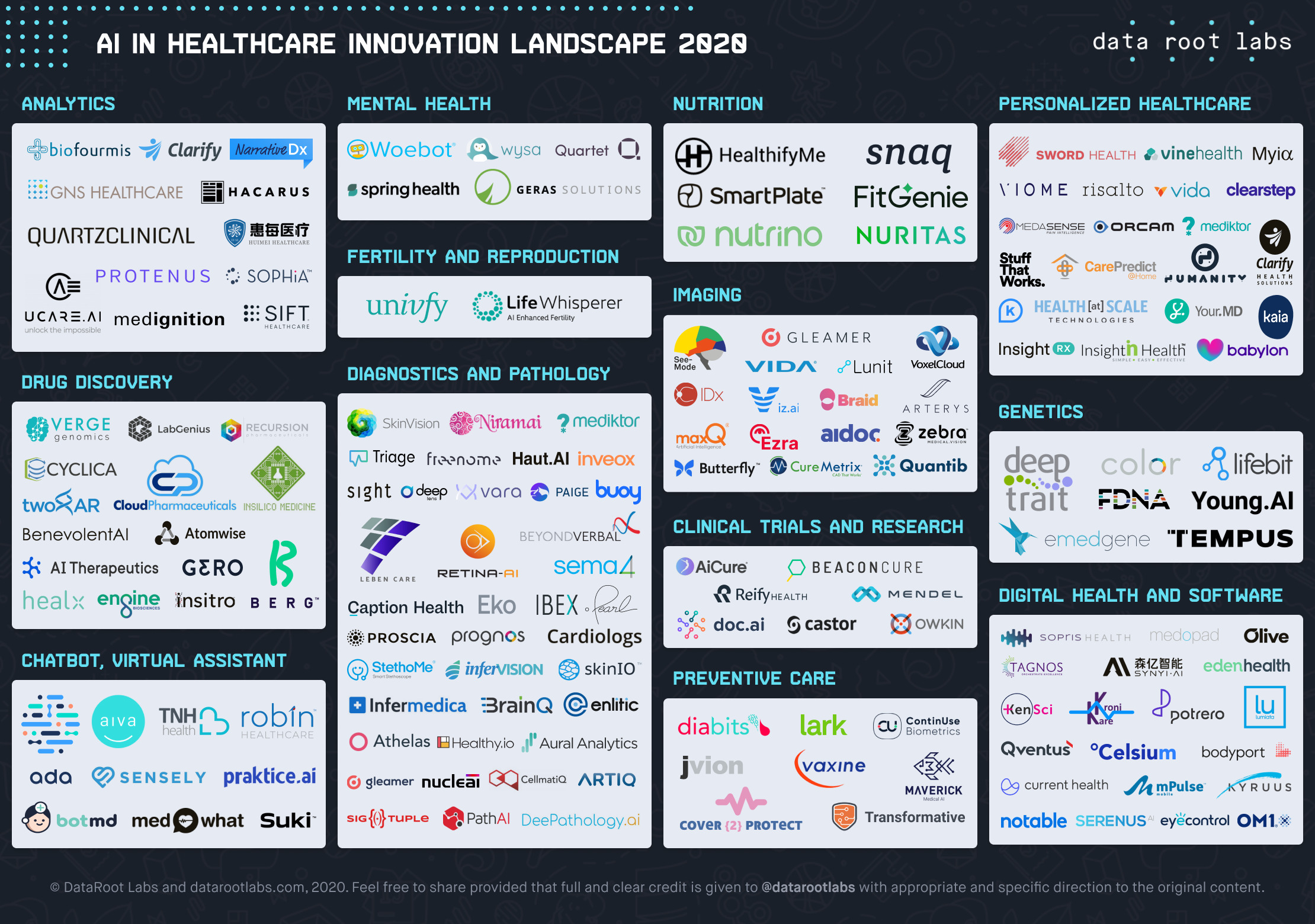 AI in Healthcare Innovation Landscape 2020.
One of the largest categories is Pathology and Diagnostics, where startups leverage AI for faster and more accurate diagnostics and early disease detection. Thus, ArtiQ is helping interpret the pulmonary function tests and improving lung disease diagnostic environment. Athelas offers a low-cost, blood diagnostics device made for testing the flu, bacterial infections, and cancer in the comfort of home. Beyond Verbal is using Voice and AI to extract human emotions and reveal Vocal Biomarkers – acoustic features indicating various signs of cardiovascular, pulmonary, neurological, and other diseases and chronic medical conditions in the voice.
Another company, Sight Diagnostics, has developed an AI-driven platform for blood analysis and infectious disease diagnostics. Sight's technology was first deployed in 2014 to detect Malaria using digital fluorescent microscopy. They sold over 600,000 tests to diagnose Malaria in 25 countries.
In Imaging, companies analyze medical visual data for anomalies detection and diagnosis. Viz.ai helps physicians to identify anomalies in brain scans through ML. Aidoc flags acute abnormalities for radiologists through deep learning and AI algorithms. By using proprietary MRI scanning protocols, Ezra's full-body MRI protocol claims to detect up to 13 cancers in women, 11 in men. At the same time, Israeli startup Zebra offers radiologists a second opinion and has developed 48 algorithms addressing 48 different medical conditions. IDx-DR detects diabetic retinopathy before it causes blindness. The company is currently developing additional AI-based algorithms for the detection of macular degeneration, glaucoma, Alzheimer's disease, cardiovascular disease, and stroke risk.
To reduce the cost of Clinical Trials & Medical Research, companies like AiCure and its intelligent medical assistant, IMA, leverage a visual recognition platform to monitor patient progress and improve patient behavior in randomized controlled trials. In clinical research, AiCure is increasing the probability of trial success and introducing more objective clinical endpoints.
Many startups have realized that Preventive Care can save billions in the longterm. Jvion lowers costs through its AI-enabled prescriptive analytics solution that identifies patients on a trajectory to becoming high risk. Their machine identifies admitted patients who are at risk of readmission within 30 days of hospitalization. Another company, Lark Health, leverages AI to provide real-time, personalized support and counseling to help users make healthier choices and manage their conditions.
Companies like BenevolentAI, Engine Biosciences, Insitro, and Verge Genomics among others, seek to lower Drug Discovery costs, decrease failure rates, accelerate and reduce costs of the drug and therapy R&D process. Another company LabGenius aims to robotize drug discovery. It developed EVA – a robot scientist capable of designing, conducting, and learning from its own experiments.
A separate category of startups has been developing all kinds of sensors and Digital Health solutions to make healthcare more connected. One example is Potrero Medical, which develops smart sensors to help medical teams better predict adverse outcomes in critical care settings. Other startups streamline the workflow by producing automation software for hospital operations. Thus, Qventus uses ML to optimize operational decisions in hospitals to reduce costs, improve the quality and experience of the healthcare they deliver.
A prominent example of a Personalized Care startup is Babylon Health that delivers full access to healthcare, including personalized health assessments, treatment advice, and face-to-face appointments with a doctor 24/7. With the Babylon app, one can talk to a GP within minutes via phone or video call, ask simple medical questions via their text service and monitor health with their comprehensive tracking system. K Health is able to generate more accurate insights based on PLM (a.k.a. "People Like Me"), a new approach to understanding the health that looks at other people like us who have had similar experiences. K Health partners with a network of providers for same-day appointments and remote advice. Vine Health helps people going through cancer treatment to manage their care, using a combination of behavioral science and AI. Their app allows patients to maximize physical and mental health during cancer therapy.
AI is helping women and couples with Fertility and Reproduction. Life Whisperer`s AI identifies viable embryos in IVF to improve outcomes for couples wanting to have children. Their solution is said to perform 30% better than highly skilled embryologists when identifying viable embryos from medical images. Univfy uses ML and AI to empower women and their partners to make confident decisions about fertility treatments.
Genetics has undergone a revolution of itself with popular companies like 23andMe generating a lot of interest from the consumers. However, using big data to spot Ashkenazi genes is not the only AI application in Genetics. Emedgene, for instance, utilizes NLP to 'read' new genetic publications and incorporate them into an always up-to-date knowledge base. They then use ML medical algorithms for diagnosis to pinpoint pathogenic variants, for a clear path to clinical decisions. FDNA leverages AI to detect physiological patterns that reveal disease-causing genetic variations. Used by 70% of the world's geneticists across 2,000 clinical sites in over 130 countries, FDNA's phenotyping technologies capture, structure, and analyze complex human physiological data to produce actionable insights.
In Nutrition, HealthifyMe's AI-based fitness assistant Ria can automatically suggest diet plans to a user while taking into account thousands of parameters. Nutrino developed a data platform that gets to know personal biochemistry, then applies that information to determine your FoodPrintTM - the digital signature of how food affects the body.
Woebot, a Mental Health startup, asks people how they're feeling and what is going on in their lives in the format of brief daily conversations. Woebot also talks to you about mental health and wellness and sends you videos and other useful tools depending on your mood and needs at that moment. Spring Health also uses AI to help patients with mental health problems feel better faster. It can accurately predict the right treatment to the right person and accelerate recovery.
Chatbots and Virtual Assistants help doctors, patients, and hospitals with a wide range of challenges. One of the most popular apps (the #1 medical app for 130 countries), Ada allows its users to check symptoms, see potential medical causes, and then offer a remote consultation with a real doctor over text. On the other hand, Bot MD assists doctors by instantly answering clinical questions, transcribing dictated case notes, and automatically organizing images and files. While Robin Healthcare takes care of medical documentation with no clicking, Sensely's chatbot assists insurance plan members and patients to converse in an entirely new way, combining the empathy of human conversation with the efficiency of technology.
Amid the COVID-19 pandemic, many startups are getting creative to help battle the disease and its broader consequences on society. This topic deserves a separate article, but here we will mention a few examples. Thus, Beyond Lucid Technologies helps to track COVID-19 exposures with software originally built for Community Paramedicine. CarePredict, an AI Eldercare platform that helps seniors live independently, economically, and longer, has launched a contact tracing tool to identify all people the infected person had contact with. Cyclica, an AI-powered drug discovery company, launched Cyclica Stimulus Package and provides free access to the company's AI platform to any researcher and biotech company that is actively fighting COVID-19.
VC founded AI+Healthcare startups
A list of recently funded startups and players to watch.
In the private market, healthcare AI startups have raised $4.3B across 576 deals since 2013, topping all other industries in AI deal activity. We compiled a list of 150+ startups and described how each of them leverages AI for Healthcare.
M&A Activity in AI Healthcare
Who acquired whom and why
There is a lot of enthusiasm for M&A activity with AI-based healthcare companies. According to Cortellis, there were over 30 deals completed since 2017 in AI + Healthcare, with the average deal size of $438m. In 2019 alone, we have counted over 20 deals and over 10 so far in 2020. Such invigorated deal flow is mostly due to the fact that large life science and pharmaceutical companies are eager to enter AI space through acquisitions.
See summary of the M&A deal flow of 2019-2020 YTD
Remaining challenges
One of the biggest challenges for AI in healthcare will be motivating all players to adopt it faster. Although a lot of innovation is taking place, healthcare is still an old-guarded, highly regulated industry with many legacy players. It will take a lot to convince them to adopt more modern but less proven emerging technologies. Those players will want to fully understand and learn to manage the risks of AI in Healthcare before making any rapid movements.
Access to data and data format is another big industry challenge. Standardizing the data and centralizing it in one place and giving access to the data to the players that need it will take a lot of cooperation and integration efforts from all players - the government, hospitals, software providers, security companies, regulators, and patients.
Finally, despite some progress in this area, making regulations more flexible and in line with the speed of AI innovations is a painstaking process of its own. As Roger Kuan puts it in his HBR article, "adopting AI in healthcare will be slow and difficult." However, the opportunities AI technology brings to the table will force all parties to accelerate the adoption.
Original. Reposted with permission.
Bio: Yuliya is a co-founder and COO of DataRoot Labs, where she oversees operations, sales, communication, and Startup Venture Services. She brings onboard business and venture capital experience that she gained at a leading tech investment company in CEE, where she oversaw numerous deals and managed a portfolio across various tech niches including AI and IT service companies.
Related: