How to become a Data Scientist: a step-by-step guide
Data science is everywhere. But what are the best ways to learn the field well enough to enter the profession? Read on for some tips and steps on doing so, and some great courses to help you get there.
---
Sponsored Post.
From the media to articles to job postings to the words of top leaders of big companies, the term that seems to be everywhere is "data science". The buzz is real. So, if you are familiar with technology and/or interested in learning new things about technology, then you have likely pondered this: What is data science? How does one become a data scientist? Well, the answers will be given right here.
Data science is a field that deals with the extraction of meaningful insights which include usage, trends, customer behaviour, etc. from raw data by using complex tools and algorithms, machine learning processes, mathematics, statistics, and other similar areas. The use of data science for business these days is massive. Businesses are using data science technology to maximize profits, establish their companies as superior to others, make their businesses cost-effective, and also making smart business decisions. Therefore, data science for business is a blessing as data scientists are always making smart and meaningful decisions when it comes to business goals.
The roles and responsibilities of a data scientist are immense and vary from one area to another to the point that one may get confused: what exactly does a data scientist do? Is he or she a mathematician or a statistician or a computer engineer? Let's see the roles and responsibilities of a data scientist or the things that are expected of data scientists.
Identify and figure out data analysis based problems and see how they can have a direct impact on the clients and their requirements. 
Collecting, cleansing and transforming and thus processing both structured and unstructured data from many different sources.
Looking for patterns in data models and finding out the opportunities and solutions that are required for the growth of the company, and also solving the problems that are faced by the company. 
Data scientist jobs include storytelling capabilities, meaning that they should be able to explain their theories and concepts to the stakeholders in a way that is understandable by them.
So, clearly, taking data based decisions and advising the management team is one of the major data scientist responsibilities. Now, there are some major skill sets that are required in order to become a data scientist. As the data scientist's responsibilities are many, so are the skills for qualifying as data scientist. We are about to discuss some of them.
Skills required for a data scientist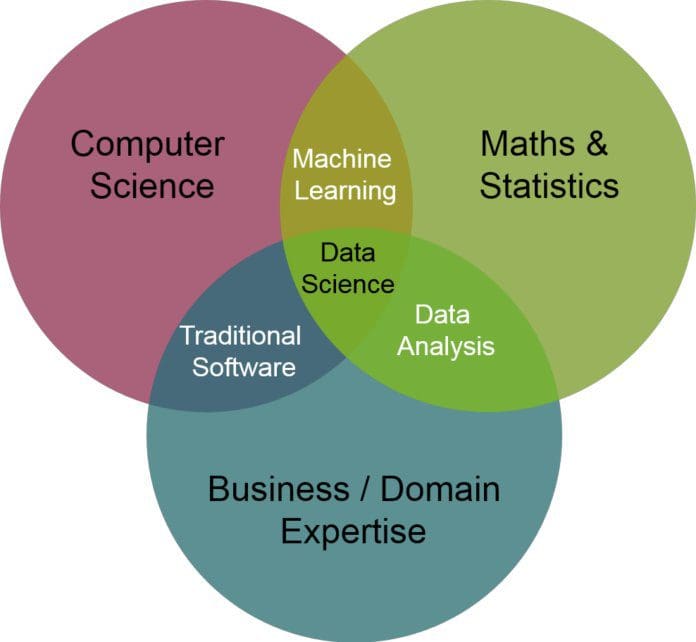 Data mining, data analysis, computer programming, statistics, machine learning, data visualisation, big data analytics, and so many more are the fields that contribute to the expertise of a data scientist. In order to carry out all the roles and responsibilities of data scientist, the skills are described vividly below.

1. Mathematics (includes Statistics, probability, linear algebra):
Mathematics can be thought of as a core subject in data science technology. This is important for a data scientist because while working on data and building data products, we need to view the data and identify it's textures and patterns with respect to a mathematical perspective. If you want to analyse and visualise the structured form of the converted data then you must have a good knowledge of statistics. Linear algebra is also an integral part of studying data science, as this is one of the vital functions of machine learning and is very helpful when it comes to uncovering the characteristics of big data sets. So, in order to learn data science, one should be able to master these aspects of mathematics. 

2. Computer Programming:
For building the prototypes of data models or fixing complex data systems, the data scientist course must include the learning of computer programming. The important programming languages and technologies that are often deemed necessary to learn data science are Python, R, SAS, Perl, SQL and other recent and trending technologies. If you want to have a data science career then it is really necessary to have a strong grip on any or all of these programming languages. There are many data science programs that help you learn all these programming languages and help you learn data science the way it is necessary. If you want to take a data science course then Great Learning will be a good institution to go for as the data science courses there are greatly appreciated.

3. Machine Learning:
Machine learning means building or training the computers or systems in such a way that they learn and develop constantly by themselves by means of feeding on the new data that is provided to them. From the recommendation engines to self-driving cars and other such new technologies, companies rely heavily on machine learning in order to make the experience of the users better. In short, machine learning forms the core of artificial intelligence. It is with machine learning that companies can automate their systems thus reducing the efforts, time and energy of the humans and also make these systems cost-effective. A data scientist course must include machine learning algorithms because they help in making real-time decisions and high value predictions for the benefit of the company.

4. Data skills:
One of the major data scientist responsibilities is to access, store and manipulate data all the time. Knowledge of databases like SQL, MongoDB and Cassandra is very essential in order to have an expertise while dealing with data. Next comes big data, which refers to huge amounts of data generated from multiple sources at a massive rate. Now this data cannot be handled by traditional database management systems like relational databases. Big data is a problem that can be solved by tools like Spark and Hadoop. These are open source pieces of software that are used in the processing of sets of data and also for the distribution of storage associated with big data.

5. Data munging and visualisation:
Data munging is defined as the transformation of one data form to another. This is done mainly on raw data to make it convenient to understand and use. Data visualisation can be thought of as the formation and study of the visual representation of data science by means of statistical graphics, plots and information graphics. In order to gain a meaningful insight of sets of data for the improvement of the different sectors and areas of a business, a process of arranging data into information reports is introduced and this is called data reporting. 
So, there you go, all the skills required in order to learn data science and qualify for data scientist jobs. Data scientist jobs as career options are interesting options and very rewarding. However, just learning all the above mentioned skills are not enough to become a data scientist. Expertise with all these skills is an important step towards qualifying for a data science career. But there are several other steps that are to be followed and only together with all of those steps can one qualify for a data science job.
A step-by-step guide to become Data Scientist

Taking into account the amount of data that is being produced from desktops, smartphones and many IoT devices all across the globe on a day-to-day basis it has become mandatory for both government and private sectors to rely on data scientists for the handling and manipulation of this data. Choosing a data science career is a relatively new trajectory when it comes to career options. However, that does not mean it is unachievable. While data scientists perform data analysis, they often do that for building predictive models which makes the use of machine learning and deep learning protocols. Data scientist responsibilities also include determining which models are the best fit for which kind of data being analysed. Since all the models are either approximate representations of the current or the future society, they require fine tuning thus relying on the data scientist's mathematical expertise. So, there are many things to take into account and consider their importance. Therefore, down below are the specific steps required to become a data scientist.

1. Preparing from an early stage:
Taking preparations is always the basic step required in order to achieve anything, and what would be better than to start preparing yourself as early as possible, that is, even before you go for your studies in any university or sign yourself up for a data scientist course? As stated earlier, making yourself proficient in the widely used programming languages such as Java, Python, R, etc. is a good place to start. Also, learning the basics when it comes to statistics and mathematics might also work to your advantage.

2. Having an Undergraduate degree:
Having an undergraduate degree in any of the subjects from computer science, statistics, information technology, mathematics or even data science (if available) will be beneficial for you. This is because the most sought after students to qualify for data science jobs are from these subjects, so much that even minoring in any of these subjects will also be of profit. Along with studying for your undergraduate degree, looking for internships and asking your seniors or your professors to help you gain an opportunity to learn data science or help you have your data science career will be a smart move on your part because the more experience you gain the better it is for you. 

3. Getting yourself an entry-level data science job:
The big companies are found often in search for students or freshers to fill in the vacant data science entry level jobs. So, the data science jobs with the positions of junior data scientist and junior data analyst are the things you need to look out for. Now, for these jobs, data science programs might be helpful as there is no better way to learn data science than with data science courses. Great Learning is a good institution for this as the Great Learning data science courses are not only efficient but also are efficient in getting you into these entry level jobs easily.

4. Earning a Master's or a PhD:
Getting yourself a master's or doctoral degree would be really helpful because when it comes to a data science career, the chances with a higher education are much better as the hiring companies often look for them. 

5. Get yourself a promotion:
These additional qualifications and higher education when combined with experience really boost up your data science career and that results in you getting a much needed promotion. Coupling technical skills with leadership qualities will give a pathway towards better opportunities. Learning all the skills mentioned are the key factors and these are just add-ons in getting yourself that high in demand data scientist job.
Conclusion

In this age of constant change where technology is evolving on an everyday basis, it becomes very crucial to keep yourself in pace with all the latest technologies, and data science technology is no different. In order to become a data scientist, it is very essential to make yourself aware of all the innovations happening around us as following the trends, and taking decisions while keeping them in mind is one of the prime data scientist responsibilities. As this is a new field and comparatively flexible, there is a chance of learning much and there is no better way to learn data science than by taking a data scientist course because at the end of the day, while dealing with all of our studies and work, it is a difficult job to learn data science on our own schedule. Great Learning provides the proper guidance and the Great Learning data science courses help you grow and keep you updated with all the latest innovations of technologies happening all around us. So, if you need a guide or a systematic way for making yourself capable for a data scientist job then joining an institution is crucial. 
So, to conclude, all the points necessary to keep in mind when it comes to become a data scientist have been clearly stated above and these steps will help you in know about this field in a better way.