The Complete Data Science Study Roadmap
This article will map out the things you need to do to become a data scientist.
---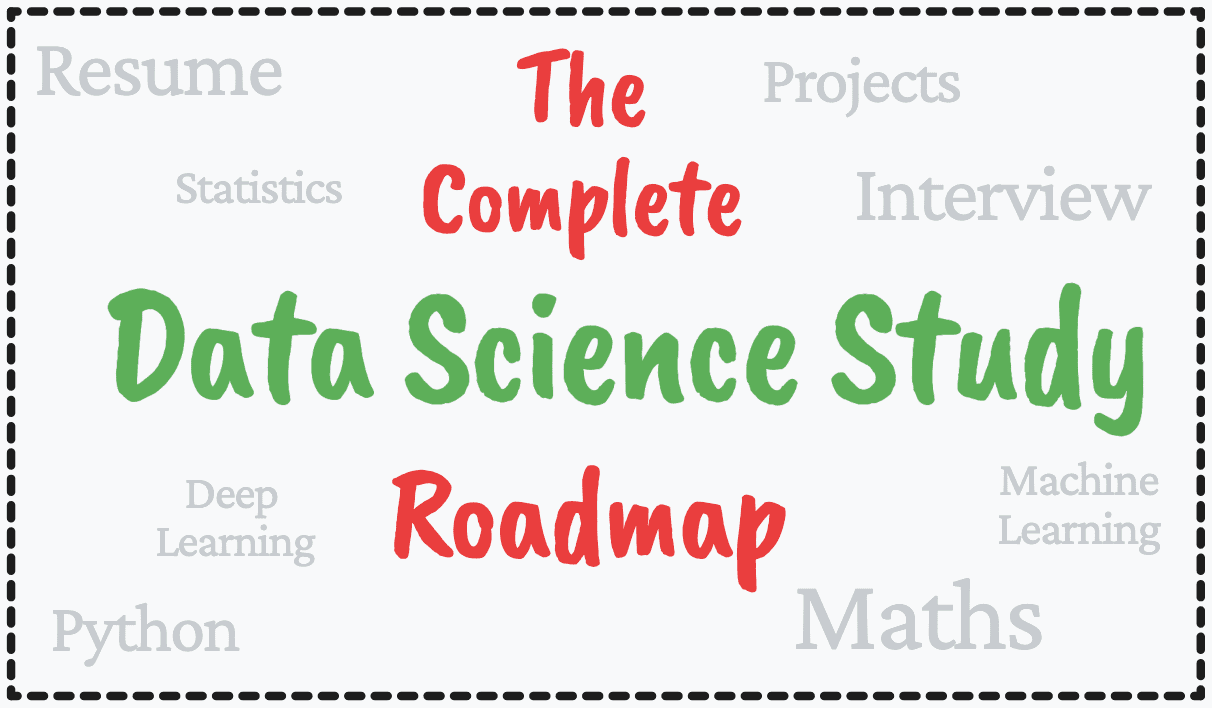 Image by Author
In this article, I am going to map out the things you need to do to become a Data Scientist. This article may solely be for beginners, however, there may be a thing or two that current Junior Data Scientists may have missed out on. This is where I am here to help fill in those gaps so that you don't have to feel imposter syndrome or lack confidence in your data science journey.
I will be taking you through the steps - it is a roadmap at the end of the day.
 Python
Python is one of the most popular programming languages today and more and more people are adopting it due to its simplicity. So if you're looking to enter data science and have not chosen a programming language yet - Python is always a good start.
Here are some courses to help you get started:
Data Science and Machine Learning
Once you understand the alphabet and how vowels work, that's when you can start to construct sentences. That's how I see programming languages and sectors such as data science and machine learning.
Once you get a hang of the programming language Python, you should then be on a good page to see how you can use that skill and apply it to data science and/or machine learning.
Here are some courses to help you get there:
Mathematics and Statistics
Due to the demand for Data Scientists, Data Engineers, machine learning Engineers, etc - there are a lot of bootcamps out there. Although they are great, some of them neglect how important Mathematics and Statistics are to becoming the best Data Scientist or machine learning Engineer you can be.
Math and Stats are important and you need to understand them thoroughly to be able to apply your coding skills in the real world. Although the above data science and machine learning Bootcamp courses will go over Mathematics and Statistics, it is a vital element to your data science journey that you need to get your head around.
So here are some other resources to help you with that:
ML, DL, and AI
If you purely want to become a Data Scientist and that's that - it is still important for you to understand the concept of machine learning and Deep Learning deeper. artificial intelligence umbrellas all 3 areas, and they have similarities therefore it is good for yourself and your career to understand and be proficient.
Here are some courses that can further help you with this:
Machine Learning
Deep Learning
Artificial Intelligence
Projects
During your learning phase, it is always good and very useful to apply your skills through real-life problems. This is where projects are important to the development of your career if it is in data science, machine learning, AI, etc. Data is the new gold, so there is a lot of data out there that you can use to solve problems, answer questions, etc.
Below are some articles that provide you with data science projects as well as open dataset websites:
Resume
Once you have a few projects under your belt and feel confident coding - the next step is to apply for jobs. But before you do that you need to have a resume. Not just any resume, a good resume, a good data science resume.
You are entering a new field, therefore you will be dealing with a different type of recruiter or boss. Therefore, having a correctly constructed resume will help you to get that initial interview.
Have a read of this article to see how you can achieve this:
 Interview Preparation
The part that everybody dreads but the part that everyone is working towards - getting a job! There is such high demand in this sector, therefore you won't be short of jobs. However, preparing and smashing your interviews is the hard part.
There is a lot of content to remember and it can be difficult when you're asked on the spot under pressure. However, there are data science prep courses, typical questions that interviewers ask, and more that can help you during this stage.
Here are some resources:
Extra Resources
Conclusion
I hope this data science Study Roadmap has either inspired you to have a career change or finally take the leap and start to learn data science. The majority of these resources are either known for their great content, being a bestseller, or having proven to help people in their data science journey.
All the best!


Nisha Arya is a Data Scientist and Freelance Technical Writer. She is particularly interested in providing Data Science career advice or tutorials and theory based knowledge around Data Science. She also wishes to explore the different ways Artificial Intelligence is/can benefit the longevity of human life. A keen learner, seeking to broaden her tech knowledge and writing skills, whilst helping guide others.