Top 7 Diffusion-Based Applications with Demos
Learn about various Diffusion-based applications to get inspiration for a final-year project, research, and product.
---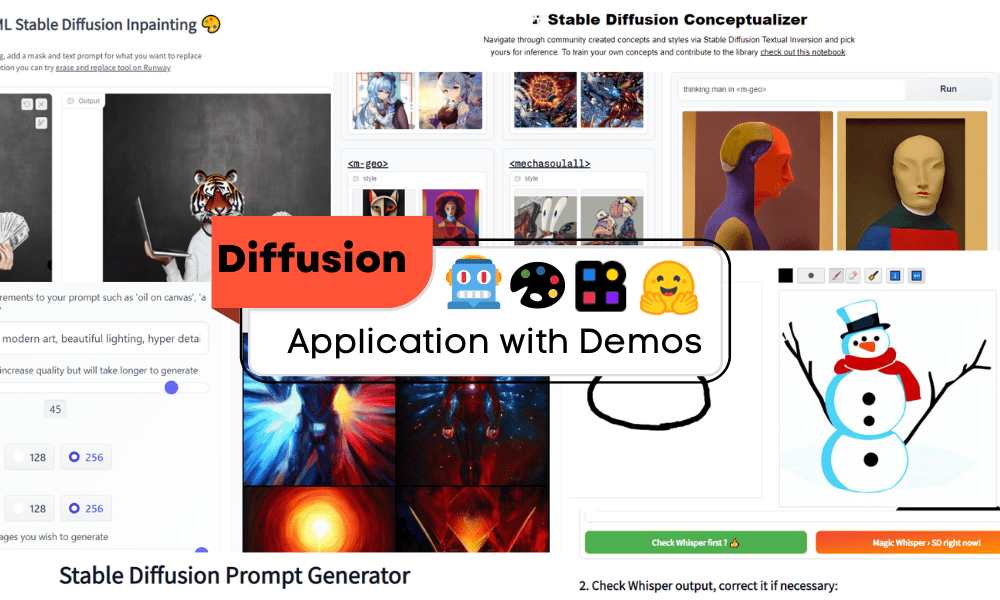 Image by Author
I can't catch a break from the new and exciting diffusion-based applications that I get to see every day. I see Photoshop plugins for Art generation, web apps that provide AI editing, software that replaces objects from photos, and 3D Diffusion. DALLE-2 and Stable Diffusion models have changed the AI space forever.
In this blog, you will learn about the top 7 applications that are using Diffusion-based models. I have also mentioned the link to the application demo so that you can test them for free. 
Nowadays, researchers are using multimodality to improve the capabilities of machine learning models. You can learn from these applications and come up with unique ideas for final-year projects, research papers, and product research.
Diffuse The Rest
Diffuse The Rest allows you to draw the painting, and by using the prompt, it generates high-quality realistic art. In the example below, I have drawn two circles and wrote the prompt "magical snowman" to generate high-quality art. 
You can even go deep and add more lines and color to get even better results.



Image from HuggingFace Spaces demo
Stable Diffusion For Videos
Stable Diffusion For Videos is an incredible project that takes two or more prompts and blends them to create a video. It looks so genuine. It constructs videos with Stable Diffusion by exploring the latent space and morphing between text prompts.
You can test it on Hugging Face Space, Replicate, or run it on Google Colab. 



Gif from Replicate demo
Latent Diffusion
Latent Diffusion is another version of OG text to image the Stable Diffusion model. The demo provides you with more configuration capabilities, such as image size, image quality, and diversity scale. For the starter, you need to write a descriptive prompt for it to generate high-quality images.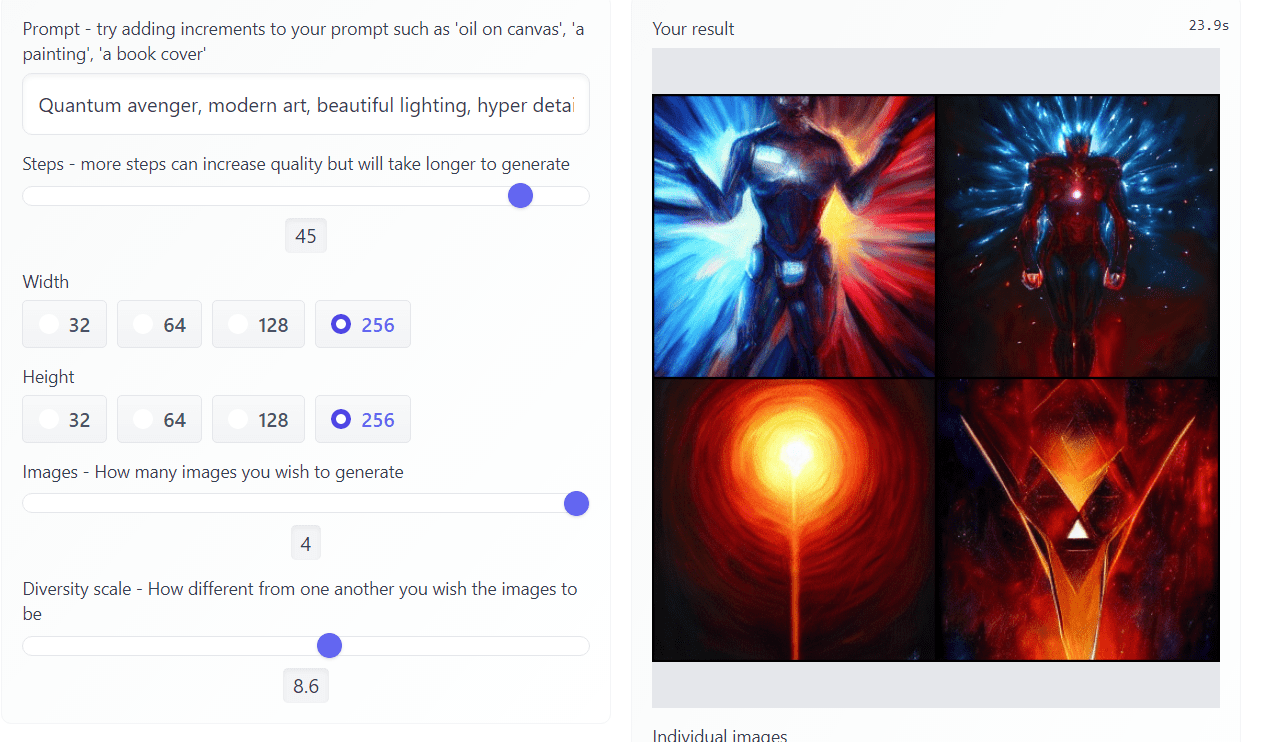 Image from HuggingFace Spaces demo
Stable Diffusion Infinity
Stable Diffusion Infinity allows you to expand your image or art using a window and prompt. As you can see, the creator has generated the dress and expanded the space to give more depth. 
You should give it a try and experience it yourself. 
It is just a single example. You can also upload multiple images and try to blend them. If you don't write anything in the prompt, it will automatically fill the block.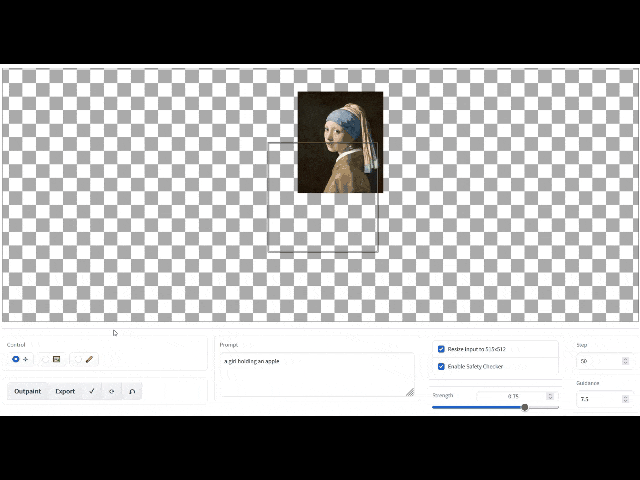 Gif from lkwq007/stablediffusion-infinity
Stable Diffusion Conceptualizer
A Stable Diffusion Conceptualizer uses prompts and style tags to generate the image with a particular art style. You can scroll through all of the various styles and copy past the tag to your prompt and create the masterpiece. I was having too much fun playing with diverse art styles.

Image from HuggingFace Spaces demo
Runway Inpainting
Runway Inpainting is a simple but powerful tool to remove or replace objects in the image. It challenges the dominance of Photoshop. You can edit images by highlighting and writing prompts. 
As you can see, I have changed the man's face with the lion. It is clean. You can remove the hat, replace shoes, and add objects in images. The possibilities for editing images are limitless. 

Image from HuggingFace Spaces demo
Whisper To Stable Diffusion
Whisper To Stable Diffusion is a handy tool for converting speech to text and using it to generate an image. You can even edit the predicted text to rerun the Diffusion model inference. 
Instead of writing long prompts, you can speak your mind, and it will produce a high-quality image for you. 

Image from HuggingFace Spaces demo
I hope you enjoyed my short but fun blog on Diffusion-based applications. 
In the next few weeks, you will find new and better applications on:
Prompt-to-Prompt Image Editing
Text-to-3D using 2D Diffusion 
Diffusion Models for 3D Shape Generation
Human Motion Diffusion Application
Sequence to Sequence Text Generation with Diffusion


Abid Ali Awan (@1abidaliawan) is a certified data scientist professional who loves building machine learning models. Currently, he is focusing on content creation and writing technical blogs on machine learning and data science technologies. Abid holds a Master's degree in Technology Management and a bachelor's degree in Telecommunication Engineering. His vision is to build an AI product using a graph neural network for students struggling with mental illness.