Salaries by Roles in Data Science and Business Intelligence
Data Scientist is the hottest role. What's next? We present national average salaries, job title progression in career, job trends and skills for popular job titles in Data Science & Business Intelligence. Check out the salaries of related roles.
---
comments
By Bhavya Geethika & Shashank Iyer
.
According to Glassdoor National Average salary data, following are popular roles for which an analysis of job progression, growth and skills is shown.
Data Scientist
tops the list.
List of 25 Data Science & Business Intelligence related job titles.
Popular Job Titles in data science & business intelligence by National Avg. Salary(in dollars)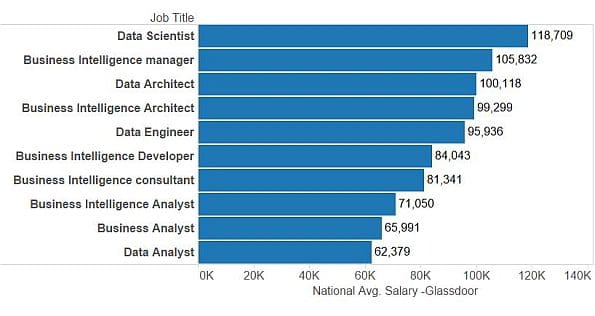 Job Progression - Given a job title, what other jobs did a person in that job go on to take?
An analysis based on Job progression data from Glassdoor API is presented below - It shows the top 3 progressions with highest increase in median pay. Glassdoor API Job progression supports only USA data as of now.
Next Job title is the next role taken by the person given their current job title. Job count here refers to National Job count for 'next job titles'.
Methodology: For the popular job titles as queries, the Glassdoor API will return the jobs in USA that a person in that job would typically go on to take - based on a frequency percentage. We condensed this data by filtering the top titles first based on frequency, and then by highest increase in median pay.
Job trends:
Indeed.com searches millions of jobs listed across thousands of websites. The job trends graphs below show the percentage of jobs Indeed finds that contain the given job title as a search term.
BI Developer & BI Analyst jobs are the most listed jobs in past few years and this job trend seems to increase in 2015.
Fig. 3: Indeed.com annual percent change for BI jobs.
Data Analyst and Data Architect jobs were the most listed in the past years. Data Scientist job postings are on the rise since the past four years and this trend seems to continue in 2015.
Fig. 4: Indeed.com annual percent change for Data Science jobs.
Business Analyst job postings were comparatively much higher than the above listed roles and hence represented seperately.
Fig. 5: Indeed.com annual percent change for Business Analyst jobs.
Skills that affect salaries (payscale.com):
Data Scientist: Machine learning, software development, hadoop, java, data mining/data warehouse, data analysis, python and object oriented programming. Check out: 9 Must-Have Skills You Need to Become a Data Scientist
Business Intelligence Manager: SAP BI, People management, Data warehouse, data mining, Cognos, Microstrategy, BI, SQL, Big data analytics, project management.
Data Architect: Data management, Oracle DB, Data mining/Data warehouse, BI & Data modeling.
Business Intelligence Architect: SQL Server Reporting Services(SSRS), Project Management, Data modeling, BusinessObjects, SQL Server Integration Services(SSIS), Business Intelligence, Data mining, Data warehouse, Cognos, SQL, Datawarehouse
Business Intelligence Developer: Data modeling, data warehouse, ETL(Extract, Transform, Load), SQL, PL/SQL, Oracle, BI, Transact-SQL, BusinessObjects
Business Intelligence consultant:Project Management, SAS, Data warehouse, BusinessObjects, MicroStrategy, BI, Cognos, SQL
Business Intelligence Analyst: Data modeling/data warehouse, project management, BusinessObjects, BI, Cognos, business analysis, data mining, SQL.
Business Analyst:Requirements Analysis, Business Analysis, Project Management, Oracle, Sharepoint Server
Data Analyst: Data mining/data warehouse, data modeling, SAS, SQL, Statistical Analysis, DB Management & Reporting, data analysis



Share your thoughts about what employers are looking for in data science & business intelligence job roles.
Related: