Best Data Science Career Tracks of 2022
Top-rated data science tracks consist of multiple project-based courses covering all aspects of data. It includes an introduction to Python/R, data ingestion & manipulation, data visualization, machine learning, and reporting.
---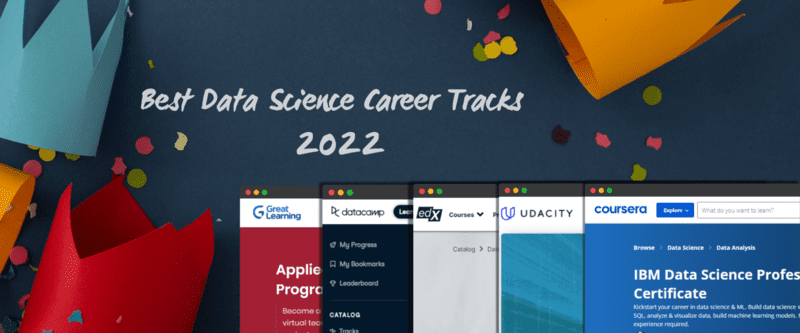 Image by author
Learning from random data science courses will cause a lot of confusion about the career path. It will also make you frustrated as you will be putting the time and energy into learning something that has no real value. So, if you want to learn everything about the world of data and get certified within a year then I will suggest that you sign up for a data science career track. A simple data science track consists of several courses that will prepare you for real-life challenges. It will also help you build the data science portfolio projects and provide career support. 
I am a strong supporter of the data science tracks as they have helped me in the past. I have written a couple of blogs on how career tracks have helped me secure data science professional certification: Become a Data Science Professional in Five Steps and How to Get Certified as a Data Scientist. In this blog, I will help you choose the data science career track that provides the best value for money, interactive learning platform, and certification. 
Data Scientist With Python Track

Image from DataCamp
Data Scientist with Python Track is a career track that will prepare you to take certification tests. You will learn to import, clean, manipulate, and visualize data. It will also teach you the fundamentals of Natural Language Processing (NLP) and machine learning. The data science career track is perfectly balanced with theory, live coding, assessment test, guided projects, and tutorials. After completing the data science track, the platform will guide you to take certification tests, and after securing your certificate, DataCamp will help you find your next dream data job. 
The monthly subscription varies from time to time as they are always running some kind of promotion which is great. You can also get 2 months free premium through GitHub Education, or if you are part of an NGO, you can apply to receive a free yearly subscription. The content and interactive exercise make it quite appealing for non-technical professionals. Data science professional certificate is hard to get, and slowly it is becoming an industry standard.  
MIT Applied Data Science Program

Image from Great Learning
MIT Applied Data Science Program is one of the best professional certification programs. It provides live virtual teaching by MIT faculty members, personalized mentorship & support, and hands-on training under the guidance of industrial experts. You are not just getting certified by the top university in the world. You are also getting professional experience by collaborating with experts on projects. The data science track includes foundations for data science, data analysis and visualization, machine learning, recommendations systems, and a 3 week-long capstone project.
The MIT Applied Data Science Program provides high value for your money, and if you want to supercharge your career, then I will suggest you sign up for the program and finish it within 12 weeks. Great Learning platform provides dedicated support and career counseling. If you are unsure about paying for the program, then check out the huge library of Data Science Courses on Great Learning. The library consists of short courses, certificate programs, career paths and free courses. 
IBM Data Science Professional Certificate


Image from Coursera
Kickstart your data science and machine learning career by taking a 12 month long IBM Data Science Professional Certificate program. It contains 10 courses that cover the fundamentals of data science, Python, and SQL. The course has no prerequisites, so even non-technical professionals can start a data science career. 
The program will teach you about data science tools, methodologies, AI & development, approaching data science projects, database & SQL, data analysis & visualization, and machine learning. After completing the course, you will receive an IBM certificate and job-ready skills. You can get financial aid, or if you are a student, you can get it for free, if your university is registered. I am a big fan of the Coursera learning platform, and it has completely changed remote learning for me. I am sure you will also fall in love with this platform once you start to explore the hidden features. 
Become A Data Scientist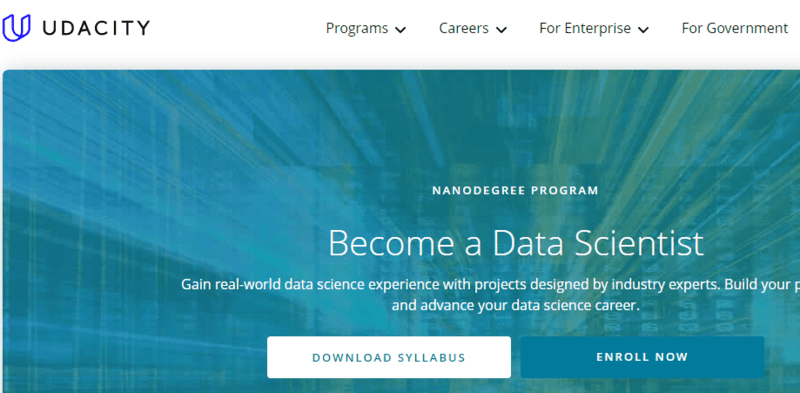 Image from Udacity
Become a Data Scientist by taking the Udacity Nanodegree Program. Udacity courses have taught me a lot about production-ready Python programming and helped me understand the key concepts of machine learning. You feel engaged and motivated while working on the latest technologies. 
The Nanodegree program is 4 months long and covers all the vital topics such as programming (Python, SQL, Terminal), probability and statistics, data wrangling, data visualization with matplotlib, and machine learning. Apart from essential topics, you will learn to write data science blog posts, build data pipelines for disaster response, and work on various data science and machine learning projects. 
The course is expensive, but I assure you it's all worth the money and time. You can also get a personal discount or financial assistance which will make it affordable even for students who are from developing countries.  
HarvardX Data Science Professional Certificate


Image from edX
HarvardX Data Science Professional Certificate is an R-based program that will introduce you to RStudio, tidyverse, GitHub, and machine learning algorithms. A year-long certificate program covers the basics of R programming, data visualization, statistics & probability, modeling, development tools, data wrangling, and machine learning. You will be getting certified by Harvard University with experience in a high demand programming language. The program consists of 9 courses, and it is run twice a year, in January and July.
Conclusion

In the recent blog, Natassha Selvaraj explains how to avoid tutorial traps. It's all about making logical choices for your future without wasting time on random tutorials. She explains how every other tutorial is teaching you the same thing, and you're not progressing. If you want to avoid the tutorial trap and walk on a straight path to success, then start with any of the career tracks I have mentioned. The career track will teach you everything in perfect order and provide you with the opportunity to work on highly in-demand portfolio projects.


Abid Ali Awan (@1abidaliawan) is a certified data scientist professional who loves building machine learning models. Currently, he is focusing on content creation and writing technical blogs on machine learning and data science technologies. Abid holds a Master's degree in Technology Management and a bachelor's degree in Telecommunication Engineering. His vision is to build an AI product using a graph neural network for students struggling with mental illness.