---

Image by Author
As everybody was going mad about ChatGPT, out of nowhere - Google released their very own experimental AI-powered chatbot - Google Bard. You could see that the competition was heavy, and Google needed a response. But was it a response to ChatGPT, or was Google Bard in the making?
The Big Reveal: Google AI Bard
So now we know that Google Bard is Google's response to OpenAI's ChatGPT. Let's learn more about it. It has the same main quality - it is an artificial intelligence chatbot. It is able to respond to different queries in a conversational manner. 
It uses information from the web, to provide high-quality responses that are up-to-date and easy for the user to understand. Google Bard uses a combination of machine learning and Natural Language Processing (NLP) to provide these high-quality yet realistic responses to the user. 
Google Bard aims to augment it into Google's search tools along with providing it to businesses for automated support and other human-like interaction tasks that can be completed. Bing has already incorporated ChatGPT into their website, allowing for better search, browsing and chat in a unified experience.
Along with being a part of Google's search tool, it can also be integrated into websites, messaging platforms, desktop and mobile applications, and more. This will all be available once their limited beta services are complete. You can see how this is possible by looking at the interactive image from Google below: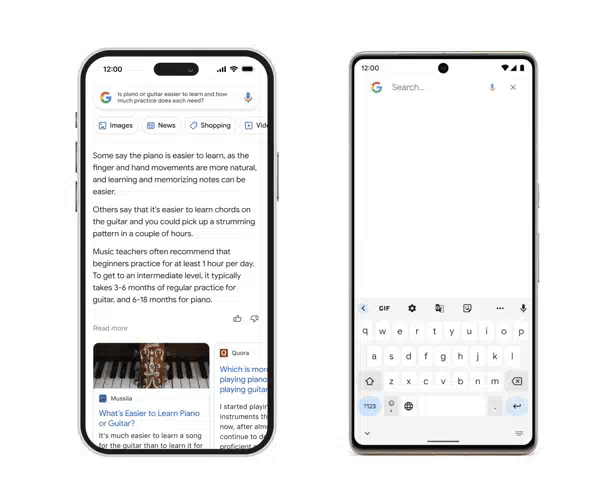 Image by Google
How Does it Work?
Google's Knowledge Graph is their way of connecting information. The Knowledge Graph cards contain relevant, context-specific information surrounding your specific search. Google wants Bard to work harmoniously with Knowledge Graph Cards, however, Bard responds to NORA question. NORA stands for No One Right Answer. 
In order for this to work, Bard uses LaMDA, a Language Model for Dialogue Applications to better under the request/question whilst applying context. Bard then uses the web to draw in a variety of information to form an answer. This is then converted into a conversational response which you would typically have with a human. 
What is LaMDA?
Two years ago, Google unveiled their Language Model for Dialogue Applications (LaMDA).
Google's language model, LaMDA, is built on Transformer, a neural network architecture that Google Research invented in 2017. It also incorporates multimodal user intent, reinforcement learning, and suggestions.
The model was trained to read and understand words, from sentences to paragraphs. It would then take that understanding and find relations to make predictions on what word it thinks may come next. We can say that LaMDA is a statistical method as it predicts future words based on previous ones. This allows the chatbot to stimulate conversation in a flowing manner, moving from one topic to the next. 
The major benefit of LaMDA is that it uses less computing power, allows for scalability, and provides a more effective feedback system, done by Google's own internal testing.
How do I use Google Bard?
At this time of writing, Google Bard is currently only available to limited beta testers. However, there are plans in the near future to make it more accessible. 
If you are one of these beta testers, you can use Google Bard by opening your Google app, tapping on the chatbot icon and starting to have a conversation or making a request. 
Google has reached their Beta testing group limit, and will no longer be accepting applications. During this period, Google aims to fine-tune Bard's accuracy, quality, and speed.
Google Bard vs ChatGPT
Now we have a good understanding and scope of Google Bard, what's the difference between Google Bard and OpenAI's ChatGPT?
If you need a quick overview of ChatGPT, have a read of: ChatGPT: Everything You Need to Know
So let's look into the difference between Google Bard and ChatGPT.

Image by Author
Conclusion
It will be interesting to see what Google have in the works around Bard. Will it be more effective than ChatGPT? 
If you would like to see the difference in responses between Google Bard and ChatGPT, have a look at Henk van Ess, an Assistant Professor at the University of Arizona who compares Bard AI and ChatGPT: Is #ChatGPT a threat to #Google?
If you've had a chance to use the Google Bard beta service, let us know what you think in the comments.


Nisha Arya is a Data Scientist, Freelance Technical Writer and Community Manager at KDnuggets. She is particularly interested in providing Data Science career advice or tutorials and theory based knowledge around Data Science. She also wishes to explore the different ways Artificial Intelligence is/can benefit the longevity of human life. A keen learner, seeking to broaden her tech knowledge and writing skills, whilst helping guide others.