Introduction to Random Forests® for Beginners – free ebook
Random Forests is of the most powerful and successful machine learning techniques. This free ebook will help beginners to leverage the power of Random Forests.
---
An Introduction to Random Forests for Beginners
Random Forests is one of the top 2 methods used by Kaggle competition winners.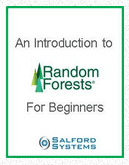 It is an ensemble learning method for classification and regression that builds many decision trees at training time and combines their output for the final prediction.
This ebook will help beginners leverage the power of multiple alternative analyses, randomization strategies, and ensemble learning with Random Forests. The 70-page ebook includes graphs, examples, and illustrations.
Chapters include:
What is Random Forests?
Segment and cluster
Suited for wide data
Advantages of Random Forests
Case Study example
Download at
http://info.salford-systems.com/an-introduction-to-random-forests-for-beginners
RANDOM FORESTS and RANDOMFORESTS are registered marks of Minitab, LLC.