12 Deep Learning Researchers and Leaders
Our list of deep learning researchers and industry leaders are the people you should follow to stay current with this wildly expanding field in AI. From early practitioners and established academics to entrepreneurs and today's top corporate influencers, this diverse group of individuals is leading the way into tomorrow's deep learning landscape.
---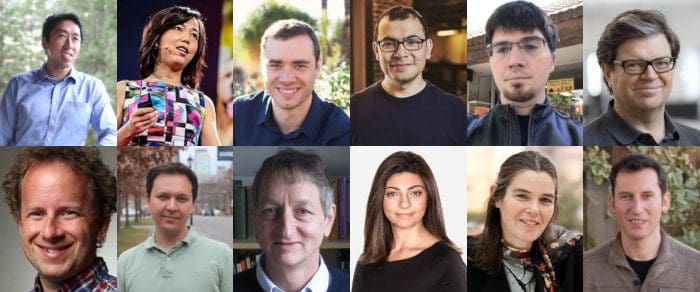 Having first appeared on the scene of machine learning in 1986 and artificial neural networks in 2000, the study of deep learning continues to explode with new research, advanced techniques, higher benchmarks, and broader applications. Keeping pace in such an active field with an average of 30 new deep learning papers uploaded to arXiv per day over the previous month is daunting, to say the least.
While there are many key deep learning scientists and engineers active today, the following list of 12 researchers and innovators in the field are among the most important – and they so happen to actively share on social media, making their progress and insights much easier to keep up with.
So, start paying attention to these 12 top deep learning individuals, and be prepared to expand your understanding and awareness of the incredible advancements deep learning is bringing to science, industry, and society.
While it in no way correlates to everyone's contribution to the field, the list is sorted by the number of Twitter followers so you can see who appears to have the most reach today. However, the science and applications these 12 people cover are broad, and each deserves attention from the data science and AI communities. It is also interesting to note the overlapping interactions between these 12 individuals through academic or corporate relationships. It's a small world in the world of big data.
Each listing also includes direct links to the individual's website, Twitter account, LinkedIn recent activity, Facebook profile, Google Scholar profile, and publication list on arXiv to help you dive in as quickly and as thoroughly as possible. Also, to eliminate any bias from this author, the descriptions below are paraphrased from personally published bios, corporate bios, or public descriptions of each individual.
Let us know what you think about our selection of deep learning leaders and please share your favorites to follow or who you believe should be considered in a future best-of list.
Andrew co-founded and led Google Brain and was a VP and Chief Scientist of Baidu. In 2011, he led the development of Stanford University's main MOOC (Massive Open Online Courses) platform and taught an online Machine Learning class offered to over 100,000 students, leading to Coursera for which he is the Co-Chairman and Co-Founder as well as an Adjunct Professor at Stanford University.
As the inaugural Sequoia Professor in the Computer Science Department at Stanford University and Co-Director of Stanford's Human-Centered AI Institute, Dr. Li served as the Director of Stanford's AI Lab from 2013 to 2018. During a sabbatical in 2017 and 2018, she was Vice President at Google and served as Chief Scientist of AI/ML at Google Cloud.  Dr. Li's research covers machine learning, deep learning, computer vision, and cognitive and computational neuroscience with nearly 200 scientific articles published in top-tier journals and conferences. Dr. Li is also the inventor of ImageNet and the ImageNet Challenge and is a leading national voice for advocating diversity in STEM and AI.
At Tesla, Andrej leads the team responsible for all neural networks on the Autopilot. Previously, he was a Research Scientist at OpenAI working on deep learning in computer vision, generative modeling, and reinforcement learning. While earning a Ph.D. from Stanford under Fei-Fei Li, Andrej held two internships at Google to work on large-scale feature learning over YouTube videos as well as an internship at DeepMind working on deep reinforcement learning.
Demis co-founded DeepMind in 2010 after successful careers in academia and computer game development. A child chess prodigy, he designed the multi-million selling, award-winning game Theme Park at the age of 17. After graduating from Cambridge University, he founded pioneering videogame firm Elixir Studios and completed a Ph.D. in cognitive neuroscience at UCL. Now a Fellow of the Royal Society, Royal Academy of Engineering, and the Royal Society of Arts, Demis was featured in 2017 in the Time 100 list of most influential people.
Ian earned his B.S. and M.S. in computer science from Stanford University under Andrew Ng followed by a Ph.D. in machine learning from the Université de Montréal with Yoshua Bengio and Aaron Courville. He next joined Google as part of the Google Brain research team after which he joined the newly founded OpenAI institute before returning to Google Research in 2017. Known for inventing generative adversarial networks, Ian is also a lead author of the textbook Deep Learning, was cited in MIT Technology Review's 35 Innovators Under 35, and was included in Foreign Policy's list of 100 Global Thinkers.
As a professor, researcher, and R&D manager with academic and industry experience in AI, machine learning, deep learning, computer vision, intelligent data analysis, data mining, data compression, digital library systems, and robotics, Yann is known for being a founding father of convolutional nets as well as his work on optical character recognition and computer vision using convolutional neural networks. Yann is also a co-creator of the DjVu image compression technology and co-developed the Lush programming language. He was the Founding Director of the NYU Center for Data Science where he revolutionized unsupervised learning, and in 2018, Yann was a co-recipient of the ACM A.M. Turing Award along with Geoffrey Hinton and Yoshua Benigo for their work in deep learning.
As an entrepreneur, business strategist, developer, and educator, Jeremy is a founding researcher at fast.ai, a research institute dedicated to making deep learning more accessible. He is also a Distinguished Research Scientist at the University of San Francisco, a faculty member at Singularity University, and a Young Global Leader with the World Economic Forum. Jeremy's most recent startup, Enlitic, was the first company to apply deep learning to medicine and was selected twice as one of the world's top 50 smartest companies by MIT Tech Review. Previously, Jeremy was the President and Chief Scientist of the data science platform Kaggle as well as an entrepreneurial investor with multiple startups, an advisor, and contributor to many open-source projects.  Jeremy is a regular guest on Australia's highest-rated breakfast news program, performed a popular talk on TED.com, and created data science and web development tutorials and discussions.
As a professor of Computer Science in the Machine Learning Department, School of Computer Science at CMU, Ruslan works in the field of statistical machine learning. His doctoral advisor was Geoffrey Hinton and, with many papers published on machine learning, Ruslan's interests include deep learning, probabilistic graphical models, and large-scale optimization. He is known for developing Bayesian Program Learning and was the first director of AI Research hired at Apple.
Geoffrey is a famous AI researcher and contributor to the idea of deep learning having popularized backpropagation for training multi-layer neural networks in 1986. Considered the "godfather of deep learning," Geoffrey divides his time working at Google Brain and the University of Toronto. His inventions are at the core of algorithms powering speech recognition, driverless cars, and image recognition, and was awarded the 2018 Turning Prize, along with Yoshua Benigo and Yann LeCun.
Rana is an Egyptian-American computer scientist with a Ph.D. from the University of Cambridge and an entrepreneur in the field of expression recognition research and technology development. As the co-founder and CEO of Affectiva, Rana helped define the category of Emotion AI and is now pioneering Human Perception AI to be a technology that can understand all things human.  An advocate for innovation, ethics in AI, and diversity, Rana was recognized in Fortune's 40 Under 40, Forbes America's Top 50 Women in Tech, and is a World Economic Forum Young Global Leader.
Daphne has worked at the boundary of machine learning and biomedicine. Named a MacArthur Fellow in 2004 and awarded the first-ever ACM-Infosys Foundation Award in Computing Sciences, Daphne later co-founded Coursera with Andrew Ng. For her contributions to online education, she was recognized as one of Newsweek's 10 Most Important People in 2010, Time magazine's 100 Most Influential People in 2012, and Fast Company's Most Creative People in 2014. After becoming the Chief Computing Officer at Calico in 2016, Daphne next joined insitro, a drug discovery startup. The author of over 200 refereed publications appearing in venues such as Science, Cell, and Nature Genetics, Daphne also co-authored a textbook on probabilistic graphical models that was converted into an online course.
Alex works on machine learning and statistical data analysis, including applications from document analysis, bioinformatics, and computer vision to the analysis of Internet data. Having supervised numerous Ph.D. students and researchers, Alex authored over 200 papers, one book, and edited five books. His specialties cover deep learning, kernel methods, unsupervised models, fast samplers, and user models, including highly scalable models that span many terabytes of data and hundreds of millions of users.
Related: