How To 2x Your Data Analytics Consulting Rates (Overnight)
Looking to up your data analytics consulting rates? Learn exactly what most freelancers are charging, and the rates you SHOULD be charging as a business intelligence and analytics consultant. This post will show you what you need to know to achieve maximum results for your data consulting career.
---
By Lillian Pierson, P.E., Mentor to World-Class Data Leaders and Entrepreneurs, CEO of Data-Mania
Curious to learn about data analytics consulting rates in 2021 for new data freelancers? Are you ready to up your rates as a data analytics freelancer? You're in the right place. 
Keep reading to learn my BEST strategies to help you 2x your rates as a data analytics freelancer or consultant.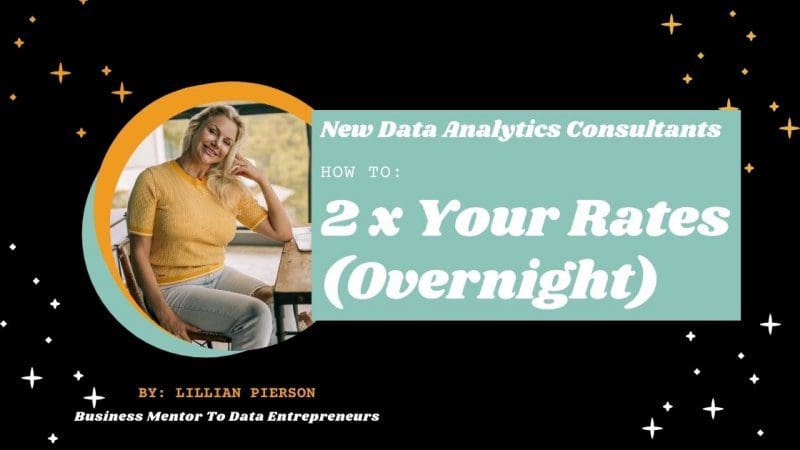 The reality is - if you're reading this and already performing some kind of data analytics work in a freelance capacity, you're most likely not charging enough.
In my work mentoring data professionals to build 6-figure data businesses, many of my clients come to me charging WAY less than they should be. While many go on to secure 6-figure contracts (~10% of my mentorship clients have in the first 7 months of signing up with me!), they often begin as struggling freelancers. 
So, you could say I know a thing or two about helping data freelancers make some SERIOUS uplevels in their business! 
Let's get into my best tips for how to dramatically increase your rates as soon as tomorrow.
What IS data analytics consulting? 

When I talk about data analytics consulting in this post, I'm referring to selling data analytics services - which could easily be marketed as things like:
Data analytics consulting
Data visualization consulting services
Business analytics consulting services
Tableau consulting
Power BI consulting services
Business analytics consultant services
For a more exhaustive list of data analytics service offers, look at how DwellTec breaks down their types of data analytics services here.
But in all honesty, the methods I'm sharing with you also apply to other types of data services. So whether you offer A/B testing, data mining, data engineering, data science, or machine learning, you can apply these pricing strategies to YOUR data business and see incredible results.
 

What are data analytics freelancers doing wrong? 

The answer to this question is pretty simple.
Most data freelancers simply aren't charging enough.
Let's look at the numbers - both for western and non-western freelancers.
From our research surveying the UpWork profiles of a variety of data freelancers, we found that experienced American freelancers are selling their data expertise at a rate that ranges between $28 and $250 per hour.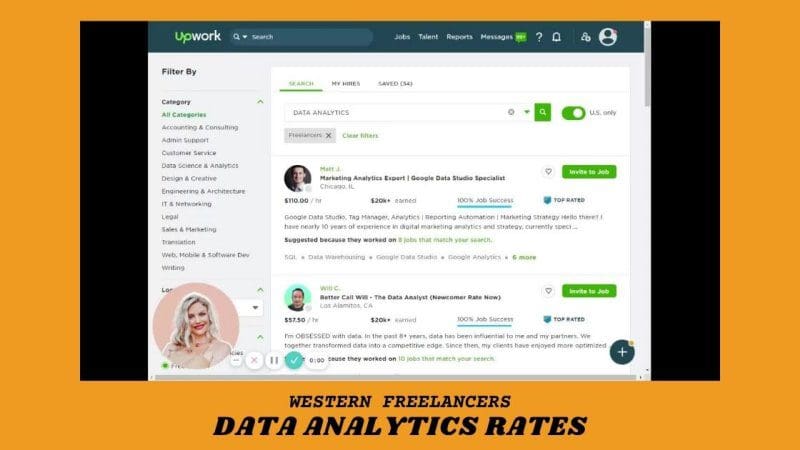 But the median rate was only $97.50 - meaning most experienced data analytics freelancers in the USA charge less than $100 per hour for their time.
Now, let's talk about non-western freelancers. According to our 2021 Upwork Research, experienced Indian freelancers are selling their data expertise at a rate that ranges between $5 and $199 per hour.
But the median rate is $37.50 - meaning most experienced data analytics freelancers in India charge less than $40 per hour for their time.
There are two BIG mistakes going on here.
Firstly, you should never, ever sell your time on an hourly basis.
Trading hours for dollars is NOT sustainable and will eventually run you into the ground.
Secondly, these hourly rates are far, FAR too low in the first place. 
Undercharging for your time is a recipe for disaster.
So if these rates are way underpriced, what sort of range should data analytics freelancers be aiming for?
What are the ideal data analytics consulting rates in 2021 for new data freelancers?

Let's look at what you actually need to be charging to run a profitable business as a data freelancer.
The easiest rule of thumb on this is that you need to charge two times the take-home pay of an employee.
There are two big reasons for this.
You don't get benefits.
You have to compensate for the huge hit you take on all the collateral benefits you don't get when you're working on a freelance basis. Things like insurance, paid vacation, time off, etc. Not to mention, you have to compensate for all of your business costs like software, marketing costs, sales costs - you get the idea.
Undercharging won't allow you to scale. 
If you're undercharging, you'll always stay stuck as a solo freelancer. You'll never have the resources to bring on a team, optimize your processes, or buy the best tools. If you want to learn more about why undercharging for your services is a bad idea, check out what they're saying over in this Business2Community blog post.
Going rates for western and non-western freelancers

Let's explore data analytics consulting rates in 2021 for new data freelancers! The first category of freelancers I want to discuss is new data freelancers in western economies.
As a new data freelancer, you've most likely taken a few data implementation courses, you've built up a bit of a portfolio, but you're still not established. You haven't quite built up your online credibility and you don't have those external benchmarks to validate that you can deliver results.
If you fall into this category, you want to charge at least $150/hour.
If you're a new data freelancer living in a non-western economy, say you're located in India or The Philippines, you'll want to aim for at least $100/hour.
What about rates for experienced data freelancers?

Now, let's say you've got a kickass portfolio, raving testimonials, and a degree in your field, as well as some outside entities validating that you CAN get the results you promise. In this case, you NEED to be charging a minimum of $300/hour.
If you're in a non-western economy, this might be a bit trickier for you, but I'd still really try and push for that $300/hour. In order to command those premium rates, you'll need to ensure your branding is up to snuff and meets the expectations of western clients. You'll also want to take the time to showcase testimonials and reviews that demonstrate your ability to get incredible results for your clients.
Two rules of thumb when pricing your freelance data services

To build a successful freelance data business, you must (and I repeat, MUST!) follow these two golden rules:
Avoid selling your services on an hourly basis
Always sell the deliverable - or achievement of a milestone goal
You've most likely been taught in the past to quote clients using your hourly rate. It's time to forget about that advice completely.
Instead, you're going to propose a package price. This is a flat fee for certain deliverables or for hitting certain project milestones.
How to create a freelance data services package?

Now that we've explored data analytics consulting rates in 2021 for new data freelancers, let's discuss how to package your services. In order to create your perfect package, you're going to want to follow these steps.
Start with your MVP
The best way to start off is to create one standard offer. You can think of this as your minimally viable service offer. This is the core way you deliver results for your clients.
Include add-ons that increase the value without adding more to your workload
Once you have your standardized package, you'll want to figure out how to increase the value of said package - without having to increase how many hours it takes you to deliver. Ask yourself: what are some reusable assets you can sell along with your service packages? Some great ideas for this could be adding things such as documentation, training videos, user guides, dashboards, and specifications.
Sell the results
Shifting to package pricing totally changes the way you sell your services. Rather than focusing on the time it takes you to deliver, you focus on selling the transformation. What is the exact result your ideal client will get from working with you?
Of course, you WILL want to figure out exactly how long it takes you to deliver your package. This is how you can make sure that you're making at least $300/hour.
Where should you sell your data services package?

Now, you might be wondering, "this sounds great and all, but where can I actually FIND clients to buy this package?"
Good question!
In terms of where to sell your packages, I would discourage you from going to places like Upwork. Often, freelance marketplaces like this become a 'race to the bottom' which makes it difficult for freelancers looking to charge premium prices.
You'll want to of course post your packages on your website, and then try and drive traffic to your site via social media. You could even make a featured post or highlight on your social media channels all about how to work with you, with a link to your website to learn more. For more strategies on how to sign high-paying clients into your data business, be sure to check out this post.
I hope this post provided you with some greater clarity on data analytics consulting rates in 2021 for new data freelancers, as well as experienced ones! Remember: by switching from an hourly pricing structure to premium data service packages, you'll be able to quickly scale your business and double your rates as soon as this week!
Want more resources to grow your data business?
Be sure to download the FREE Data Entrepreneur's Toolkit, a collection of the 32 BEST tools and processes we used to scale Data-Mania to the multi 6-figure mark.
Download the Toolkit for $0 Here.

Bio: Lillian Pierson, P.E. is a CEO & data leader that supports data professionals to evolve into world-class leaders & entrepreneurs. To date, she's helped educate over 1.3 million data professionals on AI and data science. Lillian has authored 6 data books with Wiley & Sons Publishers as well as 5 data courses with LinkedIn Learning. She's supported a wide variety of organizations across the globe, from the United Nations and National Geographic, to Ericsson and Saudi Aramco, and everything in between. She is a licensed Professional Engineer, in good standing. She's been a technical consultant since 2007 and a data business mentor since 2018. She occasionally volunteers her expertise in global summits and forums on data privacy and ethics.
Related: