Audience Segmentation
The process of audience segmentation is not about just statistics, it's about finding your ideal clients and choosing the right way of interaction with them.
---
By Valentina Podmazina, IO technologies.
In our previous article, we covered the basics of content personalization. Now, it's time to dig deeper into the underlying processes (data analytics and audience segmentation) that make the magic real.
At IO Technologies, we began with audience segmentation. In fact, segmenting a great amount of data is the first step of any decision making process. Having plenty of information is great, but measuring it and defining important patterns is crucial.
Audience segmentation basics
Audience segmentation is not about just statistics, it's about finding your ideal clients and choosing the right way of interaction with them. This is all about making the information world more customized and achieving your business goals at the same time. If you target the right market and audience at the right time, the dollars invested into your business will make it lucrative, and successful.
A Classical Approach to Audience Segmentation
If we take a look at what criteria are usually used for segmenting audiences, we notice a pattern. In general, there are four approaches to it: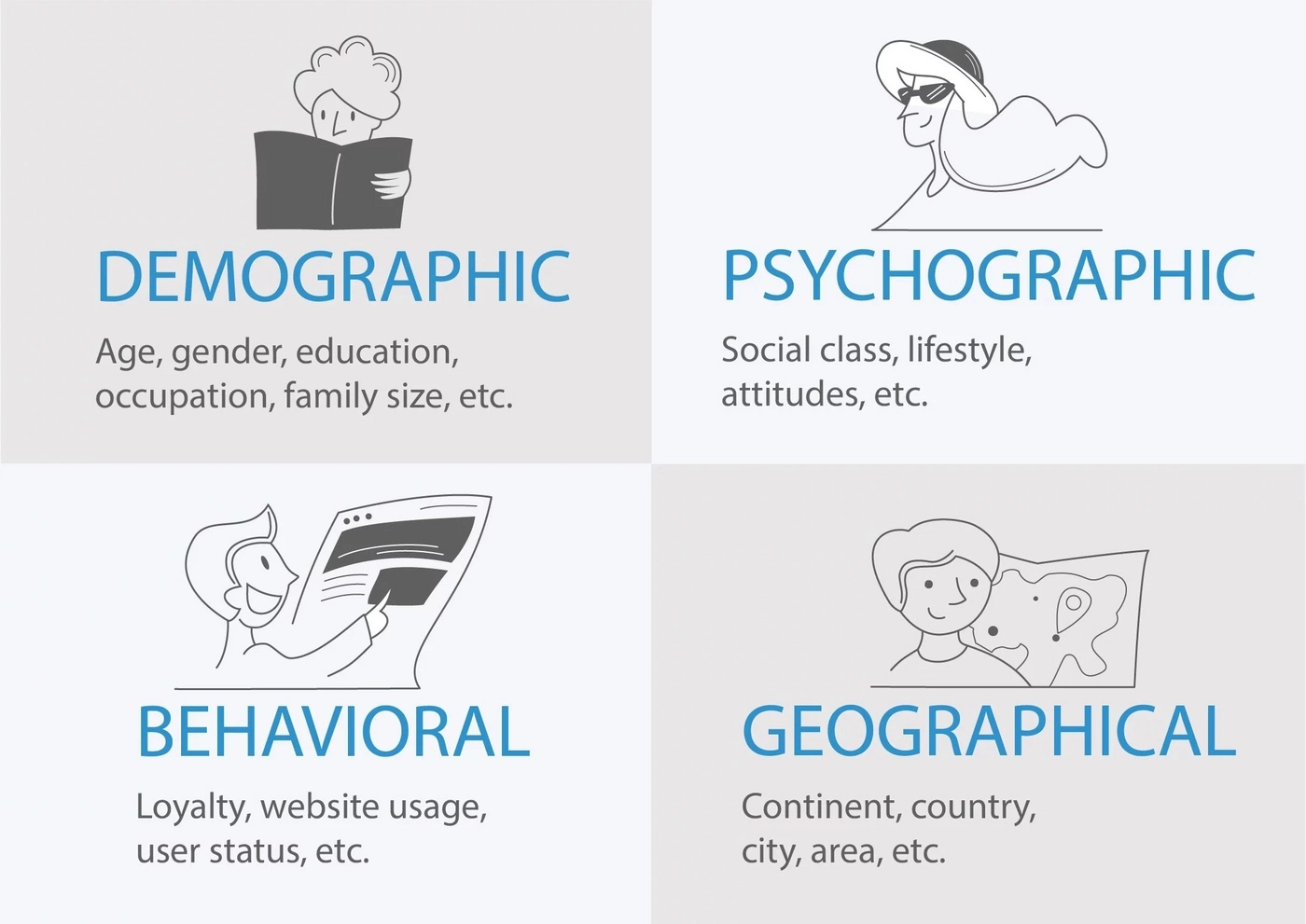 We have simplified this scheme and focused on the vital parameters that newsroom critically need.
IO Approach
There is an enormous piece of work with big data behind the curtain. You may wonder how it is gathered and how it works. Let's explain everything in simple words.
Based on our client's need, we form a criteria set for further guidance: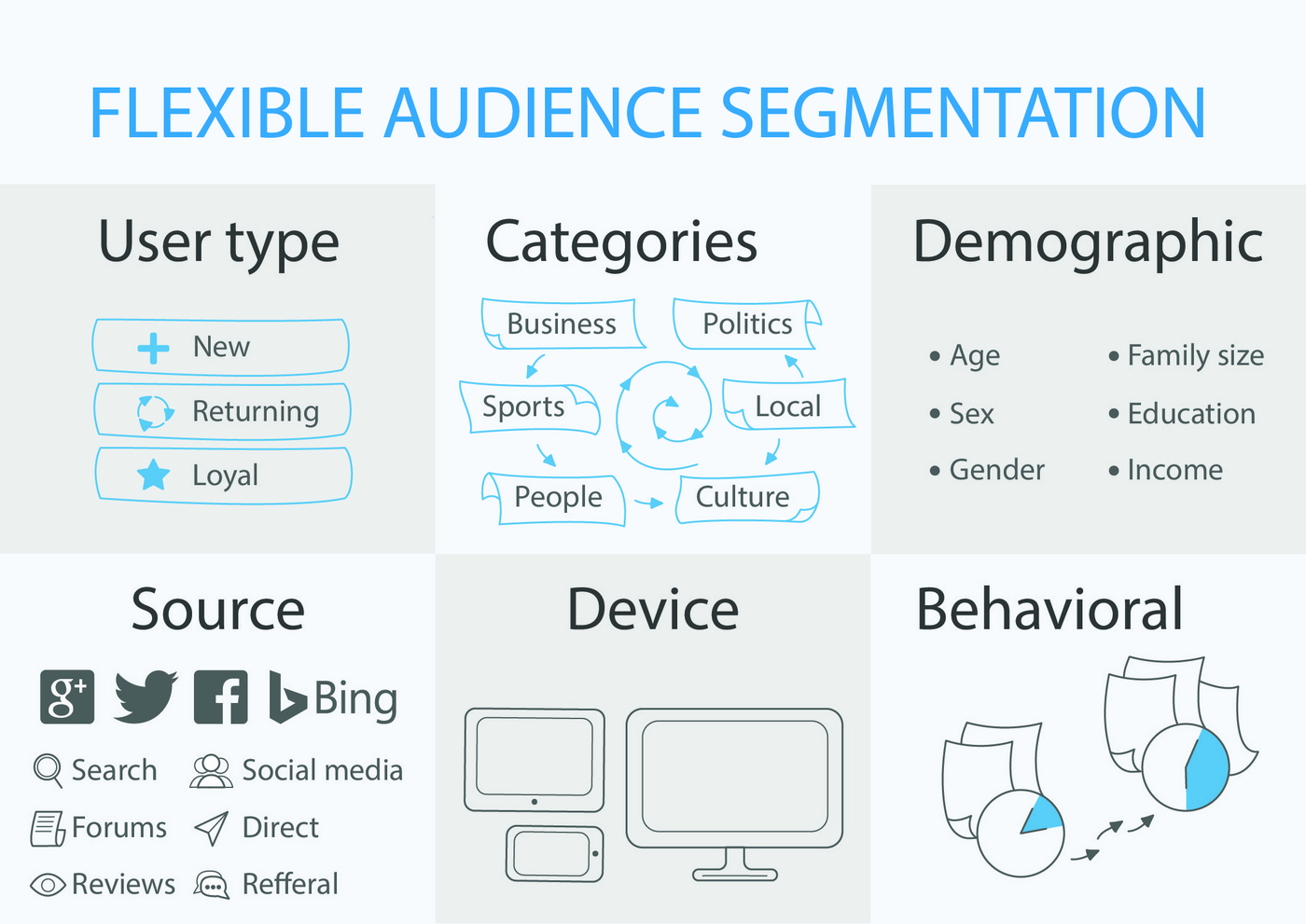 Behavioral criteria tells us about what people do when they read your materials and how they do so.
Social and demographic criteria that can be gathered from several sources (clients base, third-party data management platforms, registration data, feedback and survey forms).
If you are engaged in the media sphere or any other digital business, the idea might already be clear to you.
Behavioral Criteria
It's about what people do on a website, page, article etc. It's about their psychology and interests.
Their first visit and its duration.
Source: search engines, social media, referral, etc.
The user's next visit: how quickly they has returned, how much time they spent on the website compared to their first visit.
Frequency of visits: user type, whether they are new, returning or loyal.
Link and button clicks: what links people click the most, what color/size/placement of buttons perform better.
Reading funnell: what percentage of users read articles to the end.
Social and Demographic Criteria:
DMP (data management platforms) like Adobe's Audience Manager and Core Audience, Oracle's Sitecore Experience Platform, BlueKai, X+1.
Importing users data via API (logging into a website with Google+, Facebook, Twitter, and so on).
New users' data picked up during the registration process.
All these criteria give us an opportunity to match segmented audiences with relevant content. It is the first step of every newsroom towards content personalization. As long as we tightly collaborate with media, this step is vital for both us and our clients.
What Metrics Make Sense for Customers Segmentation?
For the beginning, it would be appropriate to work with the following metrics:
The difference between reading results and time spent reading.
Which publications are preferred by a specific audience.
Whether the specific audience constantly looks for the same type of content.
This information provides a basis for generating dynamic content on website pages. Here is a short but full list of this information:
Types of publications recommended to each audience type.
Publications that are the best match for the main page.
What kinds of headlines work better.
Here is how the reading funnel of THIS article would look for various audience segments. Here is a brief example. you can figure out why there is such a difference. Middle-aged men who probably have their own startups and who are interested in business will be willing to learn more about audience segmentation. Young women looking for some materials on relationships, on the contrary, won't be our target audience because of their interests.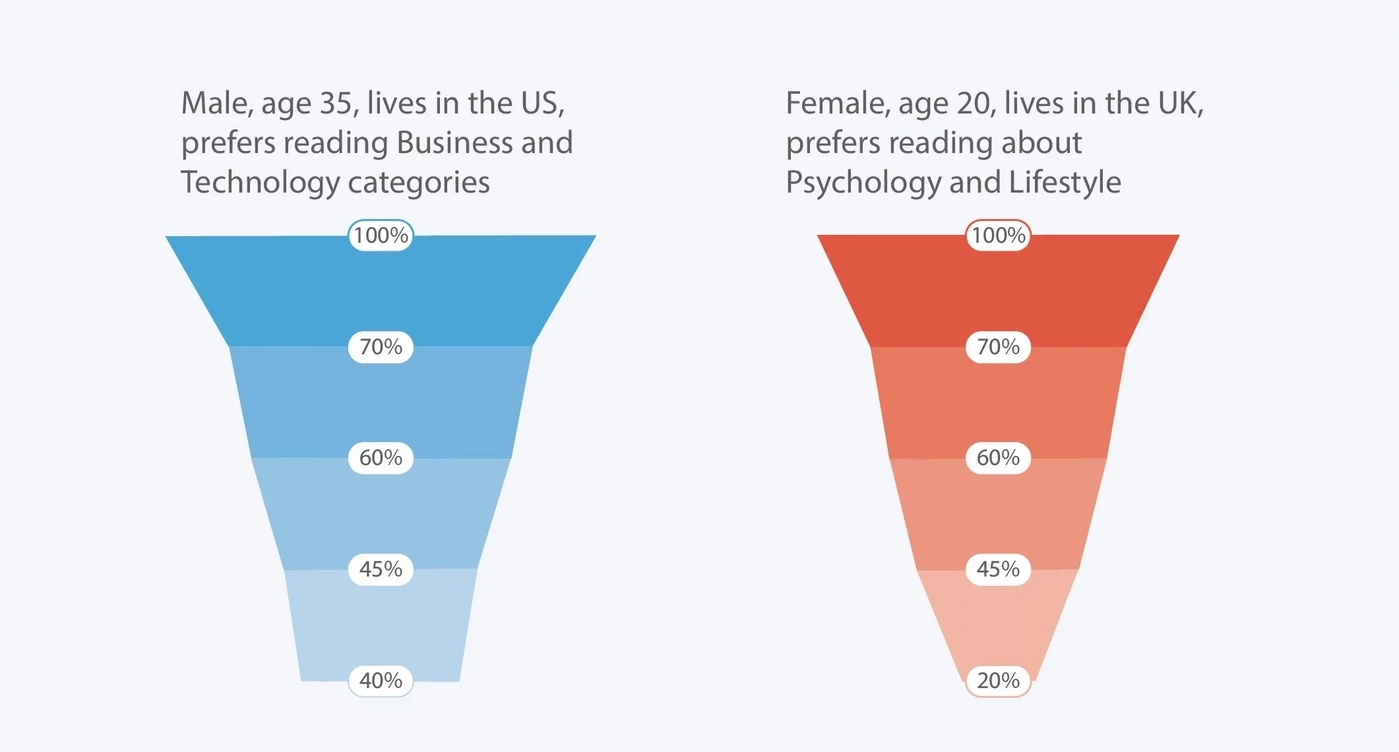 Nevertheless, it's just the beginning. Processing audience data may lead to creating new ideas on increasing their engagement. Finally, people, readers, clients are the driving force of every business. Data processing, deep observation and customization are the keys to success.
Cases and Researches:
In this part, well will examine how audience segmentation works. Following the links below will provide you with more details about these cases.
Nielsen Scarborough
This global measurement and data analytics company conducted a research on the most common types of US newspaper audiences. According to this research, there are four types of audiences that are sorted by media channel:
Print loyalists.
Dual devotees.
Digital dignitaries.
News omnivores.
Their key characteristics is covered in our article dedicated to this research.
BBC World News
BBC did their research in the middle of 2010s, still, their approach to audience segmentation remains the same. It confirms that audience segmentation is not just a trend, but the rule. They defined six audience types by demographic and behavioral characteristics:
Wordly achievers.
Culturally curious.
Aspirational providers.
Connected enthusiasts.
Active optimists.
Comfortable mainstreamers.
Do you want to learn more? Check out our article.
Amazon
Though not a media company, Amazon is one of the largest e-commerce market in the world and is worth investigating as their enormous audience has been segmented.
They distinguished several audiences based on customers interests. The article we're linking to tells us what criteria they used to find specific patterns for precise targeting.
The bottom line
The theory remains the same and every business can use data analytics tools, segment their audience and target the right market at the right time.
Another important point is humans can't process such enormous amount of data alone. That's why automating the process of collecting such data and segmenting it is crucial Check the link to find more details. This is the next step towards "Content Personalization".
Bio: Valentina Podmazina is Content Lead for IO Technologies. Writes about data-driven culture, utilization of analytics by newsrooms and other actual topics for publishers.
Original. Reposted with permission.
Related: