11 Best Data Science Education Platforms
We cover 11 best Data Science Education platforms for 11 different use cases, ranging from specific languages to hands-on learners, to the best free option.
---
By Zulie Rane, freelance writer and coding enthusiast.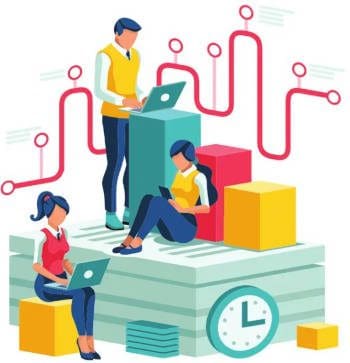 It's 2021, and data science is still one of the most exciting and promising careers you can get into. Furthermore, it's extremely possible to learn all the skills you need at your leisure with some of the best data science education platforms available online.
This is great news for you if you have dreams of becoming a data scientist, and why wouldn't you? You nab a six-figure average salary, the job satisfaction is high, and it's a stable job with lots of promotion prospects. And it's all within your grasp. You just want to make sure you're looking for the right features for an education platform.
Depending on what you're looking for in the best data science education platform, you might want a platform that caters to beginners, to cover the fundamentals, feature a specific language like Python, or to land a specific job interview.
These are the eleven best data science educational platforms for you, depending on what is most important to you in your career.
1. Best Data Science Education Platform For Beginners: Mode
Many soon-to-be data scientists start from absolute scratch. That means the best data science education platform for you is one that caters to people who aren't experienced at programming, who may not know what job they want, and who aren't familiar with the dozens of potential languages.
I really like Mode as a data science education platform for beginners. Its strength is that it doesn't try to do everything. It has a series of straightforward tutorials for Python and SQL, both of which are top choices of languages for people just dipping their toes into data science.
For beginner data scientists who want to learn programming languages and analytics at a very basic level, this is the best data science education platform. This platform will help ground you with entry-level skills in both languages. With their Python tutorials, the focus is on business data. For SQL, you'll go through the process of answering data-based questions. You don't need any coding language to start.
It's totally free as well. Their business model is geared towards enterprise customers, and they hope that by teaching you the basics, perhaps you'll remember them when you do get hired as a data scientist.
Once you've got everything you can out of Mode Analytics, you can look further afield to sharpen and deepen your data science skills with a new platform.
2. Best Data Science Education Platform For Experienced Users: StrataScratch
If you've come to this list and you already know a bit of data science, already have an idea of what kind of job you want, or maybe even what company you want to work for, StrataScratch is the best data science education platform for you. This platform offers actual questions asked in data science interviews, with levels from easy to hard, from specific companies, using a specific language. You can go as niche as a hard Amazon interview question using Python (see here), a medium-difficulty business case question from Uber (like this one), and anything in between.
This massive library of questions is what makes it a better data science education platform for people who already know their way around the data science world. If you were a newbie, you might get overwhelmed. More experienced data science hopefuls will be able to extract a lot more value from it with a targeted approach.
StrataScratch operates on a freemium model. Some of the questions are free, but most of the best ones are paywalled. This data science education platform costs $199 for a lifetime subscription, $29 per month, or $99 for an annual subscription.
3. Best Data Science Education Platform For a Specific Language: Udemy
Maybe you have a basic understanding of data science, or you already know the basics of a data science language like Python. If you want to learn a specific language, the best data science education platform for you is Udemy.
Udemy is an online learning platform for all kinds of skills, but they have a host of very popular language classes. With over 5 million learners taking one of their data science courses, you'll definitely be able to find the right class for you.
The reason I recommend Udemy as the best data science education platform for a particular language is that Udemy's strength is in the specialization. While they do offer courses that cover broader topics, like "Data Science 101," and "Visualizations," they host-specific instructors who are experts in the class they teach–and the very specific skill they teach you with that language. Udemy has talented individual teachers for pretty much any language you can imagine. For example, you can take a class as specific as "Machine Learning, Data Science and Deep Learning with Python" taught by expert Frank Kane.
Udemy courses aren't free, but if you know the language you want to target, the price point is reasonable. Just search for the language you want to learn, and see what's on offer.
4. Best Data Science Education Platform For a Specific Job: HackerRank
Similarly to languages, some aspiring data scientists don't need the basics—they want a platform that will teach them the skills for a specific job they already have in mind. If you've got a company or job title in mind, the best data science education platform for you is HackerRank.
HackerRank is a data science education platform that is very community-oriented. It was originally built to help companies to help hold interviews and has since extended into a platform of programmers. HackerRank hosts multiple questions across the field of computer science as a whole, such as algorithms, machine learning, or artificial intelligence.
Since it was built for companies rather than interviewers, it's a great data science education platform to find and apply for jobs, as well as practice the skills that are highly valued in the jobs you're looking for.
And because its monetization method is through corporate clients, it's free for programmers like you and me.
5. Best Free Data Science Education Platform: Exercism
You'll have noticed this list features two free options already, so you may wonder what makes this particular data science education platform so good as a free option.
The truth is that there are lots of "free" data science education platforms out there that are just cheap ways to harvest email for an upsell or are built for companies rather than programmers and just happen to have a data science education platform adjacent.
Exercism is not one of those. This data science education platform offers 50+ language tracks, tons of questions, is built specifically with data scientists in mind, and is fully free forever. Exercism is not for profit - their mission is to increase economic and social mobility, so you know it'll be high quality and always free.
6. Best Data Science Education Platform For Hands-on Learners: LeetCode
The best data science education platform for you also depends on your learning style and your availability. If you love hands-on, interactive practice, then Leetcode is the best data science education platform for you among these options.
It's highly interactive, featuring plenty of different questions and problems tailored to the difficulty level you have chosen. They offer basic lessons, like Arrays 101, as well as monthly challenges to test your skills. I chose them as the best education platform for hands-on learners because they'll have you actually typing and working. The challenges offer an element of a community (as well as a bit of pressure if that's the kind of thing that incentivizes you to work!).
This data science education platform operates on a freemium model—there's plenty of content for free, but a lot of the better and more valuable questions and guides are paywalled. It costs $35/month or $159 per year for the premium version.
7. Best Data Science Education Platform For the Fundamentals: Qvault
One of the biggest mistakes people make when they go for a data science career is ignoring the fundamentals. So many aspiring data scientists don't even understand the basics of their hardware, computational theory, and web development, even though those elements all underpin data science. You might be able to answer a data science coding question in an interview but get caught out because you don't understand the building blocks of data science and computer science.
The best data science education platform for getting to grips with these critical fundamentals is Qvault. They offer courses in Go, JavaScript, Big O Algorithms, functional programming, and data structures.
The pricing is on the more affordable end of these data science education platforms. The free basic plan includes read-access to the course material and some sandbox access, while the pro version at $8/month offers instant code verification and full solutions to problems.
8. Best Data Science Education Platform For Certification: Coursera
A modern koan: if you took a data science course and didn't get a certificate, did it even happen? Certificates can be valuable additions to your CV or resume. When you're applying for jobs in the data science field, you need to know companies aren't necessarily looking for degrees, but they are looking for proof that you know what you're doing. A certificate will accomplish that for you.
Coursera is an online data science education platform that hosts courses from all over, so it's easy to find one that meets your needs from a price point perspective and the content covered as well. Coursera offers courses from Harvard, John Hopkins, and other well-known and respected data science institutions.
Coursera is the best data science education platform to get certification because that's what it was expressly built for. Coursera works with universities and other organizations to offer online courses and certifications (and even degrees). The price ranges a lot depending on where you choose to get your certification from and can go into the thousands, but they do offer some free courses that could be a good place to start if you're on a budget.
9. Best Self-Driven Data Science Education Platform: DataBricks Book
There's nothing more self-driven than a book. While "data science education platform" conjures images of online resources, there's nothing wrong with looking into the physical world. Databricks sells an "open and unified platform for data and AI" to corporate clients, but they also offer a totally free downloadable textbook called the Big Book of Data Science Use Cases. It has code samples, notebooks, and use cases from Comcast, Regeneron, and Nationwide. For self-driven learners, this is the most at-your-own-pace learning you can do.
It is naturally geared towards Databricks, the product, but it's still a really useful resource to help learn data science with practical applications.
10. Best Lecture-Based Data Science Education Platform: Exponent
Some people like to learn data science while watching lectures. Lectures are nice—you can take notes or watch them as you do something else, like cooking or embroidery. The best data science education platform for lecture lovers is Exponent.
Exponent has a huge catalog of videos and lectures to watch for people who like to digest their learning through lecture-based content. Like StrataScratch, they are interview-oriented, offering video answers to real questions asked at interviews by FAANG companies and other data science behemoths.
They began as a product management guide, but there is some valuable information for data scientists as well. The library is not as comprehensive as some of their other career paths, but you can see here that there's plenty of video content for an aspiring data scientist to sink your eyeballs into. And maybe while you're there, you'll discover a passion for product management, systems engineering, or something else entirely.
They offer monthly subscriptions for $79/month (or $17/month if you subscribe annually). It's definitely on the higher end of prices, but if you get a data science job at Facebook, it'll have been worth it.
11: Final Best Data Science Education Platforms
If none of the ten data science education platforms I reviewed above tickled your fancy, the good news is that there is practically an unlimited supply of data science learning potential out there. You can look in your library, on YouTube, or at your local community college for free or inexpensive ways to learn data science. GitHub is full of projects and open-source code you can examine and learn from. The data science community as a whole is open and excited to add new members to its ranks.
The internet is its own data science education platform in a way. Using a mishmash of the resources above, depending on your tastes, you can put together your own data science curriculum. After all, if you want to be a data scientist, I already know you're driven, smart, and willing to go the distance to accomplish what you want. Hopefully, this list of data science education platforms will point you in the right direction.
The Best Data Science Education Platform in 2021 Depends on What You Need From It
The demand for data scientists is only growing—one recent Dice Report suggested demand for data scientists actually increased by 50% across several different sectors—and the supply of qualified data scientists still isn't quite there, so there's still room for you to join the data science crowd.
That's why so many companies are accepting a less-than-formal education. If you want to get in while the going is good, review these 11 of the best data science education platforms in 2021 and see which data science education platform feels like a good fit for you.
Original. Reposted with permission.
Related: